By: Robert Cavuoto
Aerosmith is out on the road for their 2014 North American summer "Let Rock Rule" tour.
Seeing them is more than enough to satiate any rock fan's needs.
But the lads have rolled Slash and the Conspirators into the mix to add more fuel to an already raucous adrenaline-fueled North American tour, drenching their fans with THE definitive summer rock 'n roll experience.
For over 40 years, Steven Tyler, Joe Perry, Joey Kramer, Tom Hamilton and Brad Whitford have been celebrating and playing their brand of gritty rock 'n roll. And like a freight train unleashed, they show no signs of slowing down.
With millions of fans around the world, Aerosmith knows the show must go on and on this tour they give it their all.
Each night, the Bad Boys of Boston crank it up and spew it out to the delight of all the dudes and ladies up on their feet, singing along.
Aerosmith is a remarkable rock act that remains relevant by pumping all the same explosive energy into their live performances, as on all their albums. As they roll around America, you don't want to miss them.
I had the honor of speaking with Aerosmith guitarist, Brad Whitford, about his experience playing to a throng of adoring fans night after night, his vision of the next Aerosmith album and embracing the rock group's legacy.
******
Robert Cavuoto: Aerosmith does a tremendous job of switching up the set list for each show. Is that primarily for the fans or for the band to keep things exciting?
Brad Whitford: It's for both. There's a certain energy that comes out of our music. I find that if we haven't played a song in a long time it's incredibly vibrant when we resurrect it. It adds a little juice for us.
I think its fun for the fans too, as people start to talk about shows on social media. So, if we can change up a little here and there, people can walk away saying, "Oh, I didn't know they were going to play that one."
LET ROCK RULE TOUR VIP TICKETS
Robert: I agree and the fans do appreciate it. It's always great to hear different songs in different cities.
Brad Whitford: I think we can even do a better job. Sometimes, we get a little bit lazy with it, but we're trying.
Robert: Is there any song that you've never played live or haven't played in countless years that you would really like to resurrect?
Brad Whitford: For me, there's a whole lot of them like: "Sick as a Dog," "Seasons of Wither," and "Permanent Vacation" come to mind. There's quite a few; which we used to do an awful lot, we haven't done in a long time now, like "Lick and a Promise" or "Get the Lead Out," off of Rocks. I'd like to resurrect some of those rockers.
Robert: Some of your songs are 20, 30, and even 40 years old. They really stand the test of time, yet still sound fresh in 2014, what's your take on that?
Brad Whitford: I don't know what that is; I guess a good song is always a good song.
Like when "Satisfaction" comes on the radio and you crank it up. It'll never get old. So some of Aerosmith's music has that timeless quality. It's cool, because you know that music's going to stick around for a long time. That's kind of nice to know, like maybe they'll still be playing this shit when I'm not here. [Laughter]
And you live a lot through your music and that's never going to change.
Robert: Do you ever get used to that adulation and excitement of the moment when you play in front of tens of thousands of fans?
Brad Whitford: You can feel that energy and appreciation up on stage – that love for the music. It's a very warm place to be.
Just imagine walking into a room and everybody in that room is just happy to see you. That doesn't happen a lot to us human beings. [Laughter]  It's just a great, really warm feeling that these people totally in love with what you're going and who you are. I really can't describe it. It's a great sensation.
Robert: No nervousness when you're out there in front of all those people?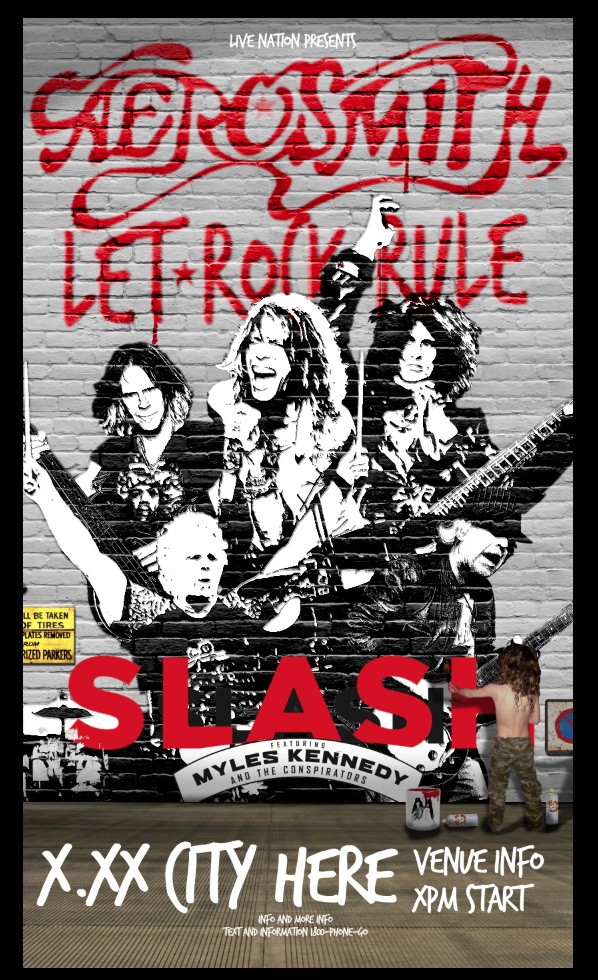 Brad Whitford: I guess that part of me has grown used to being in front of that many people where I'm not nervous. I also don't take it for granted. I never had issues with stage fright; only on certain occasions. [Laughter] Like when certain people happened to be in the audience, that can freak me out.
Robert: Who could freak you out?
Brad Whitford: Guys like Keith Richards of the Rolling Stones or some of the people I'm a huge fan of.
I'd be like, "Oh, my God."
Robert: I would never have thought that. You're really a road warrior. You've been out on tour with Aerosmith for over 40 years. What are some of the sacrifices you've had to make in your personal life while being out on tour? I would imagine it is challenging.
Brad Whitford: It can be extremely challenging. There are a lot of sacrifices you make when you've got family.
You're just not always able to be there for certain moments in people's lives, sometimes. That's not always easy, but you learn to go with the flow and accept it. If everybody accepts it, you find different ways to get through it when you're not there. And there's nothing you can do about that.
Maybe Mom has to take on extra duties. But, everybody steps up to the plate, and you do what you can do. With family, it's where you have to make your biggest compromises, just by being on the road.
Robert: With fans being such nostalgia hounds, how important is it for Aerosmith to spend months writing and recording new material?
Brad Whitford: We've been around for a long time, and I think anybody in this situation, whatever it is that makes you special, just shines so bright. There's a certain period in your career where there is no denying what you're doing. It's something that comes out of you.
I just think we all have our day in the sun early on in our careers. You can't always maintain that level of creativity and spark; part of it dries up.
The part that doesn't dry up is the passion and the musical abilities – the part of you that wants to entertain and just get up and do it. We were just in Europe and we saw the Rolling Stones in Berlin. It was just so fabulous, but they did a couple of their newer hits which I hadn't heard. [Laughter]
I don't run out and buy the new Stones album, because I think we all go through that same thing. We get to a certain place where our music doesn't have the impact anymore.
In the case of the Stones and their new music, they did an excellent job of making it sound like it came from the fucking '60s. I was just blown away. It was like, "Wow, that's a new song?" I just couldn't believe it. It really sounded like something they had written way back. That's really hard to do. But, leave it to Mick Jagger and Keith Richards to make that happen.
Robert: When you are going to work on your next CD, what direction would you like to see that CD take? Would it be similar to the last one, or would it be in a completely different direction?
Brad Whitford: We all have thoughts about what it should be. If I was going to produce the record, or be the musical director, I would try and get everybody to let go of any preconceived ideas.
The best music just comes out with whatever you're feeling on that particular hour or day. To leave all ideas at the door, we're going to do it like we used to do it. Sit down, pick up your instrument and just start making some noise and then we're just going to go with that.
The music has got to be honest. And once you get into that place, people can tell. People know if you're trying too hard to do something. Any sort of preconceived stuff does not work for me, musically. I've got to be honest; it's about being in the moment and making music. The moment of what you feel right then and there. Then it will work.
LET IT ROCK TOUR TICKETS (Live Nation)
Robert:  Aerosmith has accomplished everything imaginable in 40 years.  At this point in the band's career are there any unrealized goals?
Brad Whitford: A lot of things in our career came through the back or side door. They came from people who said, "Hey, I think you ought to try this," or "I think you ought to do this."
So maybe there are a few of those moments still to come. I don't think that collectively, as a band, we are eyeballing anything right now. Maybe we're waiting for some kind of oddball opportunity to come along that we can say, "Let's try that." I'm not even sure what it would be, but we've had a lot of great opportunities and played a lot of interesting situations. We've been very fortunate in that aspect.
Robert: You and bassist, Tom Hamilton, are the only two members who haven't written a book. Any plans?
Brad Whitford: No, not currently, not right now.
Robert:  What is the worst rumor that you have ever heard about Aerosmith?
Brad Whitford: I wish I could think of one, because I think there are plenty of them. Maybe a lot of them are true. [Laughter]
Robert: You're not on Facebook or Twitter, yet the rest of the band seems to be doing it. Is that not of interest to you?
Brad Whitford: I'm more of a witness to it than a participant. I'm still stuck in the old school mentality.
I'm surrounded by it, and I feel like, okay, but I just have no interest in doing it myself – yet. Maybe in the future.