By: Rick Landers
I always find it interesting to discover that guitarists, not only have a passion for guitar, but have a full tank of creativity always ready to delve into artistic areas.
Brian D Holland and I met in 2005, when he began his career in writing about music, with a strong inclination to steer toward the blues. He was a guitarist, but had that novel in him that we're told we all have, but he wanted to test the waters and improve his craft by writing about music, before he'd dive into his novel. One that digs into the world of horror and fantasy.
When  Modern Guitars Magazine was started he became one of the site's  most prolific and finest writers and as the company shifted to Guitar International, our working relationship and friendship continued with it.
In time, Brian's  writing credits would grow and he'd gain a solid reputation that led him to other publications, mostly blues magazines. His interviews would include sessions with Steve Cropper, Sonny Landreth, Warren Haynes, Ronnie Earl, Johnny A., Jim Herring, Andy Powell, John Mayall, Robben Ford, Gary Moore, Joe Bonamassa and more.
He began to brand himself even more when he went on-line with his own site, The Sonic Blaze. His work would appear in the Blues Revue, Premier Magazine, the Boston Blues Society, the Illinois Blues and he'd reach around the world a bit to have one of his articles published in a Japanese magazine called, Rock Guitar Tribute Magazine.
Brian would also start his own writing site called, Spectral Horizons, that offers up some of his writing to readers who dig horror and fantasy.
We'd keep in touch and our conversations would shift from guitars and guitarists to the novel he was going to write. He had some ideas that he nurtured along the way and eventually his focus would take a hard turn from his other endeavors to "his novel".
After a few years, Holland began to polish the book to a shine and in 2013 he released, The Three Doors, a compelling read that should find an avid audience of fans.
The Three Doors eBook and paperback editions are available at Amazon.
 ******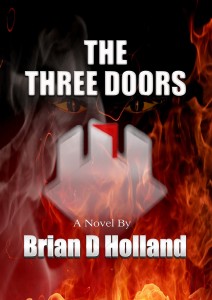 Rick Landers:  How about a run down on how you became a music journalist and how you ended up as a horror novelist?
Brian Holland: I retired from the railroad on disability back in 2000, and more or less starting writing, both to occupy my time and also to fulfill a vision I didn't have time for previously. I had been a guitar player all my life too, but because of a neurological issue, my fingers no longer possessed the dexterity to play. Muscle strength, coordination, and feeling deteriorated on a regular basis.
Playing the guitar was basically a hobby for me, but I'm sure most artists and musicians understand how devastating that scenario can be, even if it isn't a livelihood. However, I started writing as an alternative, to keep the artistic juices flowing. It wasn't something new, because I always loved to write, but it was something I hadn't done in years. I eventually finished a batch of short stories, which were published online and in print horror, sci-fi, and fantasy magazines.
Shortly thereafter, in early 2005, I stumbled upon the Modern Guitars website. I found the Modern Guitars' site to be loaded with interesting music articles and interviews, primarily of guitarists to my taste and liking, just like Guitar International today.
I found an ad in there encouraging writers to come on board. From 2005 until now, I've written over 300 music articles and have interviewed over 70 pro and up-and-coming guitarists for many online and print magazines.
I started writing my novel, The Three Doors, before the journalism gigs began. My fiction writing is in the genres of horror, sci-fi, and fantasy, but I'm mainly into horror. I've been a horror buff since very young. Though I finished the book years ago, I put it aside while doing music journalism. I was quite busy with that. But, I kept going back to The Three Doors to edit and smooth out the rough edges, almost as a leisurely thing. I loved the story, but I couldn't put it aside until I could finally admit that it was done to the best of my ability.
Rick: Tell us about your new book, The Three Doors, and why you decided to make the main character a guitar slinger?
Brian Holland: The Three Doors is a horror thriller that takes place in a small resort town on the coast of New Hampshire. The story goes between that town and another in lower Maine. The main character is a high school senior named Jared Helm. Jared has potent out-of-body experiences that take him to destinations of importance, places that are often mysteries to him until he makes sense of the reason for being there.
One night, when having one of these astral projections, his immaterial body stumbles across an incredible castle on the Maine seacoast. He eventually discovers that the place is the stomping ground of an extremely dangerous sect of Satanists performing rituals involving human sacrifice. The story leans heavily on a romance between Jared and his girlfriend Iris. It's a relationship that becomes serious yet complicated within the entwined plot.
The scenario of Jared being a promising guitarist, maybe even a prodigy, is a small yet significant part of the story. It's used to emphasize attributes of humility and resourcefulness. Jared decides to keep the talent to himself, even from his girlfriend and his best friend. He wants to wait until his playing improves before going on about it. Importance also lies in his playing of Ozzy Osbourne's Mr. Crowley, chosen because of its suggestion to Aleister Crowley, the legendary British occultist and mage of early last century.
It was chosen also to draw attention to guitarist Randy Rhoads, who was incredibly talented. Randy was an innovator in the style of neo-classical metal guitar, and he did outstanding work with Ozzy Osbourne. It was a great opportunity to bring this to light. Jared practices the song incessantly until he gets it right.
Other than that, it's basically a horror thriller, with topics of cultish doings, romance, and paranormal activity.
Rick: How much of you is in the main character, Jared?
Brian Holland: I wanted Jared to come off as an ordinary, nice guy, one who puts a lot of intense effort into everything he does. Essentially, that's one reason he's hated by a few of the not-so-successful and introverted types in school, those who opt for the evil route to improve their social standing. I added my love for music, the guitar, and the game of baseball into his traits, and I suppose I try hard at most things I do as well, but any comparison to me ends there. I love baseball, but I was never the athletic type. And I was basically a blues rocker when I played guitar.
However, I think I added a bit of my wife's attributes into the traits of his girlfriend, Iris. But all of the characters were fully imagined. I did envision some well-known actors in the roles of most of the adult main characters throughout the writing process.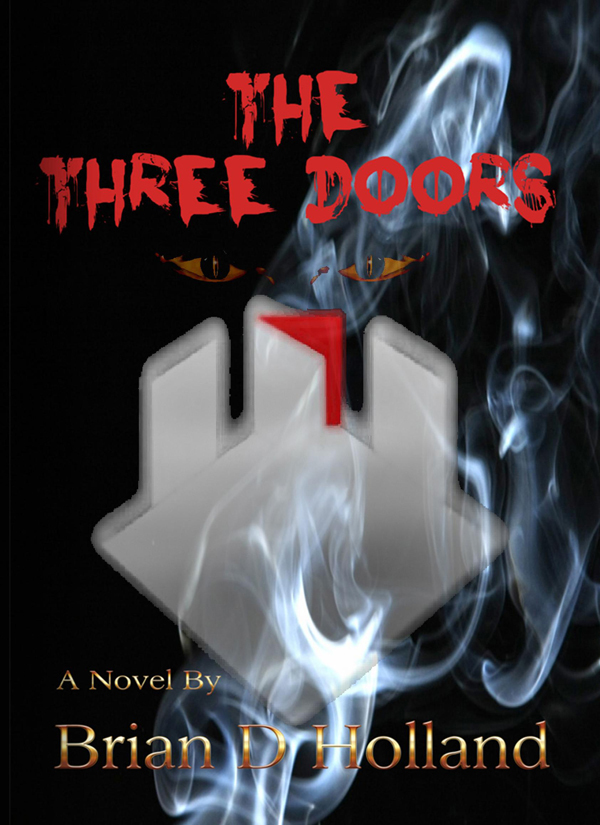 Rick: There's a Christian strain in the novel and I'm wondering if you pulled any ideas from the Devil at the crossroads story of Robert Johnson?
Brian Holland: A character who eventually aligns himself with Jared's group of trustworthy friends admits that he ended up in a dire way because, symbolically, he did just that. He went down to the crossroads and sold his soul to the devil. He eventually tried to buy it back, yet discovered the hard way how unattainable that is.
The story has a consequential Christian theme to it. It's not preachy, as I'm not a preacher. But it does expand on a good versus evil or God versus Satan theme. I think most readers can relate to the good versus evil thing, regardless of religious affiliation, if any at all.
Rick: As a rock and blues journalist, you've met a series of guitarists.  Does Jared have any character traits or personality nuances that surfaced during any of your interviews?
Brian Holland: Not really. I suppose Jared could be viewed as having the gift of playability that guitarists like Joe Satriani, Joe Bonamassa, Eric Johnson, and Steve Lukather realized they had within them at a young age. I've met and interviewed all of these great players. But Jared is more or less his own guy, one who's just at the stage of realizing he can actually play the instrument pretty well.
Rick: Coming up with good storylines is something many of us do when writing certain songs, but I'd imagine doing the same is much more complex in developing a novel. What kind of process did you go through to make sure that the logic throughout was consistent and well thought through?
Brian Holland: It's good to do an outline to keep track of each chapter and the manner in which the story progresses and develops. But like anything else, that works for some and not for others. I created an outline at first, but I never stayed with it, as I felt it only got in the way. It can be sort of like adding an analytical process to the creative process art, which can weaken the focus. Instead of the outline, I used a list of working titles for each chapter on a separate page, with a small synopsis under each.
I suppose it's kind of the same thing, but it was easier for me than an actual outline with indented numerical and alphabetical tags. It helped enormously in keeping track of the story's timeline. Most importantly, when authoring a novel, it's best to devise a beginning, a middle, and an end at the start. That way, the story is already known in your head. The rest is all about writing it down and filling in the empty spaces with important information to connect those three elements.
The Internet is a godsend for writers, because there's a mega amount of tutorial information out there. There are some excellent writing groups online as well, sites that help burgeoning authors to nurture and hone their craft. A good one is Critters. I've been a member there for years, though I haven't been active in a long time now. It's made up of pros, as well as amateurs.
Writers submit short stories and book chapters for review by other authors. You learn an incredible amount of valuable information by doing this. You receive helpful assessments of your writing style, grammar usage, and overall ability to tell a story. Plus, great tutorial books can be found at Amazon and such. One of my favorites is Stephen King's, On Writing.
Rick: What kind of guitar does Jared play?
Brian Holland: I was thinking of a Fender Strat, a Gibson Les Paul or a PRS. But, I didn't use any of them, per se. I basically mentioned a solid body, which subconsciously points to a Strat style guitar to me, though it could mean all three, of course. I often thought I was going to get more descriptive with the guitar information, so I chose to keep it vague, mainly because of potential copyright obstacles.
Rick: Any plans to write another novel or a non-fiction book with a more concentrated focus on music or guitar in particular? And do you have any prospects for music journalism projects?
Brian Holland: I'm into my second novel now, and I have another in mind. So, that's keeping me busy. But, I hope to sustain my devotion to music journalism as well, and writing about established and up-and-coming guitar players. Besides being creative with a good story, there aren't many things I enjoy more than shedding light on good music and exposing talented guitar playing to readers.
Things are tough in today's recessive economy. It's not an easy situation out there these days for rock, blues, and jazz musicians. As we all know, genre talent has taken a back seat to the highly synthetic sounds and glamour of today's pop music.
I'm not saying there's anything wrong with today's music, but I am saying that we can't forget the basics of music and musicianship, and the fact that many talented musicians, male and female, spend years honing crafts of instrumentation, writing, and performance excellence in genre music. As a journalist of these types of magazines, my objective is to shed light on genuine talent.