"Vic's book is an amazing read, full of his entertaining sense of humour and a reservoir of miscellaneous facts and tales of the studios and the musicians who made London such a fabulous place to be in the '60s. Miss it at your peril." – Pipeline (UK)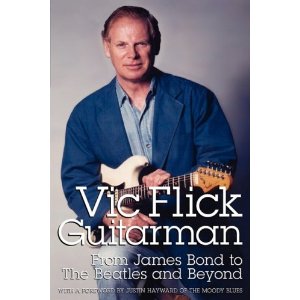 Vic Flick: Guitarman (196 Pages) is by a musician who worked in every major recording and television studio in London during that wonderful musical period of the 1960s and 1970s. One of the first call session guitarists in the UK, Vic Flick has a bounty of true stories. Stories of the drama and humor, the tensions and the rewards of working with first class musicians and internationally known artists in the world of recording, Television and Radio.
Vic Flick's connection with the James Bond films is legend. His guitar sound on the James Bond Theme stirred the hearts and imaginations of a generation. Here is a book that tells of the music business from the inside, about the music, the good and the bad business practices, the money, the agents and the managers.
From the Beatles to Nancy Sinatra, from Tom Jones to Dusty Springfield, it's all within the pages of Vic's autobiography.
Click to read more about legendary guitarist Vic Flick
******
Click to Buy the Vic Flick: Guitarman Ebook for Only $9.99
******
About Guitar International Ebooks
All ebooks come as PDF files and can be easily read on any computer, tablet or ereader.
When purchasing any eBook, payments can be made through Paypal with either a money transfer, Debit Card or Credit Card, or if you don't have a Paypal account you can sign in as a guest and use your debit or credit card to make things quick and easy.
Due to the nature of the item, eBook purchases are not eligible for return or refund under any circumstances.
Once your payment is processed, instantly, you will receive a link to download the ebook. It's that easy!