By: Robert Cavuoto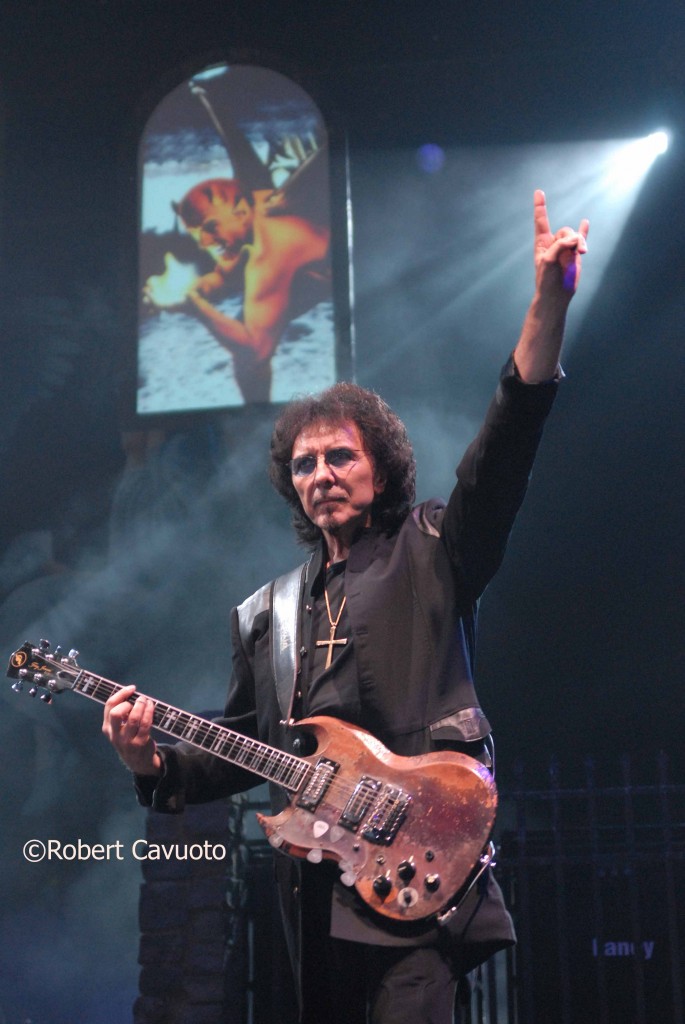 Reuniting for the first time since their collaboration on Black Sabbath's 1983 Born Again album, Deep Purple´s Ian Gillan and Black Sabbath's Tony Iommi took everybody by surprise in 2011 when they released the charity singles: "Out Of My Mind" and "Holy Water."
For the recording of these songs, the two rock legends called a few friends, asking for some "help." Jason Newsted (Metallica), Jon Lord (Deep Purple, 1941-2012), Nicko McBrain (Iron Maiden), and Linde Lindström (HIM) to completed the supergroup WhoCares.
Now, "Out Of My Mind" and "Holy Water" will be featured in a special 2-disc set of rarities and recordings culled from the careers of Tony and Ian. The WhoCares double-CD was just  released this past August and includes some great songs from Purple, Sabbath, and Ian's solo career.
I had the honor of speaking with the legendary lead signer, Ian Gillan of Deep Purple, the band that defined Heavy Metal with such mega hits as "Smoke On Water"," Woman from Tokyo", and "Highway Star" about his passionate cause WhoCares.
******
Robert: Tell me about the WhoCares project and why it is so special to you?
Ian Gillan:   I was in Armenia doing some solo shows not long after the 1988 earthquake that killed 25,000 people and made another 250,000 homeless.
Armenia was still part of the Soviet Union then and there were no 24 hour news channels, so they were left pretty much to their own devices.
I went to Spitak to witness the devastation. Apart from unimaginable horrors there was no music.
The mayor explained to me that everythin had been eerily quiet since the event. No music in churches, schools, radio etc and it seemed that even the birds had stopped singing. I promised then to help when they were ready for music again.
A generation has passed and here we are. Thanks to the funds raised by concerts and records as well as other generous contributions from around the world and willing efforts from Armenians themselves I can tell you that the foundations for the music school were started last week when the builders finally moved in. Music is the key to all this and the school is symbolic.
Robert: WhoCares is a great name with different meanings across many levels. What about the name resonates with you for this project, and the cause?
Ian Gillan:  Thanks, its nonchalance and passion all in one phrase – I love it! Of course, it helps to draw attention to the project as people do a double-take when they see the name. And of course we do care very much.
Robert: Where did you pull your inspiration from when writing "Holy Water" and "Out of my Mind"?
Ian Gillan:  "Out of my Mind" is drawn directly from my first visit to Spitak, so it wasn't difficult to tell that story when I wrote it with Tony Iommi at his place. "Holy Water" was written with my old buddy Steve Morris from Liverpool during a session last year in Portugal. It's about a whisky drinker, so that wasn't too hard either.
Robert: "Out of My Mind" is a great song where all the performing artist's signature style and sound can be heard from Jason Newsted's bass intro to Tony classic guitar, to Nicko McBrain's masterful drumming and over course, Jon Lord's keyboard. Were those parts written with them in mind or did they add their parts during the recording?
Ian Gillan:  Actually  we just wrote the song to Tony's inimitable framework with no-one particular person in mind. Anyone could play on this song but these guys are so good and have so much drive they make simple things sound amazing.
Robert: You and Tony co-wrote "Out of My Mind", what was it like to work with him again?
Ian Gillan:  It's always a pleasure working with Tony, he's a good friend and he always cracks me up with his wicked dry humour. Also, he's uncomplicated so we get to the point really quickly.
Robert: What do you want your fans to take away from these two songs as well as the double CD?
Ian Gillan:  Well, I never think of that sort of thing, but there is some obscure and fascinating material on this record, so hopefully it will be of interest.
Robert: Can we expect other song collaborations with you and Tony in a possible "supergroup"?
Ian Gillan:  We have talked about possible future liaisons, that would be on a purely ad hoc basis, but there is nothing planned right now.
Robert: Can we expect to see any charity concerts with you and Tony performing?
Ian Gillan:  As you know Tony's not been too well lately and is focused on getting better. While I am in Nashville finishing Purple's new record before going back on the road in October. So, there is nothing on the horizon for now.
Robert: With so many years of working with tremendous bands and creating great material was it difficult to pick the songs that would make up the 2 CD set?
Ian Gillan:  Yes, it was quite a task. I had to turn my studio upside down for old tapes and cassettes but with the help of Max Vaccarro at Edel Records in Hamburg I think we have ended up with an intriguing collection. My favourite today is 'Dick Pimple' a perfect example of Deep Purple at work in the studio.
Robert: Can you share a favorite memory about Jon Lord as a remembrance to him?
Ian Gillan:  Unfortunately my fondest and most hilarious memory of Jon is something I couldn't possibly make public [Laughing]. However, he was a wonderful man, a great musician and an avuncular source of inspiration to me and many others. I wrote a line which is included in one of the new songs, '…souls having touched are forever entwined'.
Robert: What can people do to help your cause?
Ian Gillan:  Buying the record would be most helpful.