By: Staff
To honor those who have cranked up our guitar community to an "11" with their contributions, Guitar International presents to our readers our GI Annual Awards, 2011 Edition. Through their spirited innovation, hard work and love of guitars and guitar music these artists have deepened our passion for our favorite music, as well as entertained and inspired guitarists around the world.
So without further ado, here are the winners of the 2011 Guitar International Awards.
******
Guitarist of the Year: Joe Bonamassa
2011 was a big year for Blues-Rock guitarist Joe Bonamassa. Not only did he release his critically acclaimed new solo album Dustbowl, but his Supergroup Black Country Communion also received world-wide acclaim for their new record 2. Both albums showcased all of the things that make Bonamassa one of the greatest guitarists alive today, killer chops, tasteful melodies, creative songwriting and enough Blues soul to last for days.
Though still a young 34 years of age, this guitar slinger has accomplished more than most players could imagine to achieve in a lifetime, and 2011 was a testament to the hard work, dedication and hours spent in the practice room and on the bandstand by this guitar great.
Further Reading:
Joe Bonamassa Interview 1
Joe Bonamassa Interview 2
Dust Bowl Album Review
Black Country Communion Album Review
Black Country Communion 2 Album Review
******
Lifetime Achievement Award: Slash
Is it a bit early to be giving Slash our annual Lifetime Achievement Award at the spry age of only 46? Let's look at what the British-American guitar hero has done since he infamously was beaten by CC Deville in an audition for glam rockers Poison:
As a member of "The Most Dangerous Band in the World," Slash's signature guitar riffage and stadium-sized solos propelled Guns N' Roses' iconic album, Appetite For Destruction, to sell the most copies for any debut album in the U.S. with over 18 million copies. His melodic opening riff to "Sweet Child o' Mine," the album's chart-topping lead single, is now permanently in the public ear, landing the song on many "Best of" lists, including the top slot on a BBC poll for the Greatest Guitar Riff Ever and #6 on Q Magazine's 100 Greatest Guitar Tracks.
After two more Billboard 200 Number One albums with G N' R (along with a Number Two and Four), Slash left Guns N' Roses for various reasons including musical disagreement with frontman Axl Rose to focus on his side project, Slash's Snakepit. After releasing a platinum selling album with the group in 1995, Slash officially left G N' R after three years of nearly no activity whatsoever.
From 1996 through 2002, it seemed like Slash's years as a high profile lead guitarist may be over. A less successful second album with Snakepit and an opening slot for AC/DC in 2001 did seem like Slash was back, but an illness caused him to disband the group shortly thereafter.
And then BAM! Velvet Revolver exploded onto the rock music scene with Slash on lead guitar and former Stone Temple Pilots singer Scott Weiland on vocals. Unlike many of the other '80s metal guitarists, Slash revived his career in a huge way, with Velvet Revolver's debut album Contraband topping the charts and selling millions behind the guitar-driven lead single, "Slither."
Since then, Slash has everywhere and played with everyone in addition to Velvet Revolver and his own successful solo career, appearing in countless TV shows and movies and playing with the Yardbirds and Rihanna, doing film score work and even being featured as a playable character in Guitar Hero III: Legends of Rock.
A guitarist who has revived his career (twice, with his recent solo albums after Velvet Revolver's demise), played with Michael Jackson, Alice Cooper and many more music icons, and held his commitment to rock (eschewing an industrial direction for G N' R in favor of Slash's Snakepit) over his entire career certainly deserves Guitar International's Lifetime Achievement Award. And with his impeccable track record, one can only assume Slash has much more rock 'n' roll in the tank.
Further Reading: 
Interview with Slash
Interview with Perla Hudson (Slash's Wife)
******
Guitar Album of the Year: Chickenfoot III
Another Supergroup made headlines this year when Chickenfoot released their new album titled III. The group, which is made up of vocalist Sammy Hagar, guitarist Joe Satriani, bassist Michael Anthony and drummer Chad Smith, has been making waves in the rock world since they announced their formation in 2009.
Though the album title may be confusion, since it's only their second release, the band didn't disappoint fans with a hard-rockin' record that showcased all of the things that have made these individual artists so great over the years.
In a band with so many legendary names, guitarist Joe Satriani stepped forward and delivered a rock-solid performance. Producing creative riffage, pounding rhythm work and screaming lead lines, Satriani is at the top of his game during this record, giving guitar fans across the world something to cheer for in a pop – American Idol dominated landscape.
With such a strong release by Sammy and Michael, this album also put a lot of pressure on the upcoming new Van Halen release featuring Wolfgang and Diamond Dave in Michael and Sammy's shoes. Will that album top Chickenfoot III? Only time will tell.
Further Reading:
Sammy Hagar Chickenfoot Interview
Joe Satriani Chickenfoot Interview
******
Artist Deserving Wider Recognition: Guilherme Vincens and Tabajara Belo
This year we've decided to honor two guitarists for our Artist Deserving Wider Recognition Award. Both of these talented guitarists have already made big waves in their native Brazil, and are primed to expand their audience after a strong recording and performance schedule in 2011.
This year saw the release of Vincen's debut record Portrait, which has since received strong reviews, as well as concert performances in the US, Brazil, Australia and New Zealand. With such a strong year, it is only a matter of time before Vincens' talent reaches a global audience.
Belo has also had a strong year as he performed throughout the US on a six week tour in March and April, as well as had several major performances across Brazil. Currently working on his next album, the talented guitarist never seems to sit still for very long as he is promoting his latest work while keeping his eyes focused on the future.
Besides being accomplished performers and recording artists, both guitarists are world-class educators at their respective institutions, the Federal University of Ouro Preto (Belo) and the Federal University of Sao Joao Del Rei (Vincens). If you haven't checked out these two artists yet, go for it, you won't be disappointed.
Further Reading:
Guilherme Vincens Interview
Tabajara Belo Interview
******
Guitar Website of the Year
Master guitarist Steve Vai and media visionary, Andy Alt, launched Guitar TV, a 24/7 interactive guitar-centric video channel that stages select great performances by the world's top guitarists. With a few clicks you can get biographical information on the players, information on their gear and find sheet music of the artists' songs. This site is aiming to revolutionize the way guitarists access videos on the web, and after such a superb start, they are well on their way to achieving this goal.
 Further Reading:
Guitar TV Launches
The Steve Vai Guitar International Interviews
******
Guitar Book of the Year
Guitar historian, Tom Wheeler's book, The Dream Factory: Fender Custom Shop, released in October 2011 and offers an amazing in-depth illustrated history of Fender's Custom Shop. This superb book offers up the comprehensive story of the now legendary Fender Custom Shop, complete with its compelling history, a vast series of stunning and informative illustrations and photos, highlights on some very cool CS axes, and the inside scoop on the genesis of the Custom Shop straight from some of the original custom builders.
Further Reading: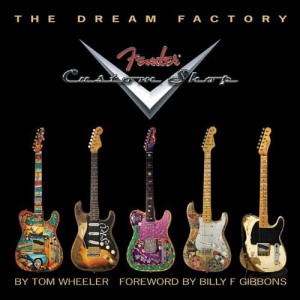 ******
Guitar Story of the Year
G3 to Return in 2012 – Guitar legends Joe Satriani, Steve Vai and Steve Lukather announced their 2012 G3 Tour with gigs in Australia and New Zealand. We're told that concerts will entertain audiences for two and a half hours with mind-boggling guitar artistry. Past G3 tours have wowed audiences and the return of G3, with Lukather on board, should be staggering. If you go to only one concert this year, it is G3, these guys are sure to blow the roof off any venue they play, and whet our appetites for future tours to come.
Further Reading: 
Joe Satriani Interview
Steve Vai Interview
******
Guitar Event of the Year
National GUITAR Museum – On June 10, 2011, HP Newquist, past editor for Guitar magazine and award winning author opened the touring exhibit for the National GUITAR Museum in Orlando, Florida. With its Board of Advisors that include Ritchie Blackmore, Steve Vai, Liona Boyd, Joe Bonamassa and more, its evident that Newquist has the heavy fuel to make the NGM a new life experience for guitarists to add to their bucket lists!
Further Reading: