By: Rick Landers
Photos By: Michael G. Stewart
Before Randy Bachman's show at the Birchmere in Alexandria, Virginia, this past summer, Guitar International dropped by backstage for a brief chat. Randy and his crew were relaxed and easy going giving me an opportunity to ask him a few questions about his guitars and music.
The night before the group played at B.B. King's in New York City and a few days before that (July 1, 2008) Randy had met with the Governor General of Canada, Michaelle Jean, who announced that Bachman was to receive the country's highest civilian honor for lifetime achievement, the Order of Canada, a nice follow-up to his 2005 Order of Manitoba.
Randy's legacy of performing with The Guess Who and Bachman-Turner Overdrive and his broad range of recording and production work, helped him collect an impressive 120 Gold and Platinum albums and singles. With over 40 million records sold with his name on them and #1 spots on the charts in over 20 countries, his legacy is firmly planted not only on Canadian turf, but all over the planet. "No Sugar Tonight," "Blue Collar," "Taking Care of Business," "American Woman," and countless other hits he's played or sung are now classics.
Before we met Randy for the interview, Michael G. Stewart (photographer) and I caught Randy and his group running their sound check. We got the impression that he would be a tough interview, even grumpy. Not that he said a word, but he had a kind of scowl that we later figured must be attributed to his focus on getting the gear perfect for performances. In fact, we found Randy to be a great guy to hang with and share a few laughs.
******
On Lenny Breau
Rick Landers: Tell us about your relationship with guitarist Lenny Breau.
Randy Bachman: In Winnipeg at the time when I was in high school or so, there was this band that moved into town, to Winnipeg from Maine, and the radio station was CKY. They were called the CKY Caravan. They traveled in their big motor home with cactus on it and stuff.
They wore the Nudie suits, the Roy Rogers thing with the fringes and cactus and all these things. And they were called CKY Caravan and the main singer was Hal Lone Pine, that was his stage name, his wife was Betty Cody, like the Wild West thing. And the little kid who played guitar was Hal Lone Pine, Jr. and his real name was Lenny Breau.
He's like 15, 16. I'm 14, 15. He's moved up to where he's been playing in his family band since he was 10, he'd been playing as a pro for 6 years.
Rick: Yeah. Wow.
Randy Bachman: He's been playing guitar since he was 5, like I'd been playing violin since I was 5. He had no friends in town. He played with his parents' band every night. They played all these barn dances and car lots, hayrides, yeah, and a lot of things like that.
Saturday morning they'd be hawking cars at a used car lot or new Fords, new Thunderbirds coming out then and stuff like that. They would play the show for half an hour live on the radio.
Everybody comes to so-and-so motors, here's doughnuts and coffee and see the new Chevrolets, the new Ford, whatever. And in the middle of the show, they'd stop and say, "Now we're gonna let Junior play," and I'd hear like guitar riffs playing all that kind of stuff, and I thought, "Junior is my favorite band. I've got to go see Junior. One day they play in my end of town, in the north end of Winnipeg. I get on my bicycle, not a bike, not a Harley, a bicycle. [Both Laughing]
Rick: Yeah, a CCM bike.
Randy Bachman: I ride my bike there and I'm waiting and waiting and waiting. I'm seeing them play and they've got a stand-up bass, cowboy boots, the whole thing and they're playing. I've been waiting for the band called "Junior", they all leave the stage and say "Now we're gonna let Junior play!"
There's one guy standing there. And it's Lenny Breau, and he's short. He's a short little guy. He's got a cool white suit with a cactus and he's playing a G branded Gretsch and he plays "Caravan" like [Randy cuts a "Caravan" riff]. He had an Echoplex Ray Butts amp.
Rick: Really?
Randy Bachman: Everyone is looking at cars and having doughnuts. There's one person standing in front of the stage, and the stage is this high. It's just a thing they threw down on the actual car lot. I'm looking at his fingers and I'm, "Where's the band?" and I suddenly look at his fingers and one's going [Randy plucks his Gold Top] a thing at the bottom. The other one's playing the odd chord, the other one's playing on top and you're going, "Holy cow."
Even though, obviously, I'm a guitar player, like infatuated and in love with what he is doing, it's like, "Wow, this is incredible!" Because, up 'til then I'd thought it was two or three guys. I didn't know one guy could play that way, because on violin you're pretty much playing single or double string, and I used to play on string quartets and all that. So, I hear the parts, I think, "There's got to be a guy playing the bottom part and the counter notes."
After the show, he's packing up and I go up to him and he says, "Hi. Are you a guitar player?" and I say, "No, but I want to be," and I had just gotten my little Harmony. I say, "My cousin's taught me three chords. I can play 'I Walk the Line'." And he says, "Oh, so you can play guitar."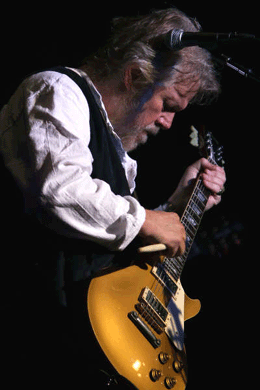 Rick: There it is.
Randy Bachman: And he said, "If you're playing 'Walk the Line', don't go [Randy plays a lick]. Use your thumb and go [new guitar lick]. And take your other fingers and go [Randy plays].
Rick: Sort of Chet Atkins style.
Randy Bachman: [Sings 'keep a close watch on this heart of mine']
Rick: Sweet.
Randy Bachman: Take that Johnny Cash and only use your thumb. I said to him, I remember it very clearly, I said, "I need to learn to play like you. Not I want; I need. I need to do this." He said, "Well, where do you live?" and I said, "In Garden City." My family had just moved to this new development. He said, "Oh, we just got a house in Garden City. Come to my house any afternoon you want." An open invitation. I went every afternoon for about two years.
Rick: Really?
Randy Bachman: I flunked grade 10. I flunked grade 11.
Rick: [Laughing] Okay.
Randy Bachman: Suddenly, I went from an A student right to an F student. I'd go to school in the morning, because my mother would say, "How was school?" I would say, "Great. I saw Susie there!" and da da da, da da da. I'd have lunch at a girlfriend's house, because they didn't serve lunch in schools. It was too far for me to go home. These girlfriends of mine lived halfway.
Rick: Yeah.
Randy Bachman: So I'd go to their house. Their mother would make us lunch. They'd go back to school. I'd go over to Lenny's. He'd just be getting up. It's like 12:30, 1:00. He had played the night before at some barn dance or hayride kind of thing. He's got albums and he's moving the needle back and forth and picking up passages and licks. He stuttered. I had a brother who stuttered, so I knew how to talk to Lenny Breau.
You never interrupt him, never finish his sentences, you never try to finish his words. Just let him go. We became real conversive and he taught me everything in those two years. There's a book out called Everything I knew I Learned in Kindergarten.
Rick: Yeah.
Randy Bachman: That was my kindergarten with Lenny Breau as my guitar teacher, teaching you what to play, what not to play, when to breathe, when to take a breath. Play like you're a horn player. Play like the two Chets: Chet Atkins and Chet Baker.
Rick: Interesting.
Randy Bachman: You gotta play [Randy imitates a horn]. You've gotta breathe. You can't just play [Randy imitates a sloppy horn]. Nobody has that much breath. So, you've got to let your solos breathe. And if you can't sing it, don't play it. Sing the solos first. You could sing it and play it, somebody else would hear it, and they can sing it.
Rick: Not like shredding or shredders.
Randy Bachman: Nobody could hum you the thing. It's wonderful, it's great, I love these guys. I wish I could play like that once in a while, but I prefer to play Scotty Moore, Beatles' solos, things that you can actually sing.
Rick: James Brown.
Randy Bachman: James Brown…things that you can sing where you've kinda gotta sing those kinds of things. Almost like scatting with your mouth, and then you scat with your fingers. So that being said, Lenny Breau, I was there when he actually quit his family band and said, "I wanna play jazz."
He started showing me some jazz; it was quite scary for me. I couldn't read music. I didn't know what they were talking about. One, four, five, seven…I just knew harmony, because I had played lead. The violin is all leads. I was playing leads right away.
Burton Cummings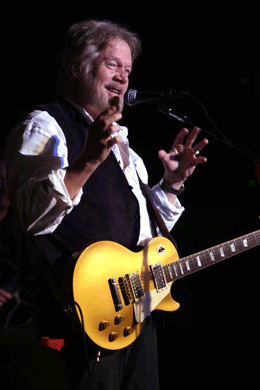 Rick: You have a long musical association with Burton Cummings. How did the band get its name?
Randy Bachman: Our first name. Chad Allen was the lead singer; this was before Burton Cummings. Chad Allen was the lead singer. To be like Cliff Richard and the Shadows, he changed his name. His name was Allan Kowbel. You don't want to be a lead singer if you're name's Kowbel. It was really called The Linskys, like a Ukranian name or something like that.
He gets the name Chad Allen. It's really cool. It's like "Chad and Jeremy". It's like Cliff Richard. It's like two first names. And we are The Reflections, which is just like a shadow, except it's in water. It's not a light against the wall. So, we were very cool, except we want to be Cliff and the Shadows. And we get a letter from a lawyer. There's a band called The Reflections. They have a hit called "Just Like Romeo and Juliet."
Rick: Yeah, I remember that song.
Randy Bachman: We've got to change our name. We then find a word that syllabically fits "reflection", and it's "expression". We become Chad Allen and the Expressions. We get another letter from another lawyer. There's another band in Detroit called The Expressions. They're a black, R&B band. They've got a hit called "Express Your Love", something like that, whatever, and you've got to change your name.
We get a tape from England. Johnny Kitt and the Pirates, a song "Shake and [Let it] Go Wild", whatever. Great riff. The guitar riff and the bass riff, it's like [Randy sings a great riff impression]. It's like a standard, classic rock 'n' roll riff. It's like guitar boogie. It becomes a bass line that's in every song. They play it in every song. We send this track. We cut it in the TV studio, like I said, with this one mic.
We've got a take five, which has a slap on it like Elvis at Sun Studios. Send it in to a record label and they go, "This is a hit song. What's the name of your band?" and we say, "We don't have a name. We keep changing our name. Every time we get a name and try to advertise it, somebody lets us know that we can't use it!" They say, "We're just gonna put this out. We're gonna put it on a white label, a 45 that says "Shakin' All Over" and put "Guess Who" under it. We're gonna run a contest, get a name. If someone guesses the name, they win the contest."
The song went to number one in Canada in like two weeks. Nobody knew we were a Canadian band. They thought it was British. It sounded very British. Like with Joe Meek and The Tornadoes and "Telstar."
Rick: Right.
Randy Bachman: The echoes from his bathroom and the things from under the stairs and we were clapping and all these things. And people thought it really was Brian Jones from the Stones and somebody from the Beatles, but they couldn't put their name on the record, so they just put "Guess Who". All this mystique about the song. It becomes number one in Canada. It gets picked up by Scepter Records in the States. It goes top 20 in Billboard.
We're in high school. We don't know we can go make any money other than playing our dance and getting 20 bucks a week. We couldn't even afford Billboard magazine. But, every Saturday we'd go uptown to the record store and look at Billboard, and I'd meet Chad down there, and we'd go, "Hey, we're 22 this week with a bullet. What does that mean?" and then we'd go to 18. It was unbelievable.
But, at the end of that, we did get a call from a manager in New York saying, "Come and do the Kingsmen 'Louis Louis' tour." We went and did that. That's how we got the name The Guess Who. We toured that whole summer with The Kingsmen.
Chad Allen lost his voice, and was quite homesick. He was in college, first year of college, and he wanted to finish. He said, "I don't want to go on the road anymore." We went to the next band in Winnipeg which was called The Deverons. We had the lead singer Burton Cummings. He was four and a half years younger than us.
A raw, younger guy, younger chicks, a newer kind of audience. We were the elder statesmen in Winnipeg by that time and we get a younger guy. He's cool. He's good looking. He can sing ballads. He's got the Irish tenor. He could scream like Eric Burdon at the time, "In the dirty old part of the city," and all those songs.
We get him in the band. He and I start writing. We get a song called "His Girl". We record it in Minneapolis. Somebody in England hears it and loves it. They invite us to send our three-track tape there. They add strings and a glockenspiel or flugelhorn in England. We get invited to go to England. We didn't sign a contract; we just canceled everything, got on a plane and went to England. Got to England, went in to a guy named Philip Solomon's, office. He owned King Records. He also owned the pirate ship that was out in the Channel that was playing all the records.
Rick: I've read about that.
Randy Bachman: Blatantly, because they were outside of the territorial waters of England, they didn't have to comply with the BBC regulations which was 50% home grown on a copyright.
Rick: Royalty stuff, yeah.
Randy Bachman: And he basically said, "This is a commercial radio enterprise. Your music is commercial. Do you want your record played? We'll play 30 seconds for ten pounds. Do you want 2 and 1/2 minutes?" That's why all of the records were 2 and 1/2 minutes long. <
Rick: Payola.
Randy Bachman: So, you want the whole thing paid, take your 30 seconds. And you want 2 minutes and 30 seconds, you pay us so much by that, and we'll play you once like you're a commercial. You want three plays a day, it's like you're buying time to sell your toothpaste. You're selling your band and your record. Okay. How blatant can that be? Let's do it.
So, anyway, this guy, Philip Solomon calls us into his office and made us an offer we couldn't refuse. It was so bad, we refused it. We walked out of his office. It was like to be on salary to him. He'd send us into our next record, be a bigger hit, because whatever Pirate Radio played, kids would hear it and then they would really go on the BBC 1 and 2 and say, "Play this song by the Canadian band," and then they would have to play it. Then you got play and then you got sales.
It became a very worthwhile thing to do to comply. So, there we were in England. We walk out of his office; we refuse his offer which is a salary per week. No tour income, no record income. Just be on salary to me for five years, and I'll make you the next Beatles. So, we walked out of his office.
We're in England with no money. We decided to pool our money, because we had brought our own money. I brought my money to buy Cliff Richard and the Shadows records, you know, which you couldn't get in Canada. All the EP's. EP's were great. We stayed there for 2 weeks and met, at that time Reggie Dwight, who became Elton.
On the Canadian Rock Scene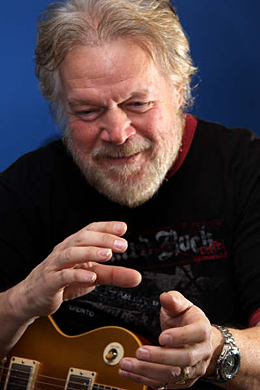 Rick:Yeah, Elton John.
Randy Bachman: The guy who became Cat Stevens, his name was George O' something. [Ed: Steve Georgiou] We met all these guys. They were just hanging out, trying to make it in the music business. The Who only had "Happy Jack" and "My Generation". We actually went and saw The Who at the Marquis Club and asked them to stop using the name "The Who" because it was confusing with us "The Guess Who". [Laughs]
It was quite funny. So we had a wonderful time with it. We went to see Tony Hiller there, who ran Mills Music which published "Shakin' All Over". He was a publisher, the guy who wrote with Johnny Kitt, whose real name was Ted Heath. We went to see him and said "We're the guys who did 'Shakin' All Over'." He says, "Thank you very much. The widow and the kids are very happy. You've made them a lot of money. What are you doing in London?" We told him, "Well, we met Philip Solomon. It was such a bad deal. He's such a crook. We walked out of his office."
He said, "Do you guys want to play a demo at Mills Music? I need a band to play some song demos. I'll tell you what. I've got two great songwriters who have written songs they need demoed. You can bring a couple of your songs. We'll do the four songs. I'll give you the masters. If you get them released in Canada, it's good for my songwriters. I'll even pay you 30 bucks each as my session musicians." Wow.
Rick: Good deal [Laughs]
Randy Bachman: His name was Tony Hiller. He took us in. We didn't have any original material, but Neil Young had given us an acetate. So, we said "We'll record Neil's song, 'Flying on the Ground is Wrong,'" and recorded two of this guy's songs, came back to Canada, we had hits.
When we came back to Canada, we were actually 20 or 30 grand in the hole, which in 1967 was huge money. We got a television show. A guy called who was a producer of the show and said "We're gonna have a show with a host band, and I want you to play Top 40 music," This is on CBC, so it's kind of like BBC.
"It's gonna be on every day of the week. We're getting a band in Halifax. You'll be the host band. We're gonna have all the other Halifax singers and the band will back them up," because they couldn't afford to pay scale to every single band. They were gonna have it from Ottawa. They were gonna have events on Mondays, Tuesdays, Wednesdays in Toronto. Thursday will be Winnipeg, where we were. Friday will be from Vancouver.
Rick: Just going across the country.
Randy Bachman: That show went on for two years. And every week some little kid in Saskatoon or Calgary or Vancouver could see us, The Guess Who, from Winnipeg, doing "Hey Jude", doing "Along Comes Mary", doing Hit Parade stuff. And we really learned, because you had to sound like the records.
We learned to copy the records. Songs that were done on 8-track recordings in L.A. and London and wherever else they were done. It was an incredible time. Out of that we got popular.
Jack Richardson, the producer in Toronto, heard us and said, "I want you to play a Coca-Cola album." Back then it was a big deal to do a Coca-Cola commercial. "Things go better with Coca-Cola" [Randy sings the jingle]. Ray Charles did it, everybody at that time did it, we wanted to do a commercial or a jingle.
And he said, "We don't want you to do a jingle. We want you to do a whole album." "Well, what do you mean?" He went on with, "Will you write and do a whole album?" "We'll get another band. You're the top 2 bands in Canada; you and the Staccatos. You'll do one side of an album and they'll do the other side, and the only way you can get the album is with 10 Coke caps and a dollar."
They wanted to sell this new thing to Coke. So, the album came out, it went platinum, gold in Canada. It sold like 80,000 copies. But, it couldn't get certified because it wasn't sold through the stores. But, that got us launched.
It got Cummings and I writing original songs. Jack Richardson who produced that said, "I wanna produce an album. Will you write some more songs?" We wrote "These Eyes". He took us to New York. Phil Ramone is the mixer and engineer. He did it in a real studio, A&R. Brilliant. We have a hit. Time for a rib. [Randy reaches for his plate of ribs and laughs]
The Guess Who and BTO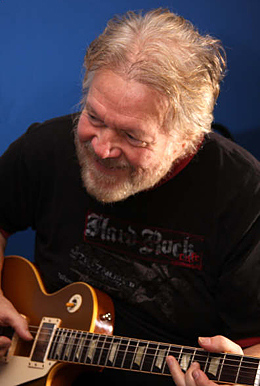 Rick: When you were first starting out, Canadian bands weren't really much a part of the rock scene. I mean, there was Neil Young, Joni Mitchell kind of doing their thing. But, I don't recall any top groups coming out of Canada, offhand. Was that a challenge given the emphasis on the British Invasion back in the '60s? Maybe in the '70s, but mostly in the '60s. Being Canadian, were people going, "What are you guys doing?"
Randy Bachman: It was weird. Nobody heard of Canadians or Canadian music. But, everywhere we went, they loved us, 'cause we weren't "Yanks". Literally, the '60s and "70s, everybody did not like America. The soldiers were there. Every guy in England hated the "Yanks," because they came and stole your women. The servicemen, I mean, literally were hated everywhere.
There were some other Canadian guys, I mean, busting it. Like Paul Anka did an incredible job, this young kid, you know, in Ottawa, writes these songs, takes his music, goes to New York and records "Diana" and begins writing for Buddy Holly. I mean, that kind of stuff. That was just a single guy. But, I think we were the first band that actually played and sang like, you know, whatever, the Beatles, you know, singing and playing your instruments, instead of having a front singer like Rick Nelson or Elvis.
Rick: Yeah. The Guess Who were more pop than anything, I suppose. The BTO sound was like big, truckin' rock music.
Randy Bachman: Yeah.
Rick: But, you had that "Blue Collar" sound. And that was an early, kind of a funk/jazz/fusion song.
Randy Bachman: That was my Lenny Breau stuff. Pretty much Lenny Breau showing me Barney Kessel and Tal Farlow, and me putting it through my own Echoplex, whatever, an echo machine, and buzz or distortion unit.
But, pretty much just jazz licks I learned from him that I kind of song first. I've learned 20 licks from Lenny Breau. I'll sing half of this one, half of that one, I'll piece it together. It will be the solo of "Blue Collar". And the ending, let's do a double-time thing and speed it up. It was all done without much thought, just trying to have fun and do what I like best, which is like rock 'n' roll with a little bit of jazz. Too many guys at that time, their fallback was blues. Instead of normally falling back to blues with BTO I never did any ballads, nothing.
We were like a truck in your face. And we were like big, husky fat guys with beards. [Laughs] We're the guys next door whose mother wasn't home. We took out the garbage. We mowed the lawn, that kind of thing. We'd deliver the papers. It was like the perfect thing. We couldn't dress like the other skinny guys who were wearing girl's leotards and things like that. [Rick Laughs]
We wore jeans and flannel shirts, just like guy's who were on the football team. We were kind of blue collar, lumberjack rock and later it was like bikers and truckers loved us because, what do big guys write about? It's not about gettin' chicks. It's rollin' down the highway with a bunch of guys on motorbikes or in trucks. You know what I mean? [Both Laughing] Drinking beer and chopping trees and things like that. It was kind of a good image. They kind of put it on us. Yeah, this fits. I don't mind being this, because this is what I am.
Rick: We were talking about Creedence being kind of the same way.
Randy Bachman: Same with Neil Young.
Rick: Yeah, Neil Young, as well.
Randy Bachman: I remember doing a gig with Rory Gallagher. He showed up in a golf shirt and nice slacks. Before he went out to play, he grabbed his ripped jeans, his faded flannel shirt and put on old shoes, so he would look like a rock 'n' roll street guy. Gave him more cred.
Rick: Rory Gallagher?
Randy Bachman: Yeah, the Irish guy.
Rick: Yeah, yeah.
Randy Bachman: After he put on like his golf shirt and his pants like this, you know, dress pants and left as a normal guy.
Rick: That's funny. He branded himself.
Randy Bachman: Yeah.
Collecting Guitars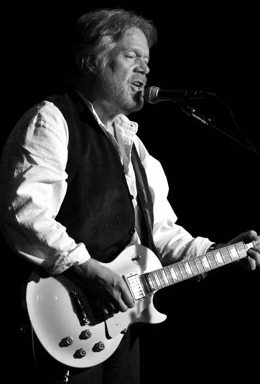 Rick: Our readers are passionate about guitars and I understand that you, well, it sounds like you may have gotten rid of a lot of it, but you have a pretty massive guitar collection. How about telling us about it and about some of your most prized possessions?
Randy Bachman: The orange 6120 I've had, which I played on "Shakin' All Over" and on "Takin' Care of Business". I have mowed lawns, babysat, washed cars, delivered papers to save that $400. This was my big buy, up from my little black Silvertone. Because, it was like doing Eddy and Chet Atkins and Lenny Breau and had a great twangy sound and was beautiful.
Instead of this slab of masonite or whatever, the Danelectros, which I love. It It stood up for like 45 or 50 years. Nothing ever happened. I never did anything to it. I'd even leave on the old strings. That Gretsch got stolen after a BTO session. I think it was our 4th or 5th album. Stolen right from the Holiday Inn.
I'm on a quest to get that guitar back. I was in Toronto. I went to the Mounties, the Provincial Police, you know, PP. Had a description, had insurance on the guitar, I had the serial number and everything. Called everybody to tell everyone. Whoever brings this in, whatever junkie that stole this and brings it in to get high that night, I'll double your money. If you give him $200, I'll give you $400, or if you give him 4, I'll give you 8. I've got to get this back. It's my right arm. This is what I wrote on. This is what I learned on. This is what I played on. This is my hit guitar.
Never got it. But, every one of these guys who called and said, "We've got a so-and-so Gretsch, we don't want it. It's in bad shape. The bridge falls off." "Well, what do you want?" "We gave the guy a buck and a half, we want to make 50, so give us $200." Okay. Got it. I got 1, then I got 2. I had 6. I had 12. My mid-life crisis came. I ended up with 100's.
Years go by. I get a call from a good friend of Fred Gretsch. He calls and says, "I hear you have like 300 or 200 Gretsches," I say, "Yeah." "Can I bring somebody to see your collection?" "Sure, who is it?" "Fred Gretsch." Oh. He comes to my house, he looks and he says, "Wow! I just got the rights back to make Gretsch guitars."
Rick:Yeah, not that long ago.
Randy Bachman: Fred says, "We have no templates. We have nothing. Everything was burned in the factory. Can we borrow your collection, one or two at a time, inspect them, calibrate…caliper them, measure and make them?" and I said, "Sure, I'll loan you a couple at a time. You've got to insure them, and I want to get every first prototype."
Rick: Oh, good deal.
Randy Bachman: And that will prove it if it looks like the right one. So, some of them came, engineered with the switches close to the edge, it should be an inch down. I get to keep…it's not a bad one.It's just a different one. I get to keep that, so you move the switches down. The cat's eyes were the wrong shaped cat's eyes. They were tilted the wrong way, because the prototypes are made in China or Japan.
I end up with all these prototypes and then guys kept calling me. I became the guy to call. I would get so many calls saying, "We want to buy a Gretsch. It's a so-and-so. What's it gonna look like?" "Just a minute." I'd run down to my room. I had a room like this in the basement. I'd say, "Well, starting at the top, it's gonna have thumbnail tuners or pearl Grovers tuners, it's gonna have a horseshoe headstock or steer headstock, it's gotta have a zero fret, it's gotta have this kind of markers. It's got to have this, this, this, this." "Okay, thank you. Do I owe you anything?" and I said, "No, just say hi to Gretsch," and inevitably he'd send me something. I became the guy to call as a reference thing, because I had them all.
A lot of them weren't in catalogs or books or anything. Fred Gretsch copied one by the time the new Gretsch line came out. Once I got every model in every color, I ran out of Gretsches to get and you can't play them all. I ended up with like 350 or 360 of them. I ended up thinking, "Well, I'll have a museum. I'll trace the lineage of the guitar from 1928," the first electric I got, which is just magnets stuck through the hole. Six holes drilled in the guitar, magnets stuck through, copper wire that goes to the edge that has a screw-on jack, not even a plug-in jack.
That was the first Electromatix. It had six on a side, but on one side, the thing was that long , so they'd all be six on the side. Long, long stems, turn the one up here to high E and they got shorter on the back. I had sets. I had a Spanish one and a lap one and a little amp with two plug-ins, like Santo and Johnny, maybe from their fathers, because it was like late '20s, early '30s. I had a blonde set of that and then a birch set of those. Some guy called and said, "Nobody wants these. They're like 100 bucks, 150 dollars, take all 3."
So, I ended up just getting them. On the road you always get a per diem, and I never drank or smoked. I'd always eat the crew meal. I'd save 10 bucks a day, 20 bucks a day, per diem on 50 bucks a day. You go on tour for four months, you get thousands of dollars. Guys would come to the gigs backstage; here's a '59 Les Paul, here's a Gretsch. I'd say, "Well, come on it, here's 200 bucks. You know? So, not only did I end up with a lot of Gretsches, I got incredible Gibsons and Fenders, I got a '54 Strat.
Rick: Wow.
Randy Bachman: Same with Teles. '52 Tele, '54 Tele, a '56. I didn't want to get every year. I thought they were kind of the same. But, maybe they changed every couple of years. And they basically were really good deals. I never paid a lot for any of these.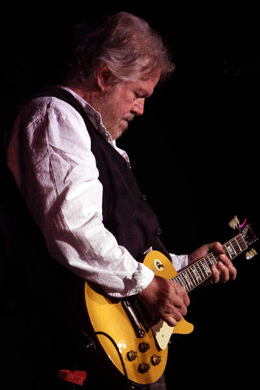 Rick: Were you guys into the Les Paul sound?
Randy Bachman: Ooh. I just had the '59 Les Paul Standard with the factory Bigsby, the one I played on "American Woman". Had it valued by Andy Babiuk, because he drew up the Beatles Gear, he's doing Stones Gear. He's the evaluator for Christie's and for the Cleveland Rock and Roll Hall of Fame. Came to my house.
He was the evaluator of the Gretsch collection, actually. For Gretsch, for myself, so we could get a fair value, and he thought the guitar was worth about $950,000, being my guitar, being the "American Woman" sound, being how heavy it was and that it was in original condition and everything.
Rick: Provenance and everything.
Randy Bachman: Yeah. Serial number's nine spaces, you know, three, one, nine. It's never been in a book. It's so heavy I couldn't play it. I played it on "American Woman," and I've only played it sitting down in the studio. I couldn't play it on stage anymore.
Rick: An eight-pounder?
Randy Bachman: Oh, no. It's like 14 pounds.
Rick: 14 pounds! That's a heavy piece of mahogany.
Randy Bachman: Heavy. Mahogany. Factory Bigsby, even though it's aluminum, that adds a pound and a half. It's something, you know what I mean? It's just heavy.
Rick: Bad for your shoulder.
Randy Bachman: I just had the rotator cuff repaired and stopped playing for six months. This is my first time playing.
Rick: Really? Some guitars will do that.
Randy Bachman: Oh, yeah. And I gotta get this next shoulder done.
Rick: So, you had surgery and not just therapy?
Randy Bachman: Mmmhmmm. Of the three rotator cuff tendons, you've got up, down, forward and back. It's like adjusted. Three were shredded. I had one tendon, like this one right here. It was always sore, because it was doing all the work.
Anything I'd lift. I'd go to the audience, I'd get this shot of pain up my arm. They went in there and said, "There's no way," so they ended up cutting. Two of my bicep's tendons are shredded, Three rotator cuffs. So, from November to about February, my arm was velcroed to me with a little spacer in there, and all I could do was squeeze a ball for exercise.
Rick: That's frustrating for a guitar player.
Randy Bachman: But, now they've come back. I'm exercising it every day now, since last November. I realized for the last 10 years I've been compensating with my playing. I play better than ever now, because this one tendon was doing everything. When you move your fingers like this, you can feel this tendon moving. You also feel one moving there. I didn't have the other ones moving. This one was doing everything. It made me a lot better.
Rick: What guitars did you bring with you here on the road? Just the Les Paul?
Randy Bachman: A wonderful thing happened to me three years ago. I was playing Molson's big outdoor amphitheater on the lake in Toronto. 26,000 people, a sellout. We're on a tour bus driving, just like today. It's about five days before the gig. Phone rings on the tour bus. The manager hands me the thing. "Hi, this is Tina." "I don't know anybody named Tina." "I'm the new Gibson girl in Toronto." "There's a Gibson girl in Toronto?"
"Yeah. I'm the new artist's rep. You must remember me. I worked with Sony Records at MCA." "Oh, yeah, I remember you." "Why aren't you playing your Les Paul?" "Because, Tina, it wrecked my back." I've way slowed down on it. I only play solos on it when I'm recording, sitting down. "What if I got you a light Les Paul?" "There's no such thing, Tina." "What if I got you one that was under 8 pounds?" "What do you mean?" "What if I got you a '57 Gold Top?" like Steve Lukather has got and Dicky Betts's got? It's 7.8 pounds." "I'll try it."
So, I am now getting two Gibson Les Pauls. I'm calling her every day. "Well, it's stuck in customs. It's stuck in customs." I end up at the sound check. There's an opening act and you've got to do the sound check and they open the doors at 6. It's a beautiful summer day. People are sitting all on the hills, having picnics, and there's people that are actually closer up. Five minutes to 5:00, end of sound check, my phone rings. It's vibrating on stage and it goes through the amps.
I look back, it's her. She's walking, she's waving. She holds up the Gold Top out of the case. The band is now putting down their instruments. It's time to eat, it's the end of sound check. She hands me this guitar. I plug it in and just reach down and every knob is where it should be, 'cause this is one I learned to play on, like this one I got in the late 60's.
I'm kickin' my sound and there's the "American Woman" sound, which I have not been able to get out of any other guitar except my '59. I've been on tour with Burton Cummings at that point and the Guess Who for like 5 years, since 2000. Burton comes up to me and says, "Where has that guitar been for the last 5 years?"
I use it now, and I left the strings on she had, which are real slinky strings. I like the strings with real heavy bottoms. I even like pretty heavy tops, because you get more sustain and for longer. I used it that night and I've been using it ever since and I said, "Here's my problem, Tina. One of these is great, but it ain't that great because if I bust a string and I'm singing. I'm stuck at the mic. I can't redo my amp. I can't do anything, I've gotta have the same sound.
I can't have my sound go from this fat in the middle to that thin, and if I want it that thin, if it's a solo or if it's not a pretty Strat, that's what I'm going to be doing, then I needed another Strat to replace that thing. So, she got me another one. So, I have these two Gold Tops that weigh under eight pounds each and they just sound absolutely, incredibly sweet. Fantastic.
But, I have one set of gear that stays with Burton Cummings; we have the Bachman Cummings set that we play. I'm doing my BTO stuff, he's doing the Guess Who. We tour as Bachman-Cummings. That's where I just came from, the Chattanooga trip. I have my own, with my own band, so I got two '59 reissues, which is just like my '59 "American Woman" one, like the same features, but under eight pounds. They sound quite different than most Gold Tops. Darker, more "American Woman" sound on them. Last week, I got the most phenomenal guitar. Johnny A, have you heard of Johnny A?
Rick: I just saw him at George Gruhn's in Nashville.
Randy Bachman: I got a guitar. I got a black one. Holy cow!
Rick: Beautiful Gibson.
Randy Bachman: It's four pounds. It's a double-cut. It's black. I love black guitars, and the binding! And I've got '59 Les Pauls, the black one that used to be Keith Richards' and it's got the same kind of binding, but it's got '59 humbuckers and they don't feed back. It's got this funny carving inside that comes up and supports the bridge and it's a Stratocaster neck on it. Did you know that?
Rick: No.
Randy Bachman: It's the first Gibson with a Fender scale. It's a 25 and whatever Stratocaster scale. So, when you play your chords on a Les Paul, they're somewhat truncated. If you play the same chord on a Strat, it's somewhat elongated, right?

Rick: Yeah.
Randy Bachman: You play it on the Johnny A, it rings. So, having that Fender scale, which may be a slight little difference on each little fret. I don't know if it's a slight spacing difference. I'm not really into all that technical stuff. I just know that it's drop-dead gorgeous. It plays fantastically and it's like getting a Paul Reed Smith in a way that's kind of a hybrid of a Les Paul and a Strat, except the Paul Reed Smith doesn't weigh as much as the Les Paul, so there's no point. I couldn't play it.
This thing, being under four pounds, so I called Johnny and I said "Love this guitar," and surprisingly enough he came to me last Friday. I had to shoot a photo session last Friday. It was for Air Canada En Route magazine, which is the magazine that's in the pouch in front of you on the airplane. One and a half million people read that. It's gonna be in November and they're doing a whole feature on me, and I said, "Johnny, your guitar came to my office.
It's in this thing here that's gonna be read by one and a half million people and I'm doing David Letterman on the 24th of July. I'm going back there. I'm going to take it and play it there. Can you give me one with a Bigsby?" He said, "I'll try." He called me yesterday and said, "We're so back-ordered from Summer NAMM. Everyone is loving this guitar. Every guy who plays a Strat and a Les Paul, this is like putting them together and it weighs, what, one-third of what a PRS weighs." I can't believe the tone. You know what? It's as light as an acoustic.
You've pick it up and you don't have a bad shoulder. Every ounce is really important and you're playing like 3 hours? 14 pounds on you or 4 pounds?
Rick: Yeah, no-brainer there. Okay, one last question. We promise we won't tell your wife [Randy's wife, Denise, laughs in the background], but what's the groupie scene like these days for elder statesmen rockers?
Randy Bachman: That's great. [Laughs]
Denise: You know what? I can answer that question. We were at a show where I met a woman in the elevator and she was about 35 and she said to me, "I saw you at the show. How much would it take for you to take me to Randy's room?" [Laughs] I said, "Well, I don't think he'd be interested."
Randy Bachman: When was this? (Laughter]
Denise: And I said, "I hate to tell you, but Randy's married," and she says, "Oh! That's really too bad." [Randy Laughing] so it was, "Sorry, but I'm not taking you to his room." So, there is a scene there.
Rick: That's funny.
Randy Bachman: He gets women in the sign-up line who say, "Here, sign my chest!"
Rick: Oh, really? That's wild.
Randy Bachman: Nothing's really changed.