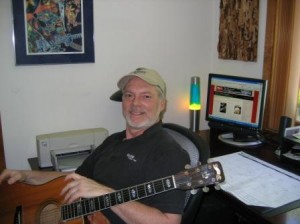 Rick Landers, publisher, Guitar International has been playing guitar since 1965, when he bought a Silvertone twin-pickup guitar and ran it through a Gretsch amp. He and his brother and two neighbors got together to form a garage band, named "Us", in the Detroit area. Although, the band wouldn't last very long, Rick continued playing guitar through college and played in a few clubs in the Washington, D.C. area, as well as hung out in Georgetown where he busked as a sidewalk musican.
Guitar took a backseat to making a living, and armed with a bachelors degree in communications and a masters in organization and management, he would focus on business and communications as a training instructor (contracting/acquisition management), a strategic business manager, an administrator for international logistics, a facilitator,  a senior business analyst and a mediator (Virginia Supreme Court certified). He would take post-graduate courses from Georgetown University, George Washington University, University of Massachusetts, and others during his career. His work would take him to Africa, Europe and other locations in the U.S. and the world. He also took course work at The Brookings Institution and the National Defense University in Washington, D.C., where he earned a two-year certificate in National Security Studies. The Navy sent him to Marine Corps Base Quantico to be trained by Marine Corps snipers for High Risk Personnel weapons training.
Landers was selected for a Navy Executive Development Program, as well as the prestigious, Defense Leadership and Management Program.  His is the recipient of the Navy Meritorious Civilian Service Medal and the Department of Defense Meritorious Civilian Service Medal. Eventually he would become the Deputy Assistant IG for Communications for the Office of the Inspector General, Department of Defense, where he oversaw press relations; a group of web masters; strategic planning, ethics and management control responsibilities and later became the Senior Business Analyst for the Chief Engineer, Naval Facilities Engineering Command, Washington, D.C., before retiring in 2008.
After work hours, Rick spent his time in various activities including Tae Kwon Do, skydiving, running, camping, cycling and other affairs. His cycling took him to Iowa to ride RAGBRAI and he would later complete a series of century rides. In 2012, he completed his first triathlon and a challenging Mud Dog Run race. He rides a bevy of bikes: Kestrel, Cinelli Super Corsa, a RANS Velocity 3 recumbent, an AMP Research B4, a Hooker Elite Cat. 1, a Miyata 1000 LT, a Centurion Pro Tour 15, a Lightning P-38  and a recumbent he built several years ago. In October 2o14 he completed a solo self-contained tour of the Great Allegheny Passage and C&O Canal. He is a member of the Reston Pedestrian and Bicycling Advisory Committee, a Bike Ambassador for the National Park Service's Great Falls National Park (Virginia) and is a Trail Patrol and Board Member for the Northern VA Park Service's W&OD trail. He is currently working on an album of his songs, editing a book on Black Sabbath and writing a novel.
Rick continued to play guitar and write music, as well as build a small collection of vintage guitars that have included a '52 Les Paul, a '66 Telecaster, a '26 Gibson L-0; a '46 Gibson J-45; a '49 Gibson LG-2, a 1956 Gibson J-160e; a '68 Martin D-35, a Custom-made Wechter, a 1996 Rob Allen Esquire, a 1984 Merv Cargill Custom Stratocaster, 1982 JV Fender Stratocaster, a Gittler and others, along with several vintage banjos.
In 2004, he decided to blend his interests in communications with guitars, when he became the publisher of an on-line guitar website, Modern Guitars magazine, as well as served as its Feature Editor. He would meet with and interview such luminaries as Les Paul, Slash, Steve Vai, Roger McGuinn, Nokie Edwards, John McCutcheon, Eric Burdon, Randy Bachman, Johnny Winter, Eric Johnson, Robert Cray, Judy Collins, Scotty Moore, Neal Schon, and many more.
After five years, he decided to start Guitar International, relying on the legacy content of the old site, while developing a better designed and more robust site for guitarists. With the contributors, columnists and advertisers migrating to Guitar International, he decided to focus on developing GI's social networking and marketing areas, to help "get the word out" and build readership.
By gaining the services of a Senior Marketing Consultant (Chris Davis) and Dr. Matthew Warnock as the site's Editor, Landers felt that the new staff of Guitar International would bring GI new vigor, deeper musical perspectives, and drive international traffic to the site. During 2015, Dr. Warnock and he will continue to offer strong content to GI readers and grow the site's GI eStore with ebooks, audio books and videos at great prices. The GI eStore's most recent release is author, Steven Rosen's, Free at Last: The Story of Free and Bad Company.