By: Courtney Grimes
Warren Haynes has found fame and fortune time and time again with the likes of David Allan Coe, The Allman Brothers Band, The Grateful Dead, Phil Lesh & Friends, and now with his own project Gov't Mule. Having written, produced, mixed and played on more than 20 albums, Warren has been featured on numerous TV shows, charity benefits and music festivals, has performed in almost every city in the country, and almost every country in the world.
Few musicians would come from these experiences with the genuine humility that Warren has preserved. Having become a leader in songwriting and musicianship, he remains a highly influential guitarist of today's generation. With his Gov't Mule lineup, Andy Hess (bass), Danny Louis (keys) and Matt Abts (drums), Warren continues to make his mark on the rock world.
On the road in a Chicago hotel room, Warren chatted about feeling uneasy, what he loves the most and trying to top himself.
******
Courtney Grimes: When did you first decide to start playing guitar?
Warren Haynes: When I was 12. I had been singing from the time I was seven and all my influences back then were soul music – James Brown, Otis, Wilson Pickett, Four Tops, The Temptations, Sam and Dave…and then eventually my oldest brother brought home a Sly and the Family Stone record and that was the bridge from soul to rock and roll. Then I heard Cream and Jimi Hendrix and that's when I told my dad I wanted a guitar.
Courtney: How did you first become involved with The Allman Brothers?
Warren Haynes: In 1980 I joined David Alan Coe's band. I was just a kid. I made a bunch of records with him, toured with him, and it was through him I met Dickey Betts and Greg Allman. Dickey and I became friends. Then a few years later when I moved to Nashville, we played together some – just kinda casually – and then in 1986 I got a call from Dickey Betts wanting to put a band together.
This is when The Allman Brothers were broken up. So I joined Dickey's band for about three years, and then in '89 The Allman Brothers reformed and asked me to come along. I had written a bunch of songs for Dickey's band and the title track to the album. That was 16 years ago.
Courtney: What do you think about all these musicians who are "Allman Brothers up-and-comers?"
Warren Haynes: I know that The Allman Brothers were one of my favorite bands growing up and records like Live at the Fillmore East were just a huge inspiration for guitar players of my generation, and to be a part of it down the road is a pretty cool feeling. When I meet younger musicians that point me out as being one of their influences, it's still a feeling that I'm a little uneasy with. It's hard for me to imagine my music being as important to someone else as the things I grew up listening to were to me. But I guess it is that way.
Courtney: Tell me about your Gibson guitars.
Warren Haynes: Mostly in Gov't Mule I tend to play my Gibson Signature Guitar
and Firebirds, mostly non-reverse Firebirds. I have an Explorer that I play slide on. I have one of the only two Gibson Les Paul 12-strings in the world. With The Allman Brothers I played mostly Les Pauls and 335s and my '61 dot-neck 335 that I've had for a long time is primarily a recording guitar. I hardly ever use it on the road.
Or I play it in New York City where I live. When I was working with The Dead, I tended to go for a not quite as big a sound so I would use SGs primarily. I have a Korina Les Paul that is kinda unique sounding that worked out in The Grateful Dead as well. As you can see I have just a large array of Gibson guitars.
Courtney: Do you have a favorite?
Warren Haynes: My current favorite for the road is my '58 reissue Les Paul that I've been playing for three years now. I have 10 to 12 Les Pauls, and it's my favorite one. My favorite recording guitars are that one and my new non-reverse Firebirds and my '61 335.
I like the Firebirds because when you're looking for a twangier sound like a Strat., you can get something in that vicinity but it still has the meat of a Gibson guitar. I use Firebirds a lot mostly in alternate tunings, tuned down a half step in some cases with capos or open tunings or whatever. But they seem to respond very well to tuning 'em down a half step.
Courtney: Do you make modifications to your pickups?
Warren Haynes: Not usually, I don't do it myself. I usually just try something and whatever sounds good just go with it. Usually if the pickups that come in the guitar sound good I just leave 'em in. If they could be better then I'll try some stuff.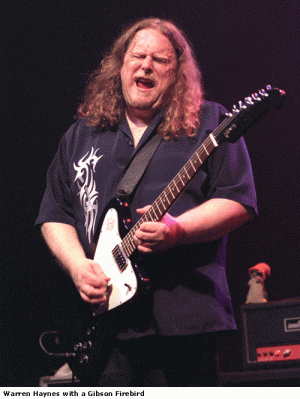 Courtney: Why did you decide to form Gov't Mule?
Warren Haynes: We formed in '94, prior to that I had done a solo record in '93. It has always been important for me to have an outlet outside The Allman Brothers for a lot of different reasons. Mostly because a lot of songs I write may not end up falling into The Allman Brothers category. We have a lot of similar influences, but we have a lot of different influences as well.
Gov't Mule was formed in '94 originally as a side project. But Allen Woody and myself were both in The Allman Brothers at that time and felt there were no improv power trios on the scene. So we decided to bring that form back…like Hendrix, Band of Gypsies, Cream, even four-piece bands with a front man. Originally we were just going to do a low-budget album, but it kind of wound up having wings of its own and turned into a full time band.
Courtney: What is your favorite song to play live?
Warren Haynes: It varies. I could never choose one. One of the things we love to do is play a different show every night. So we don't get tired of playing the same songs.
Courtney: Who is your favorite artist that you've jammed with?
Warren Haynes: That's tough too. I have been fortunate that I've jammed with so many great artists. Bob Dylan, John Lee Hooker…it was kind of a surreal feeling like you're watching a movie and you're in it.
Courtney: If you could record "the ultimate album," what would it be like?
Warren Haynes: I don't know, that's a good question…all the records I've made with Gov't Mule, all The Allman Brothers albums we've made, I'm very proud of them and the latest record, Hittin' the Note.
I think the most important thing is to keep trying to top yourself and make something unlike anything you've made before. For me, it's about all the different ones added together as a big picture. It's like my current favorite record is our current one. And hopefully when we make the next one that will be my favorite.
Courtney: What was your very first guitar?
Warren Haynes: My first was a Norma guitar and a Norma amp. It was amazing, just the cheapest thing in the world. I didn't stay there long. The next guitar I got a year later was a Lyle copy of a Gibson SG.
Courtney: What would be a cornerstone for you in your career?
Warren Haynes: The list of people that I want to play with but haven't is getting shorter and shorter. There are still quite a few people on that list, but the list of people I have played with is so amazing I can't help but feel blessed. Obviously there are people I look forward to working with. I've been so fortunate I've been nominated for seven Grammys.
I've won one Grammy, I've played at Woodstock with The Allman Brothers, and at Bonneroo by myself with The Dead. With Gov't Mule there are so many highlights it's kinda hard for me to list 'em. And I mean that in the most humble way. I feel extremely honored to do what I do. I think anyone who does what they love for a living is blessed. And music is what I love the most.
******
[The above article appears courtesy of Gibson.com and is reprinted on Guitar International with permission. Copyright 2005, Courtney Grimes and Gibson Internet Group. All rights reserved.]