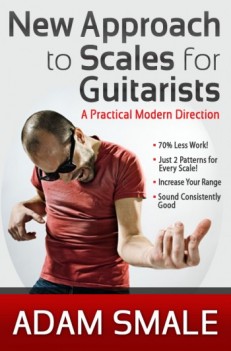 New Approach to Scales for Guitarists should be in the hands of every modern guitarist today. This book not only teaches you a completely new way of organizing your guitar fretboard, but will also change the way guitarists relate scales to chords. Learn the science of how to make your musical statements sound strong and cohesive. This book is also a compendium of common scales used in today's ultra-modern harmonic-melodic vocabulary: an extremely comprehensive book for contemporary music.
If you need to break out of some ruts, this book is for you. If you need to know how to move around effortlessly on your fretboard, this book is definitely for you. The author, Adam Smale, shows you his unique method using examples for each scale in its full range using Standard Notation and Guitar TAB, as well as utilizing Fretboard Diagrams to fully comprehend this thrilling new advancement in guitar pedagogy for all players and all styles.
Read a review of "New Approach to Scales for Guitarists"    
In this approach to scales you will benefit from:
70% Less Work
Just 2 Patterns for Every Scale
Increase Your Range
Sound Consistently Good
Click to Buy "New Approach to Scales for Guitarists" for 14.99 USD
"New Approach to Scales for Guitarists"                  
******
About Guitar International Ebooks
All ebooks come as PDF files and can be easily read on any computer, tablet or ereader.
When purchasing any eBook, payments can be made through Paypal with either a money transfer, Debit Card or Credit Card, or if you don't have a Paypal account you can sign in as a guest and use your debit or credit card to make things quick and easy.
Due to the nature of the item, eBook purchases are not eligible for return or refund under any circumstances.
Once your payment is processed, instantly, you will receive a link to download the ebook. It's that easy!