By: Brian D Holland
Some people are of the opinion that instrumental music sounds routine or redundant after a while, especially when the instrumentals are in specific genres, as it can be theoretically enslaved. However, that idea couldn't be further from the truth in Spread the Love
, the 2010 instrumental release from Ronnie Earl and the Broadcasters.
That the album is without a human voice is nothing new for Ronnie, as his guitar voice has always been known to express more than enough melody and emotion anyway, whether a human voice is in the mix or not.
But what's often the key to keeping genre music, especially instrumentals, fresh and diverse is the ability to properly ignore restrictions. Ronnie is one of few blues performers who can say that he stays true to the genre, even though typical boundaries don't exist in his music.
Nevertheless, signature style and tradition is welcomed, as that's what the blues is generally all about. Spread the Love is a brilliant example of the sundry instrumental sound of Ronnie Earl and the Broadcasters. It has a good mixture of both tradition and the more divergent in style.
Although the album does have its share of that Ronnie Earl signature blues style and sound, what fans expect, it also includes a few songs that will without a doubt astound and mesmerize—merely because of the tangential changes and melodic diversity in each. But more than anything, Ronnie spreads love and devotion throughout, as most of the titles are tributes.
The album's opener, "Backstroke," is in that traditional category. The band slows the Albert Collins cover down from its original form just a bit, adding just the right amount of funk and B3 resonance alongside the scorching guitar notes. Ronnie deposits some crackling ice tone into the licks to pay homage to the blues icon.
"Blues For Dr. Donna" follows, a traditional slow blues in honor of his loving wife. Ronnie has habitually named some of his originals after adoring people and friends over the years, in this "Blues For …" manner. The songs are often in slow blues progression form, taking the listener down an acoustic or electric path.
Others here are "Blues For Slim," "Blues For Bill," "Tommy's Midnight Blues," and "Ethan's Song," all of which are treated in that Ronnie Earl traditional air, which can be wherever the highlighted name takes his mood.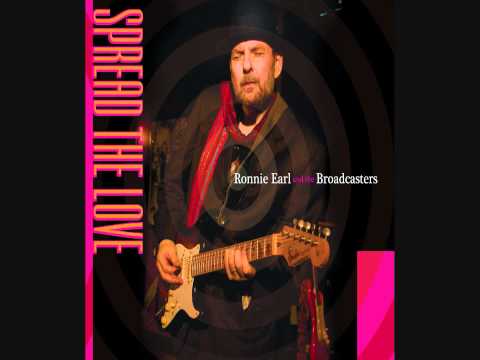 The band gets into a blue-jazz atmosphere amid a Latin tempo in a cover of Kenny Burrell's "Chitlins Con Carne." "Ethan's Song" enters jazz territory as well, and features a nice B3 solo from Dave Limina. Ronnie takes a back seat to Limina in a few other places as well, most notably in Limina's own "Spann's Groove," a roadhouse piano romp in memory of Otis Spann.
Now, that's all well and fine, as the aforementioned songs are good enough on their own. However, the incredible gems to follow are truly special, because they justly reach the uppermost level of originality and innovation that many instrumentals only aspire to.
"Cristo Redentor" will blow you away. Up there without a doubt as one of Ronnie's finest slow blues to date, the sweet, weepy notes in this melancholy and laidback Duke Pearson penned melody will leave an impression for years. What's unique about it is Ronnie's brilliant ability to be subtle. Each note has incredible purpose, and nothing is overly exerted or wasted.
"Happy" is vigorously positive, just as the title states. It's very Allman Brothers-like in places, as Ronnie gets into some lively rhythmic chops in the first half while Limina soars off in keyboard heaven.
It wouldn't surprise me at all to discover that Skydog himself is smiling down upon Ronnie when hearing his dreamy notes in "Skyman," the laidback and romantic tribute to Duane Allman. Dave Limina's jazzy piano notes are reminiscent of Lyle Mays in places here.
And then there's "Patience." It's different that this excellent piece of music was written by Broadcasters' drummer Lorne Entress, but in knowing the amazing talent that this band is as a whole, it doesn't surprise me. It's a slow blues that doesn't only break boundaries, it hurdles over them. And it's everything that patience actually is: the even-tempered, almost divine ability to wait and linger, a display of kindness through diligence and tolerance.
It's a stunningly epic and flawlessly executed instrumental, abundant with dazzling melody and adept technique. Reminiscent of Roy Buchanan riff magic in places, Ronnie's volume and tone manipulation accents his raw Fender guitar straight into Fender tube amp and Fender tube reverb sound: the trifecta of great tone.
And as usual, it's not all about Ronnie Earl. It's also about the piano and Hammond B3 flair of Dave Limina, the solid yet subtle bass lines of Jim Mouradian, and the percussive diversity of Lorne Entress—the Broadcasters for the past eleven years. Ronnie Earl and the Broadcasters exert a magnitude of imagination and creativity into the blues in Spread the Love.
Track Listing
Backstroke
Blues For Dr. Donna
Chitlins Con Carne
Cristo Redentor
Happy
Patience
Miracle
Spann's Groove
Skyman
Blues For Slim
Tommy's Midnight Blues
Eleventh Step To Heaven
Ethan's Song
Blues For Bill