by Vince Lewis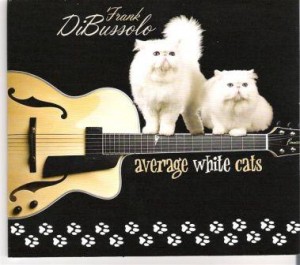 Frank DiBussolo is an experienced player and educator.  His guitar work has been featured with bands the likes of Buddy Rich, Art Blakey and Dizzy Gillespie.  He has appeared as a sideman with Diana Ross, Tony Bennett and Frank Sinatra.  DiBussolo is currently Director of the Guitar and Jazz Studies Department at the Lehigh Valley Charter High School for the Performing Arts.
Average White Cats
is a collection of original material.  Titles include "Blue Heron," "Loco Linda," "Gracie and Kate," "Vin Dolce" and "Una Samba Pequena."  There is also a sensitive vocal rendition of the classic "When You're Smiling."  DiBussolo is a creative writer who bases his compositions on traditional jazz harmonies.  His solos are thoughtful and well crafted. His sound and phrasing shows his many musical influences. The title cut "Average White Cats" is a bluesy shuffle tune with a catchy melody line.
DiBussolo is joined by Greg Edwards (woodwinds), Chicago Carl Snyder (keyboards), Greg Eicher (double bass) and Sean Kennedy (drums, latin percussion).  Each player plays a solid role in creating a very effective and cohesive ensemble performance.
Frank DiBussolo is an excellent example of a dedicated teacher who is also a fine performer.  It is a very difficult task to balance the two musical worlds.  This CD is also a fitting tribute to his late friend Kenny Rankin.  Listeners and fans of traditional mainstream jazz should truly enjoy this album.
Title: Average White Cats
Label: Lost World Music  LWM 017
Frank DiBussolo and Rick Stone play "Another You"