By: Craig Hunter Ross
PART ONE
 "Everybody wants The Struts, especially Dave Grohl"
The Struts have already piled on a series of cool accomplishments that rival and surpass the likes of many a band significantly their senior:
Opened for The Rolling Stones, before the release of their first album

Hand picked by Motley Crue to be the opening act for the Crue's four final performances

Were the support act for The Who in Quebec City in front of a crowd of 80,000!

Opening act for Guns N' Roses

Personally selected by Dave Grohl to be the touring support act on the Foo Fighters' Concrete and Gold tour 2017-18
Not bad for the four young men (Luke Spiller, lead vocals; Adam Slack, guitar; Jed Elliott, bass; Gethin Davies, drums) who in 2012 in Derby, England formed The Struts.  Their style has been described as big, fun, over the top and unapologetic rock and roll, with tongue in cheek allusions to the glam rockers of yesteryear. But make no mistake, their high energy, balls to the wall live performances continue to result in box office sellouts in nearly every venue where they graced the stage.
On the heels of their extensive touring with The Foo Fighters, on the cusp of the release of their second studio album and only a few shows into their headlining Body Talks tour, the four lads from across the pond granted an exclusive and extensive interview with Guitar International.
******
Craig Hunter Ross: My first question involves a prop…
Jed Elliot: I like this already!
Craig:  Take a look at this photo and tell me what your first memory is when you see it…
"They are the best opening band we have ever had" – Dave Grohl, 2018
Luke Spiller: Where the fuck is that top?  I really miss that top! [Laughter]
Gethin Davies: Oh, that's Dave Grohl!  My first memory is hearing a knock on the door and Dave Grohl's face popping in around the corner and Dave saying "Hey guys, it's the fucking Struts!  How are you doing!" I was like "That is not Dave Grohl, that can't be Dave Grohl", but it was Dave Grohl!
Adam Slack: I just remember being really pissed, because this door locks every time you close it and someone kept knocking on it and I opened it and he reaches out his hand and is like "Hi, I'm Dave".  I was like "Uh, guys…"
Craig:  Was that the first time you all had met him?
Jed Elliot: Yeah, I mean you (Craig Hunter Ross) were here in the room with us.  We had like that five minute chat with him and then you took some photos and we had to head straight out to the stage.  I remember walking out and seeing Dave up in that top balcony, above the side of the stage, and Geth and I are out there, at the time it was just the two of us out there starting the set and I'm looking at Geth like "Don't fuck this up".
Gethin Davies: I was shitting myself…
Craig: It's like he was looking down watching his new find!
Luke Spiller: Like Zeus on Mount Olympus…
Craig:  So, how far along after that initial meeting did the talks of touring together start?
Luke Spiller: Probably in dribs and drabs about four weeks after that.  It was kind of obvious because we had gotten on so well and he was hinting at that time about how much he appreciated how hard we worked and that he loved the live show.  We really seemed to have all the qualities he looks for in an opening act. So, we were speculating for quite a while if it would happen, you know "Do you think they will ask us?" etcetera.  Actually, it was quite a while after that, it took a long time. Me and Adam were recording the second album and we got the news through that we'd got it and that was about three weeks before rumors started that we might.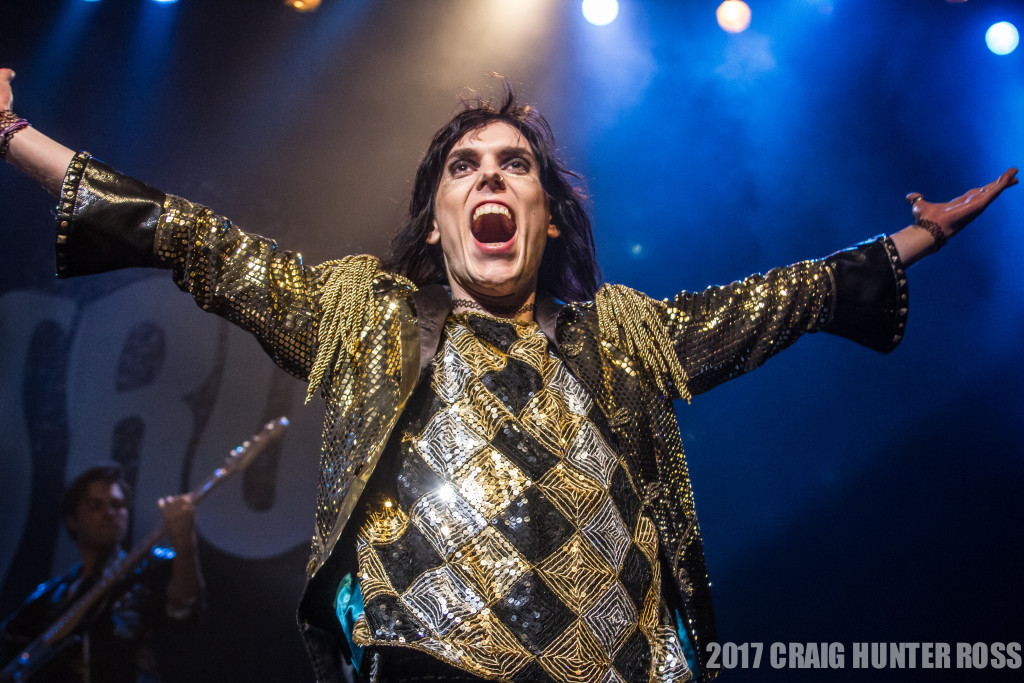 Adam Slack: Yeah, it was definitely a few months afterwards.  You know between agents and such, everyone was saying yes, but ultimately it comes down to Dave.  Then we finally got that text that said "Dave says, "Yes, let's do it". Then I ran around a field screaming, giving Luke running hugs and stuff like that.
Luke Spiller: You find out everything is on Dave's watch, because even after the first leg of the tour, we weren't confirmed to be on the next one and everyone is like "Are you doing the next one? Are you on the next one?" and we and the crew are all like "We don't know".
Jed Elliot: It's almost like having a contract for each one, Dave would be like "You want to do some more" and we are like "Fuck yeah, we're having a blast, yes please"
Luke Spiller: Then we'd all ring up our managers and were like "Yeah, he said we're doing it"
Jed Elliot: Rent the bus!
Adam Slack: Scrap the tour we had planned! [Laughter]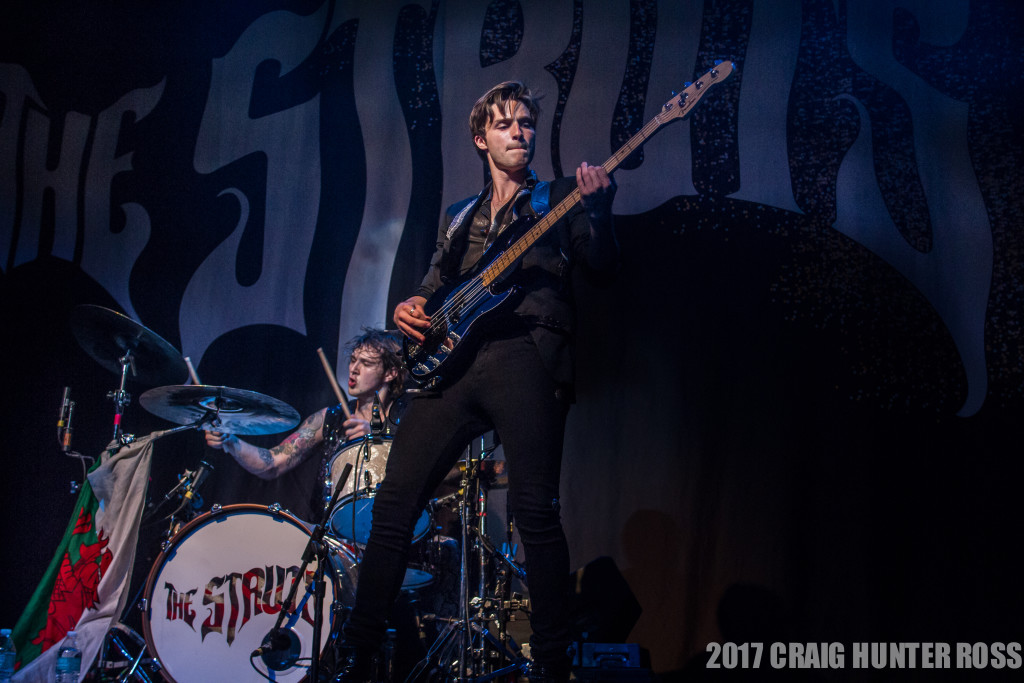 Luke Spiller: I think we did scrap one tour and he asked us to come out again, so that's how it happens.  Again, it's all on his watch, we're just glad he said yes.
Craig: Well, I'm going to take credit for it, [Laughter] because as Dave left the room that night, I said to him, "These are the guys to open for you next tour".
Jed Elliot: Well mate you planted a good seed there!
Craig: Did you have a lot of interaction with them on the road?
Adam Slack: It became like some really good friendships actually, Taylor or Pat or Dave would come to the dressing room. We'd bump into them in catering and sit down and have dinner; we just became really good friends.  Luke would get up each night and sing "Under Pressure" with them on stage.
Jed Elliot: We played football with Shifty every day off we had and with their crew, as well.
Adam Slack: Pat Smear really took me under his wing really, talking about guitars, texting me each day, I'd send him stuff from the new album, with him telling me what songs he liked and which he didn't, it was an on going thing really.  They are going to come out and see us on this tour at some point.
Luke Spiller: It's really cool because they are so humble, they're very secure in who they are and what they do.  I mean someone in their position could look at us as something or somewhat of a threat, or a sign of the times that something new is happening or something is slowing down.  For them it's simply not the case. They want to be a part of helping something new grow, to nurture it and help it as much as possible.
Craig:  Like in the way Sting took off his bass at the end of The Police set at the Amnesty International show at Giants Stadium in the early '80s and handed it to Adam Clayton of U2.  Kind of a subtle or symbolic passing of the torch…
Luke Spiller: Or like when Andre the Giant gave Hulk Hogan his approval.  You know, that's what it feels like. The Struts are Hulk Hogan.
Craig: God bless you, Luke, a WWE reference.
Luke Spiller: I love WWE!
Craig: You're so well known for bringing such high energy to your shows, but did you have to make any adjustments to scale up to these stadiums and large arenas?
Luke Spiller: It took three or four shows, it always does. You approach it like a festival, work out and learn the things you're going to say very quickly.  By that third or fourth show, you kind of have it down. You then have an idea of what you are capable of and what the limits are. I'd say we were playing our best on the second leg for sure.  I was so much more confident, getting everyone off their seats, even if the stadium or space was only a quarter full, depending on when they opened doors. It was like get up and do this, who cares!  But yeah, it took a little while.
Musically, it flowed pretty well.  We all knew it had to be snappy. The only real challenge was what to say between songs and crowd interaction stuff.
Jed Elliot: When you are the support band, you have the clock running from the moment you walk out on stage.  When you are headlining you don't have to think about that. Some nights may be an hour and a half, some nights may go two hours, it depends on that on stage banter.  But, when you are the support act, you really have to think about it.
Craig: You guys have basically been on the road non-stop, either a support act or headlining your own shows between the bigger tours.  It's not all glam and glitz. What have been some of the personal challenges you all have had to face or endure over the last year or so?
Gethin Davies: Of course you miss home and your friends.  People are getting married, and you're out on the road.  But you have to remember why you are doing it, and that is to become the biggest band in the world. It's an investment. You take it on and know you are doing it for the right reasons. People at home understand that.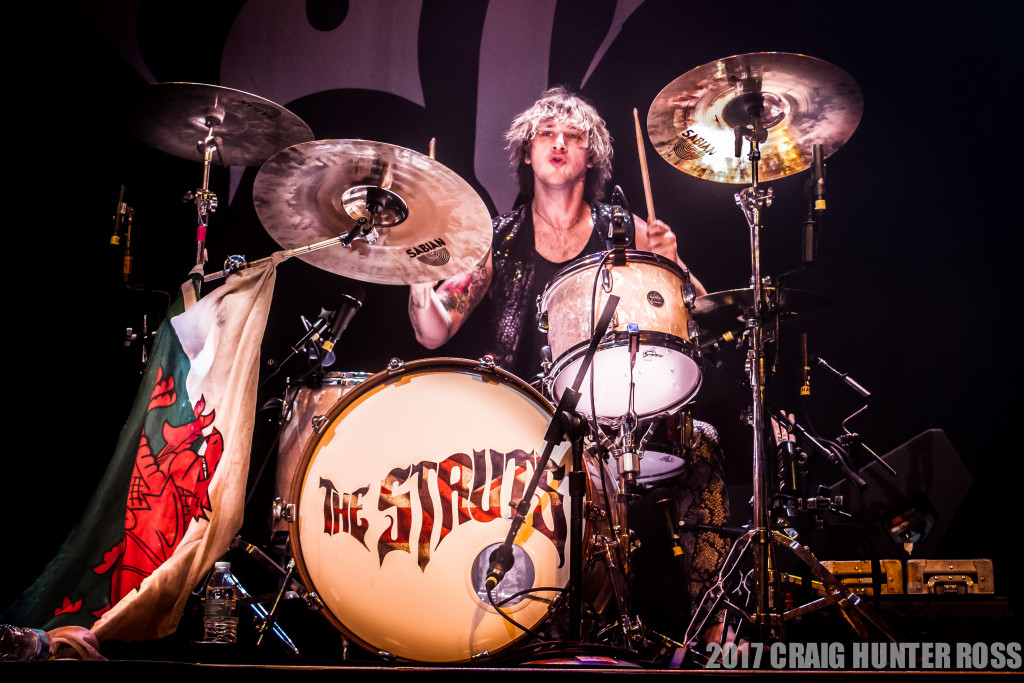 Jed Elliot: This has been a particularly busy window of our lives and I even said this to my sister recently, she was really missing me.  I was like "It's not going to be like this forever". Hopefully we can continue to have success for as long as possible, but the idea of us being on the road away from home ten to eleven months a year isn't going to always happen.  If it does, then I think we need to have some serious chats.
As long as you can have those windows in between, and budget wise too.  For us, as a U.K. band, for us to travel home every time you come off the road, unless it's on your own dime, it's not really possible.
Craig: Does it seem like time stands still for you all on the road and you return home to see time has progressed while you were gone?
Luke Spiller: No, actually the opposite, well, yes and no.  When I am home, sometimes I find I feel as though nothing has changed and things have moved on minusculey.  But, when I think about what we have achieved as a foursome, and everyone surrounding us, our crew, etcetera., it's like "Wow, we have been and done so much".
I think what we all find a little bit difficult is being away from our native country so much. We are away as much as some people in the military at times.  It's not quite a normal thing to do, even at our level. But no one is making us do it or keeping us here. It's worth it. No one is making us go on a fucking three or four month long tour.  I was discussing this the other day, someone said if you wanted to this tour could have been 16 weeks, not 12 or 6, or whatever. But this is out ambition. A lot of U.K. bands that come here for a few months or a year, they too have a certain level of ambition, but it doesn't necessarily match ours.
Adam Slack:  It's like Taylor Hawkins was telling me, you have got to keep playing and play everywhere you can.  That's what they did and it's good advice really.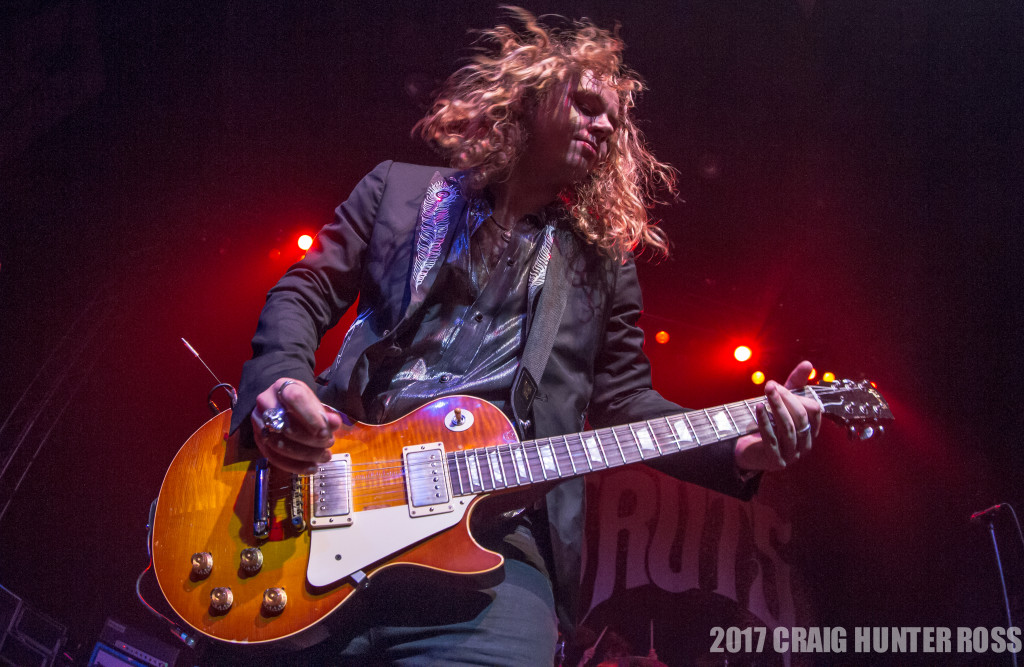 Craig:  Now a fan question from Jackie C. in Virginia, "Luke, do you still do your own make up and if so what's your routine?"
Luke Spiller:  No! My makeup is far too good now.  My girlfriend lovingly does my makeup.  I wouldn't know where to begin now. I used to do it, especially in the early days.  Sometimes I see those pictures and I am like "My God, look at this". It's awful. So no, I don't do it any more.
Craig: I'm sure as big Queen fans you are aware of the Bohemian Rhapsody film coming out in the next few weeks.  Did you, Luke, consider auditioning for the Freddie Mercury role?
Luke Spiller: I was asked.  First and foremost, I'm glad none of it came to fruition.  Everything that happened with The Foos, the new album, none of that would have been possible if one of us, any of us, was involved in a motion picture.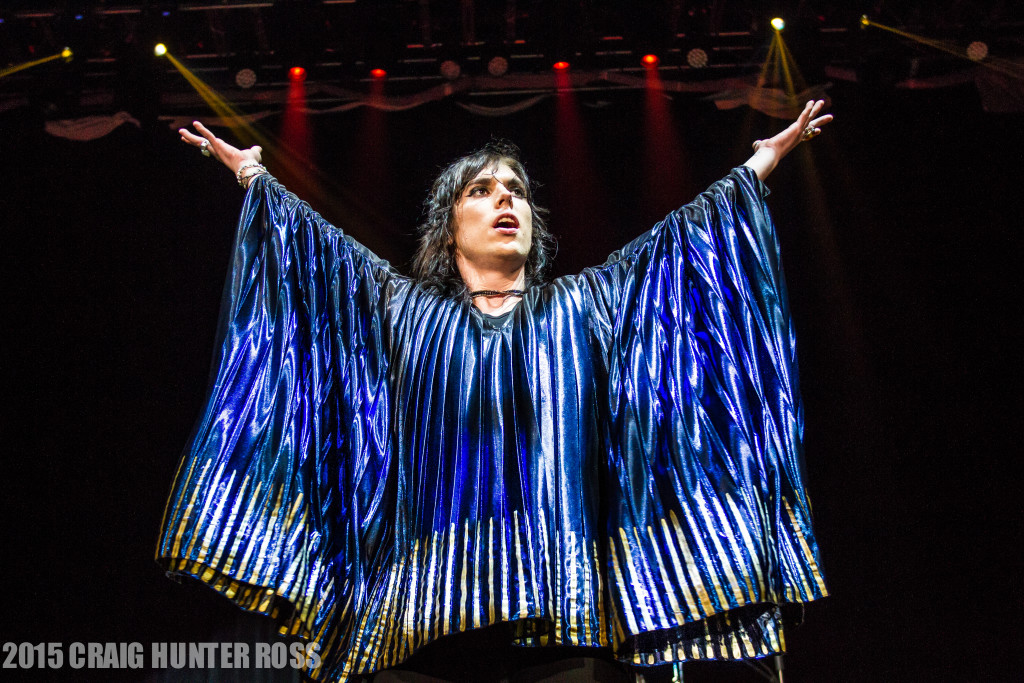 There were talks that our friend of ours would possibly direct, so he pushed for me to be given a camera test.  I was like "cool" and there was about four to five weeks of preparation, and five days before the camera test everything went quiet.  
My manager called me and told me they had changed directors and the new director, Bryan Singer, was going with Rami (Malek) and pretty much has worked out all of the cast.  It will be a brilliant film, no matter what. I'm a little bit bummed to not be part of it, just as a fan, but at the end of the day I'll watch it, of course. I think I went 48 hours without listening to Queen then got over it [Laughs].
Craig: That being said, when The Struts movie comes out someday, who would each of you want to play you?
Luke Spiller:  I'd have my son…
Jed Elliot: You should probably have a baby first, shouldn't you?
Gethin Davies: Adam could have Dustin from Stranger things (Gaten Matarazzo) if he has bloomed into a handsome young man by then [Laughter]
Jed Elliot: I know exactly who mine is, Paul Rudd in I Love You, Man when he slaps the bass!
Gethin Davies: I'd have Heath Ledger. 
Jed Elliot: Chris Hemsworth could play Adam!
Adam Slack: [Laughs] Yes! Done!  Or the guy who is Aquaman [Laughs], or Michael Cera [Laughs]!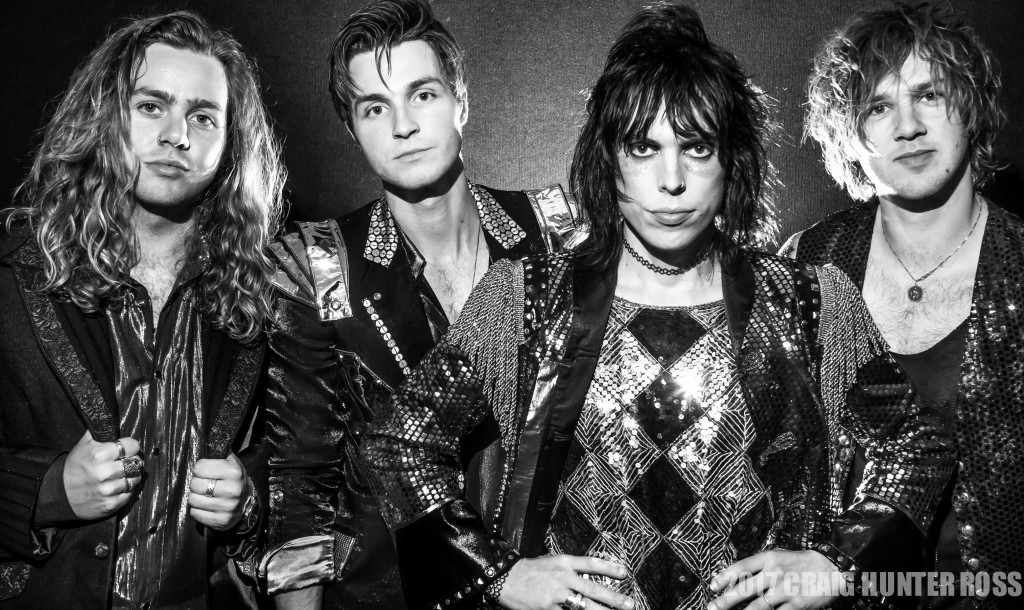 In PART TWO: The Struts Conquer the World With Young and Dangerous, the band discusses the creative process behind their upcoming album, Young and Dangerous, which is being released October 26, 2018…