By: Rick Landers
Armed with a knack for creating an eclectic array of songs, with clever twists, beautiful melodic riffs, butter smooth vocals, the legendary singer-songwriter, Dave Mason, has gifted us with such memorable tracks that include: "Feeling Alright", "Only You know and I Know", "Hole in My Shoe", "So High (Rock Me Baby and Roll Me Away)" and many more.
Mason has toured the world for over fifty years, beginning with his time as a member of the acclaimed British jazz-blues-rock-pop fusion group, Traffic and later as a solo act. Not that he was a loner.
No, Dave's worked alongside other rock icons like Jimi Hendrix,  Paul McCartney, George Harrison, Eric Clapton, Michael Jackson, Leon Russell, the Rolling Stones, Fleetwood Mac and a host of other majors in the pantheon of modern music.
Listen to the opening acoustic riffs on Jimi's "All Along the Watchtower" or the vocals of the Hendrix classic, "Crosstown Traffic" and Dave's made his mark. Be reminded that Mason had a turn managing The Spencer Davis Group, then later running solo, he had his 1977 hit, "We Just Disagree" a staple of the classic rock airwaves with it's honey soaked vocal and poetically aching lyrics. And let's not reduce the album, Let It Flow, to just that single, the album is a masterpiece. And, yes, Dave's got his well deserved place as an inductee in the Rock 'n Roll Hall of Fame. There's more, like his work with the Stones on Beggars Banquet and George Harrison's prolific All Things Must Pass solo pursuit.
Music runs in his veins, yet when asked about his love of rock 'n roll, he merely claims to be a "working musician".  And on his latest venture, the Rock and Soul Revue Tour with the legendary Stax session man and stellar song-writer, Steve Cropper, Mason deflects praise directed his way to his friend Steve.
Steve Cropper's and Dave Mason's Rock and Soul Revue has kickstarted and will roam America for months. We can expect to hear many of the hit songs that they've appeared on, like "Green Onions", "Dear Mr. Fantasy", "All Along the Watchtower", "We Just Disagree", "Feeling Alright", "Sitting on the Dock of a Bay", "Soul Man" and many more that have been a part of their storied musical careers. The term legend floats around easily these days, but in fact. Steve Cropper and Dave Mason are the true grit that's fundamental to the word – legends, indeed. The Rock and Soul Tour is one not to miss…
Steve Cropper and Dave Mason Rock & Soul Review Tour 2018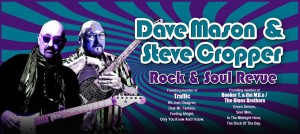 ******
Rick Landers: Songwriting has changed over the years due to technology. When lyrics or melodies popped into your head decades ago, how did the challenges of keeping them for later differ from today?
Dave Mason: Well, I 'd use cassettes. I didn't start writing until '67. If the song was worth a shit, then I'd just remember it, but otherwise, for the most part, I'd just use a cassette.
Rick: I recently saw a photo of you playing a sitar. How'd that come about and were you influenced by Ravi Shankar, George Harrison, Shawn Philips or some other players? And, what other instruments are you comfortable playing?
Dave Mason: Back in the Sixties…I'm English for one thing and we had a lot of Indian restaurants where I grew up. So, I was familiar with the Eastern music and then the Sixties started to make its way into Western music . And I was listening to all kinds of stuff back then; Bulgarian music, Eastern, classical, jazz, rock, blues, whatever. It was interesting and, actually,
George Harrison gave me my first sitar. I used it on a couple of Traffic's things. I used it on the first song I ever wrote, Traffic's first big hit called, "Hole in My Shoe" and I used it on "Paper Sun". I actually did a couple of tracks with Hendrix where I used it, I played bass, but I have no idea what happened to those things. I played around with it. I haven't used it in years.
Rick: You played on Electric Ladyland? 
Dave Mason: Yes, I played on Electric Ladyland, played on "All along the Watchtower" sang on "Crosstown Traffic" and just some tracks that Jimi and I just cut together. We did complete tracks, drums, whatever. But, but I don't know what happened to them.
Rick:
Going back in time, I suppose you were inspired by Scotty Moore, Eddie Cochran, Johnny Burnette, Grady Martin nd Chuck Berry. But, it seems that a lot of British players wore out records of B.B. King, Muddy Waters and other blues players too.
Dave Mason: My stuff originally? I listened to The Shadows, with Hank Marvin, The Ventures, then got more into things and started to listen more, Wes Montgomery, George Benson, Kenny Burrell, all the Kings, Albert, BB, Otis Rush, Elmore James, all that stuff. 
Rick: How'd Traffic come together?
Dave Mason: Jim (Capaldi) and I had bands together, the Deep Feeling and The Hellions. We cut a record with The Hellions, didn't do anything. And then we met up with Winwood and Chris Wood in Birmingham, in a place called The Algorithm, an after hours club. We all sort of just hung out when we could. We had pretty diversified tastes. We were all pretty much listening to a lot of the same stuff.
You know, when people talk about the British Invasion? The British Invasion is an American story. It's not a British story, without America and the music coming from here, there would be no Eric Clapton or any of us, frankly. That's what we did, we learned from all the American music. It all goes back to the early stuff, Alexis Korner and earlier and Long John Baldry, Bryan Auger, John Mayall. There was the blues influence and the hits. A lot of the stuff was covers of American hits.
Rick: Yeah, even The Beatles and the Stones did American covers.
Dave Mason: Yeah, we learned from here. So, obviously for me, to be able to do this after all these years with Steve Cropper is a huge thing for me. Because, that shit we were listening to back when I was 16, 17 and 18 years old. What's interesting to me in doing this with Steve is to find out how few people know who the hell he is, let alone Booker T. and the MGs did, and the records those people played on is just ridiculous, and then of course the songs Steve co-wrote.
To me, it's like "Wow!" I didn't realize it that nobody really know who the hell this guy is, it's amazing. That they did that whole HBO Special on the Muscle Shoals guys, Hawkins (Roger Hawkins) and all those guys, and I don't understand why they didn't do one of those things on Booker T. and the MGs. And what they did, it's ridiculous.
Rick: I saw Booker T. and the MGs and Cobo Hall in Detroit with Creedence and Wilbert Harrison. I was floored how good they were and they got a standing ovation.
Dave Mason: Yeah, well I saw them in '67, at the time they were backing Otis Redding. I mean, take the entire Stax record collection and they were backing everybody!
Rick: What was your first impression of Jimi Hendrix and what was he like as a collaborator?
Dave Mason: I just got to know him and I got to hang out with him a lot and I got to go to the studio with him and record, We both heard John Wesley Harding together, and something caught his interest on "Watchtower".
I found myself in the studio with him and Mitch Mitchell, got the track down. Otherwise, I mean, just hanging out with Jimi, he was a pretty quiet guy, soft spoken. In the studio he was all business. The thing about him, and there are a lot of great guitar players, a lot of them, but there are no more Jimi Hendrix's. I mean the guy was just so innovative.
Rick: You were with the Island label early, with many of the British folk artists of the time, John Martyn, Nick Drake, and I think the Incredible String Band. Did you know them well?
Dave Mason: I don't really know them. I never worked with them. One person I used to listened to was Davey Graham.
Rick: Yeah, Graham was amazing, loved his "Angie". Traffic was such a cool group with some jazz-blues grooves. How did you guys click?
Dave Mason: I have a pop sensibility, but we all pretty much liked the same kinds of music, more or less. And Traffic, I guess, was one of the first alternative bands, basically.
Rick: Yeah, your music was different. You've got "Feeling Alright" that's got kind of  Motown and Stax sounds that could have easily been covered by the Four Tops or the Temptations.
Dave Mason: Well, I think it may have been. [Laughs] Over fifty major artists have covered it.
Rick: You'll soon be on the road with Steve Cropper. How'd your Rock and Soul Revue tour come about and how'd you meet Steve? 
Dave Mason: I was in Nashville a year ago and we had lunch with a mutual friend and kind of threw some things around. Kind of doing something and then last New Years, I have a house in Maui and Shep Gordon does a benefit thing every New Years and everybody goes there, like Mick Fleetwood and whatever musicians are around.
Steve came over and we started talking about it. That's basically how it came together. Three weeks ago we rehearsed for the first time. It's the first time we played together, rehearsing this show at a friend's ranch in North Carolina, in the northern corner.
Rick: That's bluegrass country.
Dave Mason: [Laughs] Yeah! And I've been doing gigs, besides when I was with Traffic, since I was 22 years old, and now I'm 72. So, I thought it would be fun to do it now, something different and turn people on to who the hell Steve Cropper is and the songs, his "Sitting on the Dock of the Bay", "Soul Man:, "In the Midnight Hour", I mean, c'mon! 
Rick: Have you guys come up with a structured set list or are you going wing it, some of it? Or half you, then half Steve, then mix it up?
Dave Mason: No, no, no… we're not going to wing it. There's a set list. We're playing on stage together and there are songs of mine that he's not on and songs that's he's doing, like "Green Onions" and two or three other things that I'm not playing on, because I think me playing some of the guitar parts, I'd be getting in the way, keep to the original.
I've got great musicians, great players, Gretchen, Rhodes, Tony Patler and my keyboard player has a great R&B voice. And we're doing other stuff like, "Can't Find My Way Back Home", "Shake, Rattle and Roll" and then I've got my songs, "Only You Know and I Know", "We Just Disagree" and stuff like that. So, let's put it this way, there are no filler songs in the entire show.
Rick: It's gotta be tough fitting in all the songs you like to play. Do you pick songs you love to play or the big sellers?
Dave Mason: It's a combination of both, a combination of hits with Cropper's stuff; his records are huge, they'll get played.  
Rick: You've got a lot of albums you've put out. I think there's close to twenty-seven. 
Dave Mason: Oh, God I don't know. [Laughs] I can't say I'm putting anything out. In the last ten years, there's no label. It's a waste of time. It's sad that there's no radio anymore, no DJs, no way to promote anything. I think it's the biggest flaw of it all.
Rick: What kind of rig and guitar are you grabbing for this tour? 
Dave Mason: I play a Strat.
Rick: What about acoustic?
Dave Mason: I'm using it on "We Just Disagree". I'm using the same 12-string I've played for years, an Alvarez Yairi.
Rick: The black one?
Dave Mason: Yeah. And, then I use a rig I put through a Fender Blues Deville.
Rick: During the late sixties and the early '70s, what do you think was the best rock city in America?
Dave Mason: The best rock city? It's hard to say if you go back to the '60s and '70s. There was music coming out of Nashville, Philadelphia, Detroit, New York, San Francisco, Los Angeles. You had a shit load of places and, it depends, I mean rock music could have been cut in any one of those places.
I don't know, when I think of rock 'n roll and what people classify as rock 'n roll are different things. On the set we do, at the end of the show I tell people I'm gonna to do some real rock and roll, not AC/DC, okay? Real rock, like in 1954, "Shake, Rattle and Roll", Little Richard's rock 'n roll, Eddie Cochran's rock 'n roll and all that.
Rick:
You ever play the old Grande Ballroom in Detroit?
Dave Mason: Probably. [Laughs]
Rick: I'm from the Detroit area and we'd go there and Cobo Hall.
Dave Mason: Yeah, I played there too. Kick out the jams motherfuckers, [Both Laugh]
Rick: Yeah, I saw them (MC5) do that back in '68 or '69 at the Grande. Anything you're looking forward to on the Rock and Soul Revue Tour you and Steve (Cropper) are doing?
Dave Mason: We spent a week working on the show and to me it's a great honor. It's like completing a circle for me, fifty, sixty years later.
Rick: I was gonna say, he's a hoot. He's fun.
Dave Mason: Steve, oh yeah [Laughs] He's got an endless amount of stories.
Rick: I think you're gonna have a blast. How many gigs do you have?
Dave Mason: I'm not sure, probably about thirty at the moment. We're just going to see how it goes. We're going wherever we can.
Rick: You still like playing rock 'n roll?
Dave Mason: I love playing. I'm a working musician,
Rick: What kind of acoustic guitar do you noodle around with at home?
Dave Mason: I have a Taylor that I bought back in '94, and I have that beautiful Alvarez Yairi 12-string that was made for me twenty-five years ago.
Rick: Any parting words about the tour?
Dave Mason: I just hope people come out and check out the show and re-discover one of the greats, Steve Cropper
Steve Cropper and Dave Mason Rock & Soul Review Tour 2018