By: Mike Oppenheim
Dan Krimm Ensemble's  Last Chance Jazz, released in 2013, is an archival live recording of his quartet from 1993 at the Kampo Cultural & Media Center in New York City. The group features Krimm on the fretless electric bass, Mike Foster on tenor sax, Rolf Sturm on electric guitar and MIDI guitar synthesizer, and drummer Rich Mercurio
The live set was twelve tunes, but the tracks on Last Chance Jazz are the seven originals from the concert. Composed by Dan Krimm, these were written between 1980 and 1992, with several appearing on his 1991 album "Subtle Truth."
"Underway" builds around a series of bass ostinatos, varying depending on the musical section. The melody is found in a heavily chorused guitar, acting as an entire horn section. Atmospheric feedback and guitar distortion are pervasive, and add color to the background for the winding sax solo.
"Walden," an ambiguous and tonally shifting tune in 6/8, is the highlight of the album. The introduction uses the fluidity of the fretless bass to submerge the listener in a texture of sounds. Sturm's guitar solo fluctuates between defined single note runs and fanning doubles-tops. Krimm's bass solo is as melodic as it is virtuosic and Foster's tenor sax spot is equally inspired.
"Release Me" is another excellent ballad, beginning with a chord melody performed by a solo bass. The entire band joins after the chord melody. Foster's sax melody is breathy on this poignant tune. Krimm describes the ballad as catatonic, which is the perfect word. However, there are signs of hope and redemption, especially in the guitar and sax solos.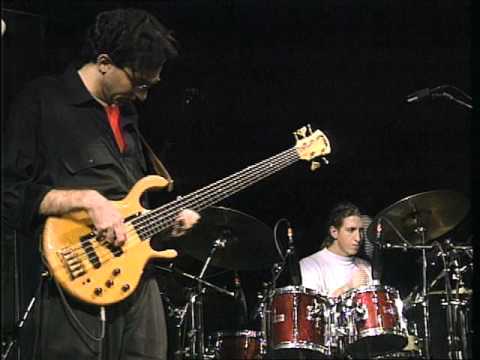 There is great variety on the album, especially from the bass and guitar. Krimm's compositional talents and fretless bass chops make him an exceptional and unique leader. Sturm's playing is also effective and varied, ranging from single note solos, to comped and arpeggiated accompaniments, to atmospheric guitar effects. Mecurio's drumming is notable throughout, often using the cymbals to outline odd off-beats and intriguing rhythmic patterns. Foster's playing is always appropriate, with careful attention to not only the notes, but how they're played and the horn's timbre.