By: Robert Cavuoto
By the time you're reading this, legendary guitarist, Joe Satriani will have already released his 14th studio CD. His 2013 World Tour has taken him to through Europe, Turkey, Russia and he is now half way through his full U.S. tour and first ever cross-Canada tour.
What you might not know is Unstoppable Momentum has earned Joe his highest chart debut in over 20 years in the US.
The album debuts on the Billboard Top 200 chart at #42. The first single, "A Door Into Summer", debuts at eight on the Mediabase Classic Rock airplay chart. It also landed him on the Canadian Album Chart at #36, selling close to 1,200 units.
Joe truly comes alive and cranks up the energy level on Unstoppable Momentum. Throughout the CD, Joe takes listeners on an emotional journey, expressing himself and his feelings; bending sounds as well as listeners' minds throughout.
I had the pleasure of sitting down with one of the best rock guitarists of our time to talk about his latest release, his constant desire to grow as a musician, gaining insights into a few of his songs.
******
Robert Cavuoto: I think the new CD is fantastic and inspirational. I'm truly impressed how you are able to take so many different styles of playing and types of music and successfully make it into a cohesive sounding unit. Tell us about how it all comes together.
Joe Satriani: Well, I think it's more in the editing process. I was very keen on trying to get things to complement each other. I'd written up to 60 pieces of music and I knew I had to bring it down to a little bit less than 20.
I was optimistically thinking at least 15 or 16 and they'd complement each other in how they were similar or in how they were so different. When I brought the music into Mike Fraser, I think without hearing the band yet, we were thinking, "Wouldn't it be great if we could do a very open, natural-sounding recording with everybody?"
We kept our fingers crossed when I got Vinnie Colaiuta [drums], Chris Chaney [bass], and Mike Keneally [keyboards]. We basically had to roll with the punches, which is all you can do really. When you go to a studio with new musicians, you try to see what everybody has got to offer, and you maximize all the good stuff.
I think that was the pleasant, serendipitous surprise – that these guys can really make an organic-sounding set of performances that really will help pull all these different kinds of songs together and give the album a unique identity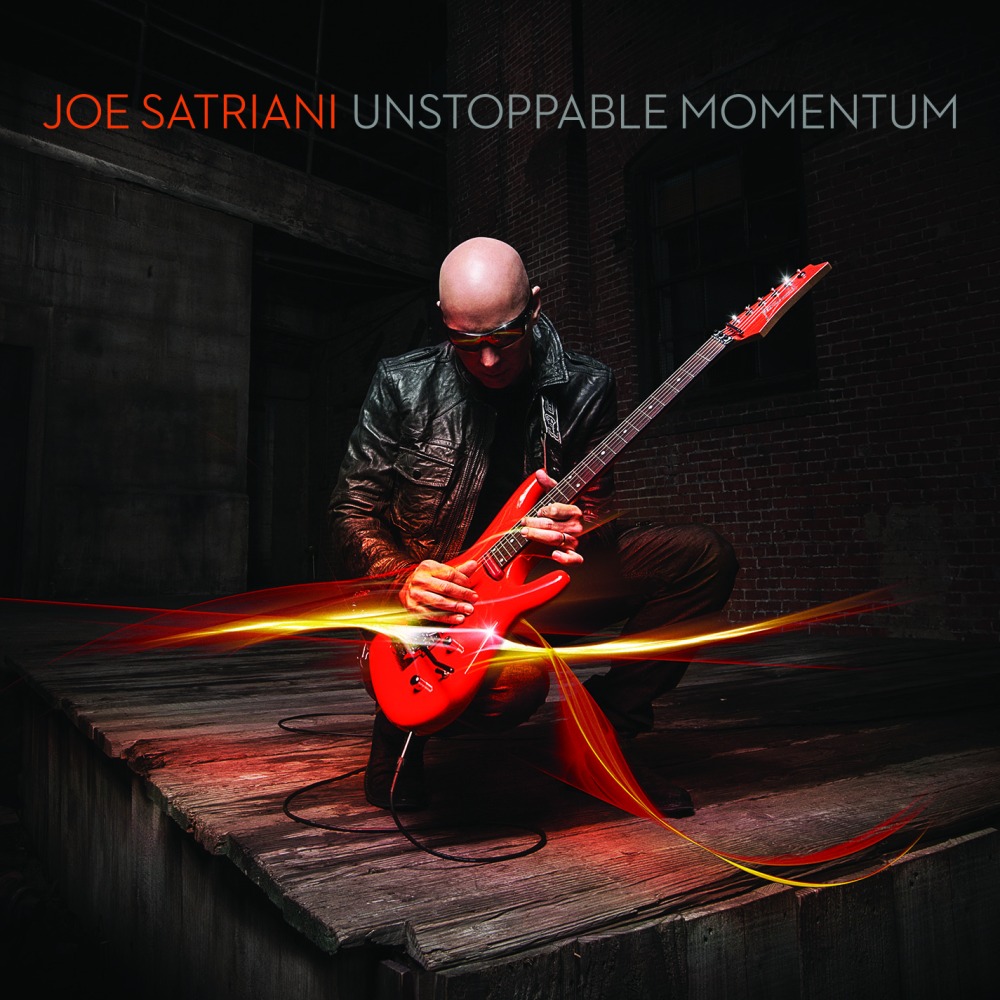 Robert: You're such an innovative guitar player, do you feel you always have to keep re-inventing yourself CD after CD? Are people expecting that from you?
Joe Satriani: I don't know. I'm glad I didn't talk to you first, because that makes me nervous. I think I am driven by composition, and I'm trying to, without sounding too artsy-fartsy, I'm trying to express myself and crystallize the feelings and emotions – things that I feel good about; things that trouble me; things I'm still sad about.
I figure my audience is just like me. We're all human. We're going through life; things happen and we use these to help us get through – sometimes to help us celebrate, sometimes to help us commiserate together. So, I look at it like that first, and at some point, the guitar player in me gets excited about how I can interpret these things on my instrument.
I'm usually in a situation where the people I surround myself with to help me with a project have good taste and wouldn't let me go overboard with my playing. Sometimes it can really ruin the mood if there's somebody in the band who's always reminding you, "Hey, look how good I can play." It can be very annoying. It's not very rock and roll, and essentially, I'm a rock musician. I keep my feet grounded in that way.
Robert: In the ever-changing world of technology and advancements in equipment, how do you stay current with everything, yet keep your signature sound?
Joe Satriani: I must admit I collect far too many pedals, amps, and vintage gear. I just went through a period where we sold so much stuff. My friend, Alan Rosen, who owns Bananas at Large, a store in San Rafael and Sacramento, California, helped me out in moving a lot of gear that I'd collect.
He'd go through, let's say, 10 albums and maybe you pick up 10 new things for each album, and only one thing turns out to be worth it. So what do you do with the rest of it? Some of it's good enough to auction off for schools, or charities or things like that. This other stuff, at some point clogs up your lifestyle and you go, "Oh, my God; I can't fit anything in my studio. I've got to get rid of this stuff."
So, yeah, we move stuff out as much as we can, but no sooner is it gone, than I've got new stuff. [Laughter]. Just this morning when I woke up, I had some coffee, find myself staring at pictures of 1956 small-paneled, Fender deluxe amp and thinking, hmmm, maybe I need another one of those. I've already got one. Why would I need two? But, such is the life of a neurotic collector.
Robert: What did you use to track this new CD?
Joe Satriani: A lot of stuff. I've got a home studio that I call a space shuttle because it's like a one-man operation. I go in there with Pro Tools, I plug my guitar in direct, I monitor with different software guitar plug-ins. The reason why I started doing it this way is because I realized I was never going to get the guitar sound I wanted, and I don't want to be sitting here turning my amp up to 11. I'd be driving my family and my neighbor's crazy, so I figured I'll just record direct.
If it turns out that I'm brilliant for a half a second, and we want to put it on the record, we'll re-amp it. So using John Cuniberti's "Reamp," device, we've been able to take 50% of the guitar that you hear on the album – those performances are recorded DI to my Millennia Media STT-1, going direct into Pro Tools. We get into the studio, and once I hear what the band sounds like, we re-amp the performance into my Marshalls.
Mike Fraser, is a brilliant engineer who has 100,000 ways of miking guitar amps for better sound. And then we re-record it. Now, once-in-a-lifetime performances are saved. Then, if you want, we'll put it through a little '59 Champ, or a '63 Princeton or one of my brand-new Marshalls, whatever we think is going to make the song work.
Once we're in the studio, the last couple of records I've done, were at Skywalker Ranch, George Lucas's big complex in San Rafael. It's a beautiful place to record. It can hold a 100-piece string orchestra. It's a great room and a wonderful facility and gives us the ability to have 10 different amps set up and spread out around the room, and different drum setups and everything like that. It's great.
When we're tracking live, it's pretty much my live setup. We're all within 10 feet of each other, playing like a band. Sometimes we track just with a click; sometimes we're actually listening to the session files that I create as demos. There might be one keyboard part, or solo or melody or something that was prerecorded, and we listen to that, then we play along with it as a band.
Sometimes I'm doing new rhythms, or sometimes I'm providing the melody and solo line.
Robert: What guitar did you use on Unstoppable Momentum?
Joe Satriani: I suppose the guitars that were used the most were my JS 2400s and the new Orange model JS 2410. The main distinction is that the JS 2410 has an alder body and that really changes some of the low end and the midrange. The profile is slightly different. So, I think low end is a bit tighter, and it's a bit more rock and roll, not as wide sounding, maybe, as the standard 2400.
If you've got all the guitars that you're trying to co-exist with, that can really be a great help. It's sort of what they do with Strats. Strats have alder bodies, and the Telecasters have a different profile, because they're made using mainly ash. The regular 2400s use basswood like all the JS guitars. It's a beautiful sounding wood, but sometimes I think I need a guitar that's just a little bit more forceful in the midrange and that's where the 2410 really comes into play, being that it's alder wood.
As usual, I think I've got a '58 Esquire that makes an appearance. Maybe my Jimmy Page No. 1 Les Paul shows up to do some harmony parts. I know my Fender '66 electric 12 played a couple of notes. I think I have a '61 Strat that played a couple of really clean, little chord things following some keyboards. I think one of the guitars I put together way back in '79 was used on a couple of tracks. I have a guitar that's got an Evertune bridge on it. I think it's one of the chrome JS guitars that we used on two songs.
Robert: Now you've been writing songs for 30-plus years. Is it becoming difficult to avoid repeating yourself?
Joe Satriani: I don't think so. I could be if you were trying to chase a particular era. I just don't do that. I'm not quite sure if it's because I can't or because I don't want to. But, I know that the overwhelming feeling for me is always what's next.
As soon as I finish one record, I am just trying to forget it and move on to the new record. Thank God, there's a tour that follows the release of a new record, because it gets you thinking I've got to reinterpret this for the stage, which means you've got to kind of leave the album behind. Then you're playing those new songs right next to your catalog songs, which kind of remind you of the things that you've done. It's very fresh in my mind, most of the time, what I used to do – because I'm playing it live onstage every night.
We'll eventually be playing one or two songs from every record, and it's 14 of them out there now. So if we did two songs from every record that would be a three hour show. It's an interesting thing, being a touring musician, because I get to work on "Satch Boogie" over and over again every night onstage – learn how to play it better, get some different insights, stretch a bit harder.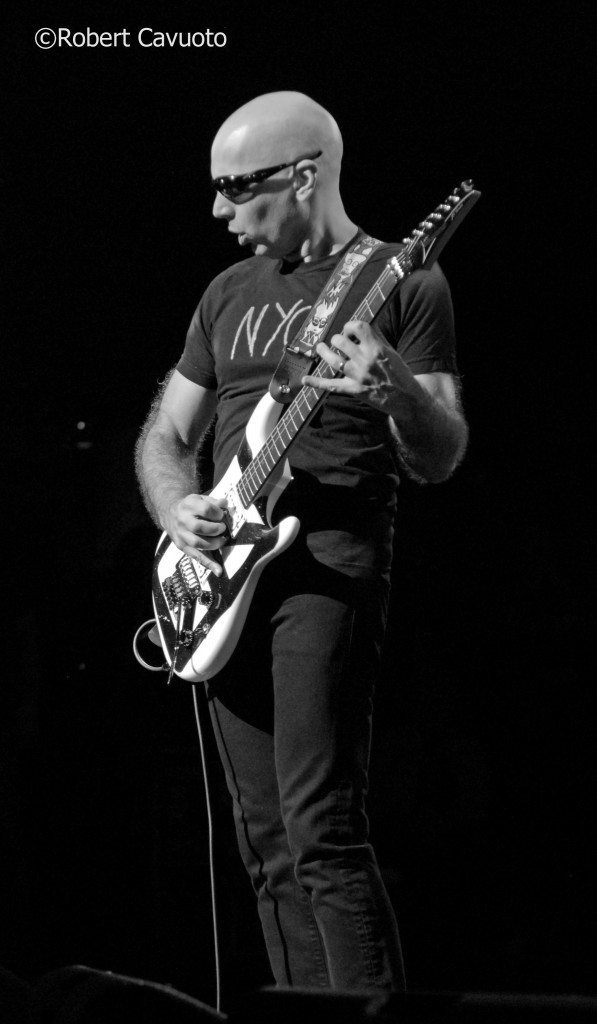 Robert: Before I even put the CD on, the two titles that jumped out at me was "Jumpin' In" and "Jumpin' Out." I thought that was quite unique and clever. I played those tracks first as to gain some insight as to why they had such unique titles. Tell me a little bit about the thought process behind them.
Joe Satriani: I started to work on the song called "Jumpin' In," and it was about not being afraid to try different things, which is funny, because that's just what we were talking about. It's cool to not worry about having something that starts and continues all the way through. You know, like "Summer Song." It kind of just starts rocking and never stops rocking, very linear.
I thought, I'm not going to be afraid, or I'm not going to shy away from the complete unlinear approach to this song. I guess what I did is I wrote two versions of it.
The second version, "Jumpin' Out."  I forgot about. It was in a separate folder within the main Pro Tools session file. So, after I'd finished "Jumpin' In," I'm looking at this other folder and I'm thinking well, what's that? Did I create a rogue folder somehow? So I open it up and I play this thing, and it's basically just a drum machine pattern with this crazy guitar, playing like a distorted tenor sax.
I'm thinking, oh, this is really weird. I think on that particular file, it said "harmonic minor," but I'm thinking that's not harmonic minor. That's a Hungarian minor. The whole thing was really funny. I thought, "What was I thinking?'
It had two titles. It had the "Jumpin' Out," and the wrong minor scale title there. I just basically took that improv, and I wrote a band arrangement around it. Then I realized this is like a perfect, black evil twin to "Jumpin' In". That's what it was. I guess it was like a burst of creativity and then I forgot it.
I brought it into the session, and said to the guys, "This is going to seem kind of weird, but this song's got an unusual pattern to it, and the guitar is improvising. Just come in with your parts. Don't let the guitar throw you with the different scales that it's throwing out. The guys just played their asses off. It was really great to hear that come to life. Then there was no other thing to do but put the two songs right next to each other on the album.
Robert: That's a cool story. I have to be honest with you, on "Jumpin' In" I was actually waiting for Sammy Hagar's voice to come with some bluesy rap.
Joe Satriani: Wow, that's crazy. [Laughter]
Robert: My favorite two songs were the "Shine On American Dreamer," and "A Celebration."  Can you tell me the history behind those two songs also?
Joe Satriani: That's great to hear. If I'm doing interviews, if I am talking to people who write for more technically oriented guitar magazines, they gravitate toward the odd and strange noises and the really fast passages.
I had an experience when we were on the last week of a tour. We were playing a show in Moscow, and my friend and former bass player, Allen Whitman, was in Moscow with his wife, enjoying some vacation time. He came to the show, and after the show, that was a song he picked out. He said that was the most powerful song of the night. I think it surprised everybody in the band, because it is an easy song to play from a musician's point of view, but in my mind, from a rock and roller's point of view – and that's basically what I am at heart – is that this is the one that requires that weird mojo. It's not about technique; it's just about spirit, somehow.
The guys in the band had been putting a lot of great emotion and feeling into this simply played song. "A Celebration" is the same way; it's just one powerful feeling. It's not a technically difficult song, but emotionally, it takes quite a lot of effort to get all that feeling into those notes.
Robert: Do you challenge yourself on this CD in any way that  you have never done previously?
Joe: The writing. I tried to put myself in positions that were unusual. In "Three Sheets to the Wind," "I Put a Stone on Your Cairn," "A Door Into Summer," those are positions I put myself in that I had to really grow as a musician who is a melodic player. That's a hard thing to do.
It's really easy to practice playing fast and difficult, to hit record and to show people all the work that you've put in, but I don't like that. I shy away from it. I always have. To me the most important thing is a powerful melody, and how well you phrase it, and how well you frame it with harmony, and how you can make a recording sound timeless because of that performance.
Those songs, because it's like a muscle that you can't work on, it's one of those things where it's like that's what life is all about. It's the real deal. You have to show up that day in the studio and have the goods. It's not about ass kicking; it's not about equipment, it's about what's really deep inside of you. Those were the challenges. Can we pull this off? Can we put all that feeling into the music and not have it suffer because it doesn't have all this showbiz attached to it?
Robert: What's the status of Chickenfoot and when can we expect the next CD?
Joe Satriani: All I can tell you is that we had a pretty tasty dinner the other night, Chad Smith, Sammy Hagar, and myself. We were at El Paseo, of course, at Sam's restaurant.
We were having a good time and I think we came to the realization is that it would be really hard to find some time in the next nine months to do a record. But we are committed to figuring it out.
I believe there are at least one or two more albums in us as a unit, but finding the time and the city where we can all get together for five days, that's going to be the trick. We're working on it right now. Sam's focused on his new album, I'm right in the middle of my touring cycle, and I think Chad still has a bunch of big shows with the Chili Peppers that he's got to get to every few months.