By: Vince Lewis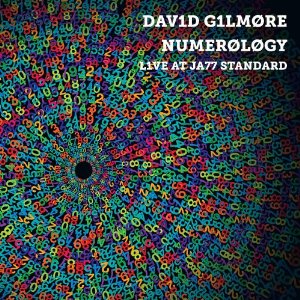 Guitarist David Gilmore has worked with many top Jazz artists.  His credentials include appearances with Esperanza Spaulding, Wayne Shorter, Christian Mc Bride, Sam Rivers, Steve Coleman and David Sanborn.
Gilmore has also appeared at Carnegie Hall, onstage at the Grammy's, Radio City Music Hall and Lincoln Center.  His playing has been compared to a truly diverse collection of players such as Wes Montgomery, Jimi Hendrix and Leo Nocentelli.
Gilmore is currently Associate Professor of Guitar at Berklee College of Music.  A prolific composer, he was the recipient of a second CMA New Works Composer grant, which led to the creation of this recording project.
Gilmore is surrounded by a stellar cast, which includes Claudia Acuna (Voice), Miguel Zenon (Alto Sax), Luis Perdomo (Piano), Christian Mc Bride (Bass), Jeff "Tain" Watts (Drums) and Mino Cinelu (Percussion).
"Numerology Suite" is described as "a musical exploration into the mystical, divine, and spiritual meaning of numbers, which reflect the creation of the Universe and the underlying structure upon which the material world is built."  Gilmore intends to take the listener through his interpretation of the nine musical cycles through sound and vibration.
The project is presented in two movements, with the first track titled "Zero to Three: Expansion."  There is a broadly stated melody with Acuna and Zenon floating over a somewhat funk and Latin groove.
"Four: Formation" begins with chordal punches from Perdomo played over an almost street beat feel.  Gilmore and Zenon then play a tight unison complex melodic phrase to get things rolling.  "Five: Change" is a funk based movement that gives pianist Perdomo a chance to shine.  The first movement closes with "Six: Balance."  This track is largely percussion driven with Gilmore and Zenon playing short and punctuated phrases.
The Second Movement begins with "Seven: Rest."  Gilmore opens the tune with a lush chordal guitar statement.  Free flowing and ethereal, it does certainly capture the spirit of the title.
"Eight: Manifestation" is a somewhat rock and fusion oriented melody.  The project closes with "Nine: Dispersion," another chance to show Gilmore and Zenon playing complex phrases and lines over a solid rhythm section.
This project is a well developed and performed example of somewhat experimental and free jazz.  The compositions are interesting and thought provoking.  It probably will not be a favorite of more traditional Jazz fans, but does provide an alternative listening experience for those looking to broaden their musical experiences.