By: William Clark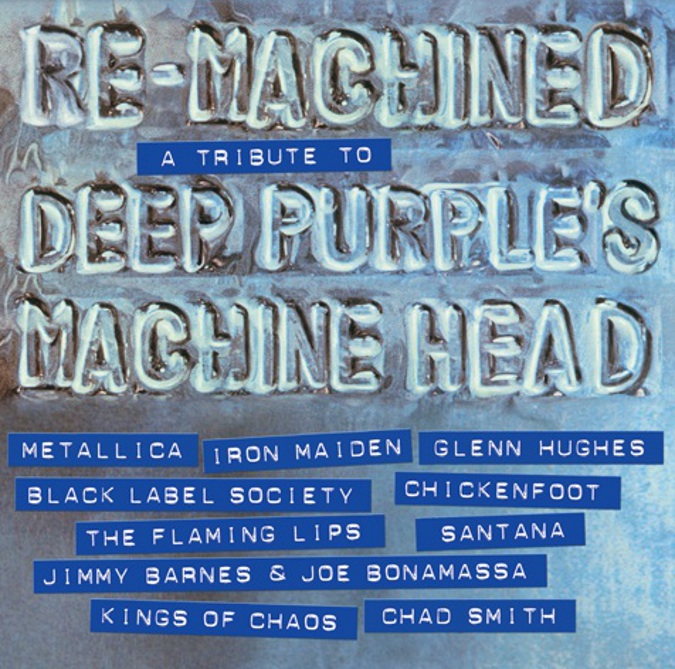 When Deep Purple's Machine Head was first released over 40 years ago, rock 'n' roll would never be the same again. This album spawned such rock and roll staples as "Smoke On The Water" and "Highway Star", and it was with Machine Head that the members of Deep Purple's radioactive levels and musical talent revolutionized music.
Now, some of the biggest names in the business have come together to honor this album's legacy with Re-Machined: A Tribute To Deep Purple's Machine Head.
This dynamic tribute album features heavy hitting contributions that might just triumph over the original recordings.
Re-Machined is immediately brought to life with Jacoby Shaddix's and Carlos Santana's cover of "Smoke On The Water", which is overflowing with sparkling soloings and top notch vocals.
This is then matched with Chickenfoot's powerful live rendition of "Highway Star", with ex-Van Halen members Sammy Hagar's and Michael Anthony's vocals nailing the harmonies while guitar legend Joe Satriani is just ripping the solo sections apart!
Black Label Society drowns the classic "Pictures of Home" in Zakk Wylde's crunching distortion, while "Never Before" is absolutely mastered by one of the newest supergroups to emerge, Kings of Kayos, which features an all-star lineup including Def Leppard's Joe Elliot on lead vocals and former Guns N Roses bassist and backup vocalist, Duff McKagan.
Iron Maiden stops by to give their own explosive version of "Space Truckin'", and then there's a masterfully backed up Metallica  cover of the ballad, "When A Blind Man Cries". These masters of metal give this classic a makeover similar to their own hit "Welcome Home Sanitarium", which stays true to the sadness of the original. The end picks up with heavy-as-hell distortion and James Hetfield's powerful falsetto. Then, the disk shifts with more dynamic contributions by Joe Bonamassa, Glenn Hughes, Jimmy Barnes, Chad Smith, Steve Vai, and The Flaming Lips.
There's something here for all hard rock and heavy metal fans to enjoy. This Remachined Tribute is a re-launch of one of the very best albums of all time and one that fields such a diverse and amazing set of guitar talents that I have no reservations – none – recommending this to followers of Deep Purple.
Format: Audio CD
Original Release Date: September 25, 2012
Number of Discs: 1
Label: Eagle Rock Entertainment
Tracks:
1) Smoke On The Water (by Carlos Santana & Jacoby Shaddix)
2) Highway Star (by Chickenfoot)
3) Maybe I'm A Leo (by Glenn Hughes & Chad Smith)
4) Pictures Of Home (by Black Label Society)
5) Never Before (by Kings of Kayos)
6) Smoke On The Water (By The Flaming Lips)
7) Lazy (By Jimmy Barnes & Joe Bonamassa)
8) Space Truckin' (By Iron Maiden)
9) When A Blind Man Cries (By Metallica)
10) Highway Star (by Glenn Hughes, Steve Vai, and Chad Smith)