By: Robert Cavuoto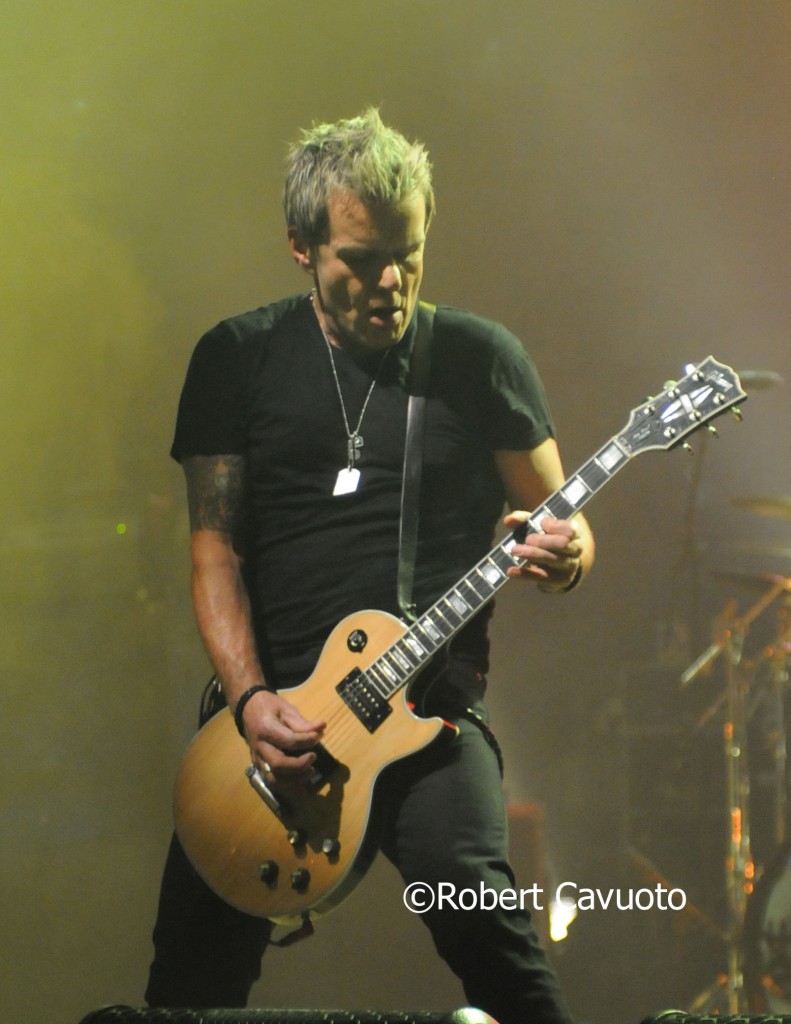 The Cult is one of the few bands that have successfully transcended the boundaries of rock, punk, and underground.
From their early beginnings as a British post-punk band in 1983 with their Love album to the hard rocking 1987 album Electric, the band continued to evolve and grow yet remaining true to their signature sound and style.
Before Ian Astbury signs one note, you instantaneously know it's The Cult, due to guitarist Billy Duffy legendary guitar's playing. The sound that continues to keep the band relevant and vital some 30 years after they formed.
The Cult just released their latest CD, Choice of Weapon, and it lives up to exactly what you would expect, hard driving riffs, catchy choruses, haunting melodies, and thought provoking lyrics.
I had the pleasure of sitting down with Billy Duffy to talk about his signature sound and style, both of which have helped catapult their new CD, Choice of Weapon, into the Top 40 charts.
******
Robert Cavuoto: Tell me what inspired you musically when you started writing with Ian Astbury 30 years ago and what inspires you now?
Billy Duffy: It's exactly the same. It's the same inspiration. Ian and I are ultimately fans who live to play and perform. I don't separate myself in the fact that I'm a musician and consumer. I remember when I was a young kid in the '70s in England. It was a fairly depressed time, economically, not unlike this era now in the United States and the world. It was a pretty grim time with little opportunity. I just obsessed on music and really found an escape
The music I liked was obviously glam rock. I liked Slade, Sweet, Status Quo, Thin Lizzy, and Bowie.
Then I got into punk and that sent me on to Iggy, MC5, especially the New York Dolls, Johnny Thunder, and Patti Smith. It all kind of rolled into a big ball and you throw in a sprinkling of what I consider to be the legends.
I had L.A. Woman on vinyl and a cheap record of Jimi Hendrix playing "Johnny B. Goode" live, a version I bought in my local news agent store.
I stole one of the guitar licks on his solo to "Johnny B. Goode". Even back then I slaved over it, decided to learn it.
Often in interviews I don't cross-reference that, but to me they're legends. Those particular nuances resonated with me.
Robert: I noticed on the song "Life > Death" you had a real Zeppelin vibe, was that intentional?
Bill Duffy: It's probably one of those descending chord changes that have been typified with "Stairway to Heaven". I think it's the same; it's an A minor to F chord change. It's a classic chord change. It just depends on your intention. The song just lent itself to an outro like that. We didn't fight it, let's put it that way.
Myself, Ian and Chris Goss, who was the primary producer on the project, were certainly very aware of it. We were exploring, we were messing around a lot trying to get into the darker, more obscure Zeppelin. We did a song called "Until the Light Takes Us" on the Capsules. That's kind quite a Zeppelin-esque maybe "Achilles Last Stand" kind of section.
Robert: Yeah, very haunting stuff.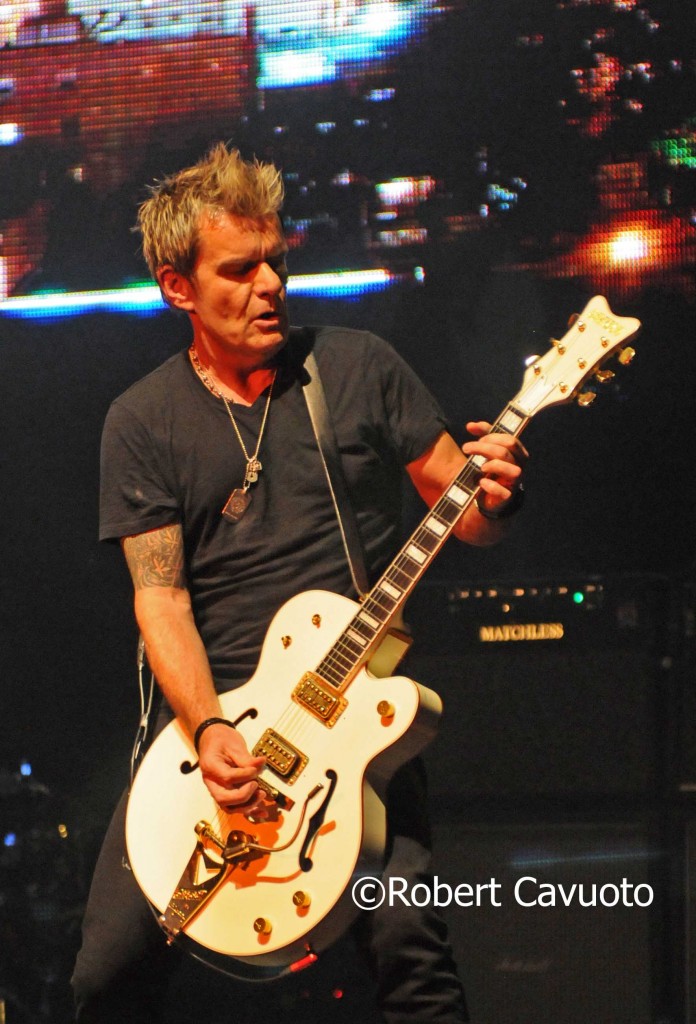 Billy Duffy: Duff McKagen once said that to me too. "Yeah, you go for those odd notes."  I guess I do go for those weird notes.
Robert: That's what I think makes your style truly unique, you can tell it's The Cult and your playing from the first chord.
Billy Duffy: We're lucky that we found each other and we're both still fans. Ian's a massive fan of music. He turned me onto Van Halen. He played "Drop Dead Legs" in the '80s and I was like, "Check these drums out," right around the time we were doing Electric.
I knew what Van Halen was. I remember we listened to that track in London, in his apartment in North London. I remember the day and he went, "Check this out!" It had that huge Zeppelin feel.
That was a period where we were headed toward Sonic Temple. Electric was like a pit stop for us along the way. We really dove into our AC/DC influence. It was fun, but we were always hoping that The Cult would have a bit more dimension.
We want to find that slight mysticism edge. Electric was just a drinking album and we were living it.
Robert: Electric is one of my favorite rock CDs, that's the one that turned me on to the band.
Billy Duffy: It's a great album for party people. We were just a rock and roll band doing all the things you've read about in books by Motley Crue, etc. Just doing it a little more privately.
Robert: How has your playing technique changed from Electric though to Choice of Weapon?
Billy Duffy: It's still the same basic thing. You need a good guitar through a good amp. I use a guitar shop overdrive. The kind of fuzzy guys weekend warriors use when they are playing Black Sabbath riffs in a shop on a Saturday morning, which is possibly my idea of some form of purgatory. Chained into the middle of one of those places when they're all hacking away (both laughing).
I think amps have gotten better. I'm obviously a Matchless fan. I'm very much of the school "If it ain't broke, don't fix it."
I've used the same Marshall heads that were modified by Harry Colby in New York, a JCM-800 in the '80s. We bought a shitload when we got some money. After the Love album was a hit, we were going on the road with Electric and we just went and bought like a ton of shit from Marshall.
Those amps were okay. Then I realized once I had toured the states when we opened for Billy Idol and then Guns 'N Roses opened for us, I quickly became aware that you can modify your amps a little bit to get a little extra and I've got this guy Harry Colby who's still in business that kind of added a little something to my Marshalls.
In the '90s, I always used the Roland JC120 for that kind of early rock sound with that clean Chorus; the Roland does the best. I added Matchless. Matchless was the first bespoke hand-built amp that really sounded good and it was pretty reliable. I've never had a problem with reliability on their equipment and I've beaten the shit out of them.
I bought a Bad Cat once, with basically the same design as a Matchless by the same guy, different manufacturer, and I used that on the new album, Choice of Weapon.
That's it, pretty fuckin' simple; a ballsy amp, a mid-rangey kind of AC30 amp in combination with the Roland to provide that glistening, chimey shit. I've found those basic three amp food groups and they pretty much give me everything I need.
I will admit that I do have a fetish for overdrive pedals. I'm always on the search for a better overdrive and I've just discovered a new one that I'm using all the time now, the Kalamazoo, by Love Pedal out of Detroit. I went to a store and bought one. I actually got it in Santa Monica at Truetone, which is the most amazing guitar shop. I have to give them a plug because they're great.
Robert: I really look forward to all your CDs and think Choice of Weapon is exceptional, why is there such a gap between albums?
Billy Duffy: I guess just life gets in the way. Life, minutia, and drama. Life-stuff like any other people. On one level, just actual living: kids, life, enjoying a life outside of being a rock and roll musician on a tour bus in a hotel and an airport, which can be fun, but it kind of has its limitations in the scope of enjoyment.
Because The Cult is a collaborative writing thing, there aren't Ian songs and Billy songs. They're Ian and Billy. We're two parts of the same thing. We have to get together and be in the same mindset. It's like an internal situation where we have to get our chemistry right as writers to want to work together, so it feels good.
It's never been our intention to take five years. It just happens to roll out that long. Sometimes just getting a record deal to finance it and pay for the studio time, things like that.
All those things are involved. The ultimate thing is getting good songs that we feel strongly enough about putting out. We could churn out an album every two years but it would sound like we are churning them out.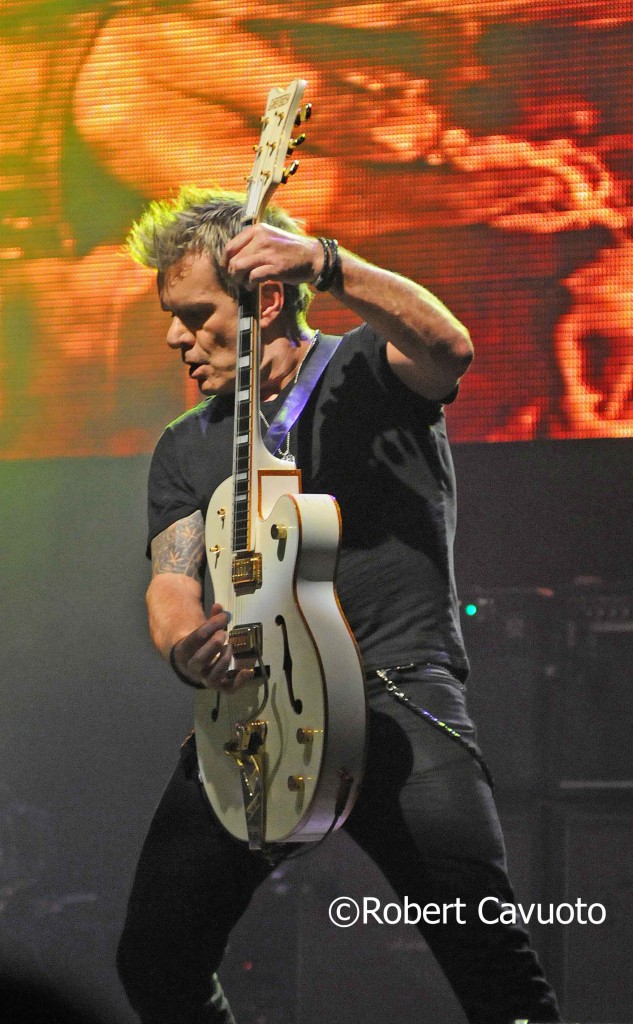 Robert: Can you tell me a little about the guitars you bring with you on tour. I was in Chicago on the forth show of the tour and saw that you played your Gretsch Falcon most of the show but you also had a Les Paul and a modified Telecaster, right?
Billy Duffy: I remember Chicago. I think I've got my old guitar sound dialed. I thought I was playing pretty good. Glad you could catch it. It's actually a black Esquire by Bill Nash, out of Seattle. I kind of designed it. I was looking for another guitar, another dimension.
I've got a natural wood Les Paul custom, which is kind of my Mick Ronson tribute. I've been rocking them since the '80s. I've got a Goldtop that I've got all black hardware, so it looks a little different, which is a really good 2000-era, it's got a 1960 profile neck. They're just a good guitar made in 2000 and I used it on the road. It sounds killer.
The other guitar that I've got out on the road is a Gibson made single cutaway Junior in yellow. It was handmade by a guy in return for doing a gig for the Gibson Custom Shop. Me and a bunch of buddies went there. They said, "We'll pay all your expenses and give you a guitar of your choice," and like an idiot, I got like probably the cheapest guitar in the world to make.
Jerry Cantrell got like a three-pickup SG completely inlaid with all this shit on it, and I got this Junior. They put the nice, slim 1960 neck that I like on it for me, which is the one I much prefer. It's a classic Johnny Thunder yellow with the single pickup. Again, a fine guitar, but not quite got that Fender-y thing.
I always remember Rick Nielsen from Cheap Trick lent me a Telecaster once when the bands were rehearsing next to each other. It felt like a Les Paul. It didn't feel Fender-y. It didn't feel glassy. It felt substantial but it had a clarity of its own.
That's what I went for in this Esquire. Ian loves it. It allows a little more space in the sound. That's why I use it. But it's an Esquire with a Seymour Duncan stacked humbucker in it.
Robert: What songs to you look forward to performing live onstage?
Billy Duffy: Nowadays, I love playing the song "Embers", which is the ballad that we do. I love that it gives me a moment to breathe.
I like playing the new song "For the Animals" because people really respond to it and I get really excited when you can write a song that goes down as well as one you wrote 25 years ago. It does, you were there. And I get the same reaction every night.
Robert: It was a fantastic show. I noticed you kept looking to up and to your side was there an issue with your guitar sound? It sounded great from the audience.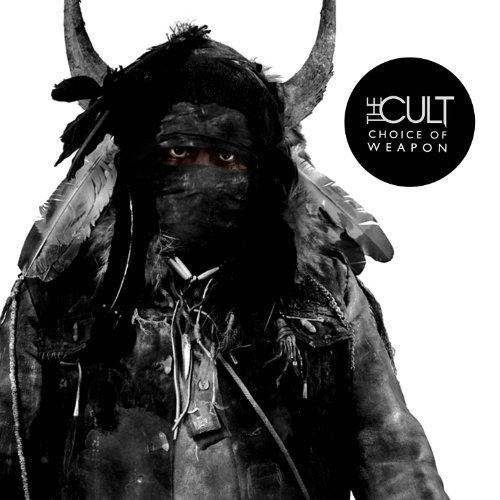 Billy Duffy: It was a combination of the PA and the monitors on the side fills. I just was trying to get a balance from what I can hear. It's a bit of a challenge for the sound guy with my ears being what they are and I tend to be on the guitar. If it gets too bassy, I can't really do it.
Sometimes in venues like that the bass bins are usually under the stage and during sound check, they sound marvelous because there are no people. You put a couple of thousand people in front of the bass bins and those "85 percent blood bags", as somebody once called them, start absorbing and reflecting the bass back at you. It's not directional and it can become a bit woofy.
Robert: The Congress Theater was cement palace providing a lot of natural reverb to the guitar.
Billy Duffy: What's ironic is we played the House of Blues in Boston, which is a modern venue but hasn't got an ounce of natural reverb. It's flat as a pancake. Zero reverb.
We've played there before, and I'm like stomping on my echoes to try and get some natural resonance to the guitar for the songs where I want that kind of 'chimeyness' to the guitar parts.
It's meant to circulate in the room, not just a Les Paul through a Marshall at that point. I need it to lift.
Robert: You managed the room well.
Billy Duffy: I've been getting a lot of comments and positivity about the guitar rig. I'm just really refining it. People laugh when they see what I use, but it's just the basic and most of the pedals I use, you can buy at any shop.
But, I'm from that school. I think it's a lot to do with the player and the attitude and the intention, rather than the hardware, which sometimes guitar magazines can be guilty of propagating the myth that if you have all the right gear, you're gonna be the dude.
And you've got to have heart and soul and then the gear will come. In your desperation to express your sound, find your own sound, that's why buying the amp won't turn you into anybody other than the guy with a nice amp.
Robert: Nor purchasing a guitar pedal with a rock star's name on it is gonna make you sound like that person.
Billy Duffy: Right. It's the hours spent being who they are and the hours spent in sweat equity.
Robert: The CD was only out 8 days and people were singing all the words with you guys.
Billy Duffy:  It's connected. This record has connected with all The Cult fans. It delivers to them. It became apparent it's the Cult album every Cult fan wanted us to make. It's not nostalgic, it just sounds like a rock and roll record. It has all the key elements that make a Cult record.
"The Wolf" is kind of fun because it's a challenging song in terms of not getting feedback out of the Falcon, but it's very choppy. To get the balls out of the riff, that's one that's a bit Led Zeppelin-y and a bit weird. In the middle it has that classic Cult chorus. That challenges me a little bit on the guitar. I love playing "Sanctuary" too.
Robert: "She Sells Sanctuary" brought down the house that night.
Billy Duffy: I just love playing it. That song has a whole life of its own. I've never tired of playing it. That one and "Love Removal Machine", they almost play themselves. Right now that's kind of where I'm at.
Robert: When you were writing those two songs, did you realize the impact it was gonna have on your career and as well as their longevity?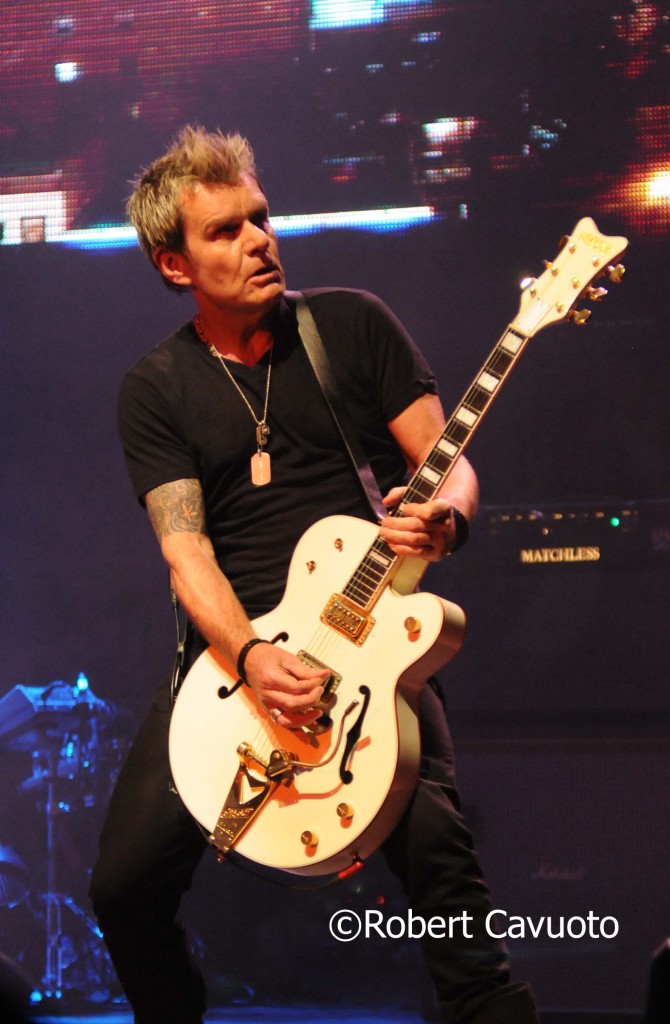 Billy Duffy: No, not at all. You never know that. "Sanctuary" was touch and go and was a game changer for the band. It got us an American record deal with Seymour Stein from Sire who came over and signed us, because we released it as a single right around the time Live Aid.
To put it in a frame of reference; 1985. "She Sells Sanctuary" comes out as a single and we were big Underground band.
The press was on, it was like, "Are you gonna have a hit?" because other bands that we know were having chart hits: Killing Joke, for example.
So we came up with "Sanctuary" and it just clicked.
Somebody took a chance and played it on the BBC Radio 1 in England.  I'll be eternally grateful and so will my offspring to this producer who gave it a chance. It was very different from what was going on and to play it in a national radio breakfast show to tens of millions of people changed the game. It's just about exposure.
There's never been anything wrong with the music we do, it's just to get a wider audience, people need to be exposed to it and not have any kind of pre-prejudice for the name or what it should be or it should be an underground band or it should be this or that. If the music just gets out there without any kind of fear attached to it, we do great.
That was kind of why "Sanctuary" was a game changer. I like the riff. I don't even know where it came from. I have no clue.
Robert: What are you the most proud of in the last 30 years of working with The Cult?
Billy Duffy: That's a good question. I'm mostly proud of having a Top-40 album right now. Top-40 in this day and age makes a bit of a statement.
I'm probably most proud of still being in the game, to still be swinging, still be fighting, and punching. I'm kind of proud of that and that's indicative of still being around.