By: Rob Cavuoto
For Mother's Day I ran into my local book store to pick up 50 Shades of Gray for my wife and spotted Zakk Wylde's book, Bringing Metal to the Children while on the checkout line. I figured there was something in both books that I could benefit from so I bought it too.
Needless to say I was thrown out of the bedroom each night while reading Zakk's book because it was laugh-out-loud funny and I kept disturbing my wife with my outbursts (Zakk you owe me). I must say that I read all the rock star books from Sammy Hagar to Slash to Ozzy and this one by far was the most insanely entertaining.
Bringing Metal to the Children features Zakk's tales from the record business, a look at his inner sanctum and recording studio, world tour survival techniques and even plans for how to set up a shooting range on the bus. I guarantee that metal fans and musicians alike will appreciate this widely speculative and truly dangerous rock 'n' roll road show!
I had the pleasure of speaking with Zakk and found him to be just funny and personable on the phone as in his book. From Prague where he was getting ready to perform with Ozzy & Friend we discussed his antics on and off the road and got an update on how sobriety is treating him.
******
Rob Cavuoto: Why was now the right time to put out your book?
Zakk Wylde: My friend Erik Hendrix has written several books in the past and pitched the idea to his publisher. Originally the book was going to be about guitars and goofy stories. It was all over the place and really confusing. It seem like the part about the guitars could be an instructional book – like a Black Label Society Guitar Bible – which could be a future book.
On New Year's Eve about a year ago, Eric was over my house and we started rewriting the book. We started from the beginning with me getting to the music business followed by me "giving to others," moving to being a "Solider of Christ," then stories about my manager who is a money-hunger-douche and then it really started to flow.
All along we were crying as we were writing down all these stories and experiences. At that point I said the entire book has to be like this where we weave in these elements.
Rob: I had no idea what a great sense of humor you had, how important is it to have a sense of humor being in a band?
Zakk Wylde: I have never been a band that I didn't like being around the people in it. Why would you be in a band that you don't want to hang out with?
Rob: In your book your antics are pretty insane coupled with all the drinking. Was it difficult during those times to stay focused and follow the Black Label mantra of Strength, Determination, Merciless, Forever (SDMF)?
Zakk Wylde: Not really, even during the "Animal House" years when we were all drinking heavily, everybody always answered the bell when the time came. No matter what they did. If we drank like a bunch of Navy Seals we answered the bell like a bunch of Navy Seals. There was never any of that whinny crap "I don't wanna go on stage, I'm tired."
If you have to be up at 8:30 am and you are walking in the door at 6:00 am you take a nap and get your ass up and ready to roll. That's just the way it goes. I'll give you a six pack just so your body doesn't go into shock [Both Laughing]. It will wean you down so you are good to go.
Rob: How did you go through $51,000 dollars worth of liquor?
Zakk Wylde: Trust me dude, if you're drinking $500 to $700 a day it goes fast. But I can't say we didn't have a good time.
Rob: Was it difficult to quit drinking?
Zakk Wylde: If you wanna quit smoking just fucking stop. If you wanna stop drinking just fucking stop. It's that fucking easy! You just grow up and out of it. Hey, we don't throw rocks at cars anymore either. Enough is enough.
When I wrote all the music over the years I was never wasted. I was never fucking hammered until the end of the night when we were do doing our thing or when we had a 16 hour drive to the next city. I never got to the point where I didn't remember what we talked about or what crazy shit we pulled.
People ask me "What you are going to do when you get out on the road now?" I tell them, "Pretty much that same fucking thing I do now, just won't be drinking [Laughing].
"Hey Zakk what are you going to do when everyone around you is drinking?" I guess look at them and then watch the game or the fight or look at some ass when we're at Hooters." What am I going to do flip the table at Ruth Chris Steak House because someone is having a glass of wine?
Someone told me, "Zakk it's a long road to sobriety and you're just fool' in yourself." Well maybe for you because you're a weak sack of shit! I rule with General Patton and I got a set of balls. Everyone has so many lame motherfucking excuses, it's ridiculous.
It's like when people ask Ozzy do you regret all the partying, how can he say, yeah it was terrible; it ruined my whole fucking life. [Laughing]
When artists quit whatever they are on, and they start to write, it's the lamest piece of crap. It's like dude you need a drink or a line because your music sucks and you're killing me. How can you say that the Beatles would have done Sgt. Peppers without all the stuff they were doing at that phase of their career with all that hippie shit.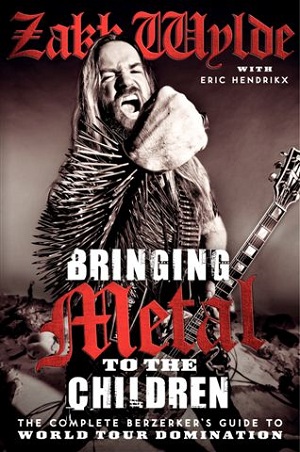 Rob: Do people tend to not drink around you?
Zakk Wylde: No not at all, they do everything else around me. They whip out the needles to do heroin, they take steroids, and female growth hormones, and they don't give a shit. It's a mad house out there man!
Rob: Did you ever take the stage with Ozzy drunk and if so was he aware of it?
Zakk Wylde: There was a couple times at towards the end of my drinking that I maybe had one too many. I was never smashed on stage. I did notice it creeping into the BLS shows and when I was with Ozzy. After 20 year of playing with him I'm sure he knew a few times. When it starts getting in the way of things then you have to put a lid on it.
Rob: The entire book was hysterical, but if I had to pick my all-time favorite story it would the one about you pissing in the beer cups in the bar and Lars inadvertently handing them out to fans thinking they were beers. How did you get caught pissing in the cups and thrown out of the bar?
Zakk Wylde: I have no fucking idea, it doesn't making any sense. I was putting them on the bar and was going to throw them out when I was finished pissing. There was garbage can a few feet away and I didn't want to lose my spot in line for drinks.
The funny part of this was that it took place in 1990 or 1991, and to have Lars Ulrich from Metallica, the guys from Skid Row, and me all having to wait on a long line to get a beer [Laughing] in a packed club. We didn't get any special attention there. I'm just trying to picture that now, it would never fucking happen.
Rob: In your book you talked a lot about the times during the recording of No more Tears. Was there a reason you didn't include stories about recording other Ozzy CDs?
Zakk Wylde: When I get around to an autobiography that's when I can tell those other stories. There are a lot of great stories during No Rest for the Wicked CD which carried over to No More Tears. It never ended.
Rob: Do you have any great moments you would like to relive?
Zakk Wylde: I thank the good lord everyday where I'm at now. I'm blessed to have been in a band with my hero. To be on stage where Randy stood. I couldn't ask to be in a better place in my life. Playing all the cool music and writing new music. It's like having your cake and being able to eat it too. To have my own band and make a living to take care of my family is tremendously important.
Rob: On the flip side of that – do you have any regrets?
Zakk Wylde: No because if something happened or you make a wrong turn. You don't know until you there and you go back and fix it. I have always had a blast making Ozzy's CDs and working on BLS. It's been nothing less than a barrel of laughs since I start.
People ask what stories you are going to tell now that you stopped drinking. I tell them we have the bingo in the front of the bus and shuffle board in the middle of the bus. Now days we are more worried about people having a heart attack or stroke on tour. We try and keep plenty of Geritol around.
Rob: The rebuttal letter by John "JD" DeServio (bassist for BLS) at the end of the book destroyed me. I don't think you could have put it any further back in the book except to tuck in the jacket flap. Are you and JD still friends?
Zakk Wylde: I'm still friend with the Mongoose. It was his little attempt at a rebuttal. He had to get the last word in [Laughing].
Rob: Will you use Erik Hendrix to work on your next book; you gave him a good beating too?
Zakk Wylde: That's the BLS thing, nobody gets out alive. Without a doubt I would work with him again!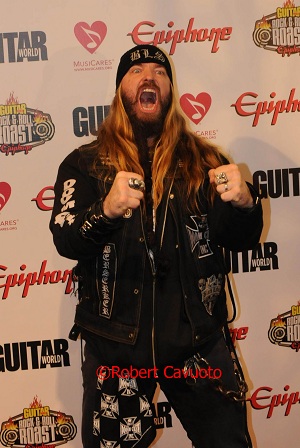 Rob: You and Ozzy have known each out for 20 years, what's the one thing about him that most people don't know?
Zakk Wylde: How funny is. His sense of humor is off the charts. When I joined the band I said nobody is going to die or have a drug overdose they are going to die over a brain hemorrhage from laughing. He is the coolest guy and he doesn't give a shit about his stardom. He doesn't have time for that shit.
I remember we were playing a festival somewhere and we were backstage waiting for the encore. The crowd is going nuts chanting "Ozzy, Ozzy, Ozzy". Ozzy comes up to me and say (Doing a spot on imitation of Ozzy). "Zakk do hear this? Listen, Listen to it good." Yeah boss, what's up with it? "I can swear they are saying "Ronnie, Ronnie, Ronnie" [Both Laughing]. That's fucked up and then we would be crying laughing. He would do stuff like that all time.
Rob: In your book there is mention your custom Randy Rhoads Concord guitar, is that one of your prized guitars?
Zakk Wylde: Without a doubt. Ozzy bought me a 1958 Jr. on my 22nd or 23rd birthday because he liked the way it sound when Leslie West was on tour with Sabbath back in the day. Then Leslie West gave me one of his signed Dean guitars. I also have a guitar signed by Les Paul which is very cool. I can't forget about the ones Dimebag gave me.
Rob: Is there any guitar that you gave away that you would love to get back?
Zakk Wylde: There was a blue SG that I'm trying to track to down. I know who I sold it to but then they sold it too, so we will see. I did track down a Fernandez Strat I had. It ties you in to all the childhood memory.
Rob: How is the Ozzy & Friends Tour going, can you give us an update?
Zakk Wylde: We are having a blast. Slash is throwing down on the Sabbath tunes which is cool too watch. Gus is tearing it up every night. It's great seeing Geezer playing along with Ozzy again. Ozzy's enjoying it all too.