By: Rick Landers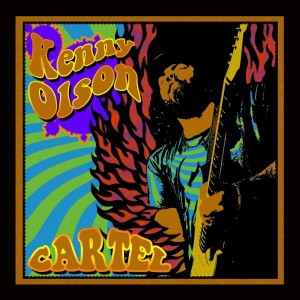 Listeners are in for a gritty hard rock-funk-rap ride with guitarist Kenny Olson's new CD, Cartel.  Drawing from some red meat rock, reminiscent of early Southern Rock and blistering Detroit riffs, Olson delivers an in your face punch of heat.
The album starts out with heavy-laden riffs and solid back beats on "Loaded", a track written by Olson and crew that will get nods from fans of the late '60s and early '70s rock – think Free, Bad Company and J. Geils.
Vocalist, Paris Delane loads up with a deep gutter growl on the slow burning, "Rebel With A Cause" that gives the track a signature sound. With a title that plays on what's become an old cliché', it would be easy to expect a throwaway track. But, songwriters Olson and Delane wrench this one away from its James Dean roots enough to make it a song worth playing again and again.
"Up All Night" pulls out the stops with a Southern drawl and hard tack riffs that would make the Lynyrd Skynyrd boys proud. Just straight Deep South rock 'n' roll, without any frills.
Taking a break, a melodic slow burning "Can't Feel" will have Olsen's followers swaying and digging the tasteful guitar work.  Vocalist, Hugo Ferreira, is pulled in to croon some heartfelt lyrics that blend and merge with the instrumental giving the ballad its flow.  Another ballad is offered up with "Phoenix Will Rise" that's reminiscent of some of the older Rolling Stone's more plaintiff songs. Of special note is the inclusion of the legendary Billy Cox on bass.
"Water" brings back the growling Delane in a song that's had me thinking of "Smoke on the Water" and not a little gospel. The talents are all on board, but I can't say this one did much to move me.
"Sweet Rosie's" runs along in vintage '70s rock style, then leads into a catchy funk rap, "Left Sock", and then into a Barry White style track "Heaven on Earth" with Paris Delane and his deep rich vocals.  There will be fans of this track, but I kept waiting for Olson and gang to unleash more hard basic rock – something they do best. And for those unaware, Kenny Olsen's interest in rap comes honestly, given his fine work with Kid Rock.
Finally, they unleash "Away We Go" that's got some fuel, but they're back to a fast rap track.  Not bad, but my focus is on the instrumental on this one and the solid guitar work coming off the track.
The last track of Olson's Cartel CD, "Psychedelic Lap Dance" conjures up Hendrix and a bit of Heart with some brief entry vocals by the great Hendrix producer/engineer, Eddie Kramer, coupled with Kenny Olson.  This instrumental track genuflects to guitarists with its throwback psychedelic journey, allowing Olson to rant on guitar with some abandon until an abrupt end-game stop.
Cartel is a solidly entertaining debut album, but with a mix of styles that will likely have some scratching their heads as to whether to grab the full platter or to pick and choose tracks as personal taste downloads. And most likely, the latter will be the case. Olsen and his featured artists all offer up solid talents and a catch basin of cool styles.  First and foremost is Olson's huge guitar talent – he's a monster on guitar.
There's something for listeners of hard rock, rap, romantic croons and lovers of guitar instrumentals on Cartel, and enough to satisfy all, but probably in more of a discrete select manner, than grabbing the whole banana.