Today proved to be an exceptional day in music & technology. The power of the music-making and music-listening community can be heightened by embracing advances in technology and today's Guinness World Record attempt for "The Largest Online Guitar Lesson with Steve Vai and BerkleeMusic.com" is a perfect case study of art meeting this technology.
In the LiveStream.com offices in NYC, there are about 40 employees in a large open room working on various aspects of their services. Enter Steve Vai. Adorned in a leather coat and semi-transparent sunglasses, Vai stands over 6 feet tall and exudes rock and roll. Nearly everyone looks up from their desk. Vai shakes hands with the executives at LiveStream and they proceed to the studio setup where Steve will be holding a 30 minute online lesson for the world record attempt.
After a short warmup (which shakes the walls of a skyscraper via the 15th floor in Manhattan) Berklee Music, Vai's management and LiveStream meet with Steve to go over the official rules and regulations of the event. They explain, in detail, what Steve needs to do in order to make this event eligible for the world record. Steve hears it once, smiles, makes a few witty remarks, signs a beautiful new Ibanez JEM that Ibanez is giving away in support of the event and goes into the studio.
"Maybe I should chew 15 sticks of Juicy Fruit gum while I'm doing it. Then we can have two world records!" -Steve Vai
The online community is surging. At first, 1,000 participants are waiting for Vai to appear on the screen. Then 1500. Then several thousand. BerkleeMusic.com's LiveStream channel is playing two promo clips that "Nigel" from Spinal Tap (Christopher Guest) created. They are hilarious.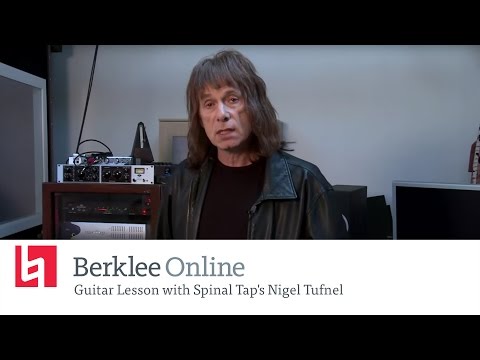 LiveStream's integration of Facebook chat is working seamlessly, allowing users all over the world to comment, connect and participate. Romainia vows to have the most online participants from any country…
At 1:25 PM, 5 minutes before the official start time of the online lesson, Steve begins with a beautiful improvised passage which holds the signature Steve Vai sound, both in phrasing and virtuosity. He has captivated every LiveStream employee's attention as they gaze at their screen in awe.
"Hi Folks, Steve Vai here…" and the lesson begins. Fundamental at first, Steve walks the ever-growing number of online participants through his history of learning the guitar, the techniques he's developed: everything from rhythmic variations over a drum loop to exercises which keep your hands to connect with your brain. This is an important part of Steve's approach but it's not the true grit.
The best part is saved for the second half of this lesson. It's about clearing a path to allow one's deepest expression to surface and uncovering each musician's unique voice on the instrument. Steve explains his desire to feel each note and "give it its own zip code" both in technical agility and in feeling.
He speaks about musical mediation, the art of playing music consciously and honing-in on "your sound." This relates to everyone, even Steve as he is currently recording a new record (I've heard snippets and you are going to drop "D" (or low "B") in your pants when you hear it!) Is that funny? This is my first guest article so feel free to boo in the comments below.
After a few Q&A's from the online participants, the event is over. Although Berklee Music and Steve's manager await full acceptance into the Guinness Book of World Records, it's clear that the nearly 7,000 participants have engaged in something special in both education and exploration and the world record has most likely been set.
Note: Steve's online guitar techniques course through Berkleemusic.com is now accepting registration for its April online class where more advanced topics of Steve's approach will be discussed and presented.
Steve takes photos with the LiveStream staff, a friendly pack of flannel shirted young men and BerkleeMusic.com's amazing faculty and we even snap a shot. (Pictured below)
The day is only started. As luck would have it, LiveStream is getting a cornucopia of art and technology on the other side of the control room. Steve and I go into a meeting with the LiveStream executives. This discussion is about an upcoming project Steve and I have been working on called "GuitarTV." I can't say too much about it, but in addition to being an incredibly engaging online experience for guitar players and lovers, we've created a special technology which is unique to us.
The meeting is about further developing that technology for our launch and *secret other stuff.* We talk them through GuitarTV, our many unique features which we've slaved over and it ends in success with the projection of moving forward and fast– two things that Vai does, and I am learning how to do. Sorry, I promise we're working on it very hard and it will be here soon.
Steve and I split a cab uptown. This cabby drives like Joan Rivers running toward John Mayer from inside his closet. Anyway, Steve points out buildings and stories of growing up in New York along the way. I'm in awe of how relevant Steve has been, and continues to be, as an artist and am honored to work with him as an experimenter of sorts.
Although I am most likely lost on the upper west side right now, I will finish plunking this story out on a laptop with 15 minutes of battery life left. Thank you for reading this and thank you for setting the record straight. Hope to be here again on Guitar International again soon!
******
Steve Vai Guinness Record Guitar Lesson Gallery