By: Faraz Chaudry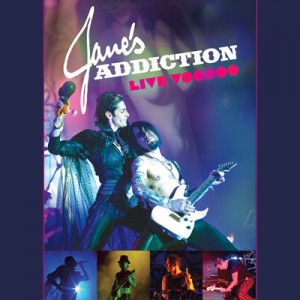 Not quite knowing what to expect when I put in the Live Voodoo
DVD, Jane's Addiction's latest release, chronicling the concert on Halloween of 2009 in New Orleans, I quickly realized I was in for a very interesting hour and a half. Lead vocalist and band founder Perry Farrell, dressed in a black jumpsuit and sheer cape that conjure images of Bowie, Freddie Mercury or even a gothic Liberace, immediately toasts the crowd of screaming fans, and takes a ten second pull from a bottle of wine.
This was actually somewhat refreshing too see, given the usual "cleaned-up" nature of these bands when original members reunite for shows such as this. His command of the stage was unlike any other I'd seen, which is difficult to do as singers without instruments usually flail awkwardly. Farrell wore it well and performed with the charisma a front man needs to keep the audience captivated. I do feel, however, that his voice sounded hoarse and strained, which betrays his youthful demeanor.
Guitarist Dave Navarro, who has looked the same since 1990, was considerably more stoic during the performance. I enjoyed his guitar playing, which although classified as alternative, many times bordered on progressive rock with great melodic lines during solos and a very pleasing tone. The bass work of Eric Avery was usually muddled with distortion and other effects, but for the most part provided a solid foundation for Navarro's lead licks. Stephen Perkins percussion was not terribly complex, but employed much variety and kept the long solo sections moving with significant drive. Perhaps a virtuosic drum performance in this setting would have simply overcrowded the ensemble.
As the show progresses, it becomes increasingly thematic and more of a spectacle, with the introduction of near-naked geisha dancers and eventually culminating in an encore in which people packed the stage dressed in Halloween outfits of all sorts. All of the songs up to this point, for me, were pretty much indistinguishable from one another. A better Jane's Addiction fan would be more familiar with these tunes and enjoy the seven-minute renditions of them, but I was mostly eager to hear "Jane Says" which sticks out in my mind as their most memorable tune.
However, this to me was a heavily bastardized version involving two acoustic guitars and mainly auxiliary percussion. While this setup usually works quite well, for some reason when the steel pan is introduced it tended to have a distinctly cheesy quality that robbed the melody of its power and eloquence. After multiple hearings, I pinpointed exactly what about it irritates me so much, and found that the bright joyful steel pan sounds like a bad ring tone version of the song.
Despite this, the band is tight and their overall musicianship is evident. Farrell's singing can be quite indulgent at times, but that is to be expected after 3 or 4 bottles of wine. For an aspiring rock musician, cues can definitely be taken from this band on how to "rock out an arena." I can speak to the fact that for avid Jane's Addiction fans this DVD is a quality portrayal of these original members reuniting, which is always refreshing to see.
******