By: HP Newquist (National Guitar Museum) – February 1997
No other band is so closely identified with a single musical genre as Yes is with progressive rock. Beloved and belittled, admired and abhorred, Yes has been everything that music listeners love and music critics hate.
Experimental, indulgent, grandiose – and above all, progressive – Yes has managed to keep fans interested in its music for nearly 30 years. And even though the band has changed its lineup more than often than Madonna changes her kid's diapers, Yes as an ever-changing group has always maintained a believe in it own musical direction. For the most part, the band has turned that belief into commercial and musical success, in addition, its two primary guitarists – Steve Howe and Trevor Rabin – have both been exceptionally influential in expanding the vocabulary of rock guitar.
The band's first guitarist was Peter Banks, a competent player whose work was lost underneath the technical experimentation of Squire and drummer Bill Bruford, as well as the flashy Hammond organ work of Tony Kaye. Banks played on the first two Yes albums, but was eventually replaced by a talented youngster named Steve Howe, a guitarist who had been in several almost-made-it British bands, including the Syndicats, Bodast, and Tomorrow. Unlike most of his rock contemporaries, Howe's main influences were not pioneering bluesmen. Instead, he was an ardent fan of Chet Atkins, Wes Montgomery, and Les Paul, pioneering country pickers and jazzmen. He also had a particular fondness for more traditional instrumental music, especially ragtime and classical. His choice of guitars was no less eclectic: though he relied primarily on a Gibson ES-335, that was supplemented over time with a huge collection that included Telecasters, Les Pauls, sitar guitars, pedal steels, doublenecks, and Martin acoustics.
With the release of The Yes Album in 1971, Howe established himself as one of the most innovative guitarists around. Completely eschewing clichéd rock forms, Howe veered from the power chords of "Yours Is No Disgrace" to the lilting pop of "Your Move" to the ragtime of "Clap" [which after 25 years still serves as most rock guitarists' only reference to ragtime fingerpicking]. On Fragile, his second album with Yes, Howe once again broke new ground for rock guitarists by recording the self-penned classical piece "Mood For A Day." The album also contained what was to become Yes' signature song, "Roundabout," as well as the intricately blistering riff of "Heart Of The Sunrise," the deft twin guitar/piano lines of "Long Distance Runaround," and the thundering "South Side Of The Sky."
Check Out the Yes
Collection at Amazon.com
Yes delved further into uncharted rock territory with Close to the Edge, an album which allowed the band [especially Howe and keyboardist Rick Wakeman] to explore almost every instrument – and instrumental style – available to them. The album and its sidelong title track still stand as a definitive moment in the development of progressive rock. In 1974, Tales from Topographic Oceans took Yes about as far as anyone would allow them to go. A four-sided album with one song per side [clocking in around 20 minutes per song], Howe and company played with philosophical themes and dense textures that walked a fine line between innovation and self-indulgence.
Wakeman left the band after that album, replaced by Patrick Moraz for the brilliant Relayer, which – while structured like Close To the Edge – fused harder rock guitar with avant-garde noise and cacophony. Wakeman rejoined the band in 1977 for Going for the One and then Tormato, albums which were stripped down [by Yes standards] into songs running less than 10 minutes.
Anderson and Wakeman [again] abandoned the band after Tormator. Howe, Squire, and White then recorded 1980s Drama, which brought The Buggles [Trevor Horn and Geoff Downes, of "Video Killed the Radio Star" fame] into the lineup. While most of the band members claim in retrospect that this wasn't necessarily a brilliant personnel move, Drama is widely considered an undiscovered gem in the Yes catalog, containing "Tempus Fugit," "Into The Lens," and "Machine Messiah."
After Drama, though, even Howe had had enough. He and Downes left to form Asia [and Howe later went to GTTR], and Squire – the only member to have played on every Yes album – tried to salvage what was left. He and White jammed with Jimmy Page, but nothing ever came of the sessions [although some of the material allegedly turned up in altered form on Page's solo work]. Quite by accident, Squire introduced was to a South African singer/songwriter/guitarist named Trevor Rabin. Rabin had been extremely successful in his homeland, and had a great deal of unrecorded material he was working on. In 1982, he agreed to collaborate with Squire and White using the band name Cinema. Over time, Horn was brought back in to produce the band, Tony Kaye was hired again on keyboards, and Anderson was asked to add vocals to the album. Uneasily, the new record was becoming a Yes album, and ultimately the band's managers, record company, and everybody else was labeling it "the new Yes." Rabin reluctantly agreed to the name, although he knew he would have to live in the shadow of Steve Howe.
But with the release of 90125 in 1983, it was evident that this version of Yes succeeded because of Rabin. His masterful songwriting and production, along with a powerful guitar attack and a fondness for the kind of sonic experimentation normally associated with the likes of Robert Fripp, quickly set Rabin apart from his predecessor and his peers. While he didn't explore the range of styles that Howe did, Rabin did push the rock sensibilities of the time to extremes [and held his own while playing Howe classics in concert]. His trademark in Yes was "Owner of a Lonely Heart," but that song hardly scratched the surface of his playing. It was actually songs like "Changes" and "City Of Love" that were more appropriate showcases for his rock-driven squonking. In the wake of 90125 came Big Generator, which deviated little from the formula which had defined its predecessor: big guitar sounds, riffs with a groove, and equal emphasis on the light and heavy aspects of Yes. To his credit, Rabin managed to take Yes even farther into uncharted guitar territory, from crunching hard rock to calypso/funk.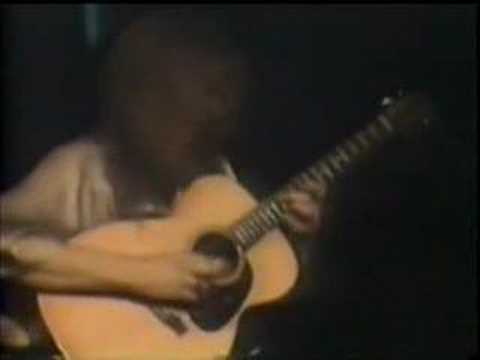 Then, in 1991, came one of the strangest reunions in the history o frock: the Yes Union tour and album. While Squire, Rabin, White and Kaye were plugging away on the new Yes album, Anderson was doing double duty with other Yesmen in Anderson, Bruford, Wakeman and Howe. In a move not too well thought out, Anderson and Squire opted to merge the half-finished recorded efforts of both groups onto one album. In the end, it sounded half finished – with the exception of Howe's solo guitar piece "Masquerade" – and nearly everyone involved tried to distance themselves from the record. In fact, one track, "Dangerous," had no Yes guitarist at all, but a session friend of Squire's named Jimmy Haun. The tour, though, featured all the Yesmen on one stage, giving guitar aficionados the chance to view Howe and Rabin side-by-side. While the mood may have been a bit strained, both men acquitted themselves admirable.
After the tour, Howe returned to his various solo projects, while Rabin and company produced Talk, arguably the least impressive Yes effort put to disc. This time, for the first time, even the fans stayed away. In 1995, Rabin was asked to do a number of sessions, including soundtrack work for Twister, The Glimmer Man and Eraser, as well as developing musical bits for Apple Computers. In typical Yes fashion, Rabin's involvement I other matters opened the door for talks between current members Anderson, Squire, and White and emeritus members Howe and Wakeman, thereby revisiting what had been known as the Topographic lineup. The five agreed to get together for a series of shows in March 1996 in San Luis Obispo, California.
The result was not only a new live recording of classic Yes tunes, but the creation of two entirely new tracks, all of which are on the recently released Keys to Ascension. The band plans to tour behind Keys, and hopes to keep this lineup intact through the millennium. But, as is always true with Yes, that is perhaps easier said than done.
Regardless of one's feelings about Yes music, the band has always produced some of the finest musicians ever to play in the realm of rock. Howe, in particular, remains one of the most accomplished guitarists of modern times, cited for both his innovation and mastery of the instrument. Rabin, for his part, was able to distill Yes' more pompous inclinations and filter them down to their guitar essence while establishing himself as both a formidable player and producer. He is perhaps one of the only guitarists to have successfully bridged the monstrous gap between the electric guitar and modern technology.
******
About HP Newquist: HP Newquist is the founder of The National Guitar Museum, the first museum dedicated to the evolution and cultural impact of the guitar. He has authored books that have explored a wide range of subjects and include: Legends of Rock Guitar (with Peter Prown); The Way They Play series (including Blues Masters, Hard Rock Masters, Metal Masters, Acoustic Masters), with Rich Maloof and the award winning The Great Brain Book: An Inside Look At The Inside Of Your Head. Newquist is the past Editor-in-Chief of Guitar Magazine. He wrote Going Home, a Disney Channel documentary featuring Robbie Robertson, as well as directed the film documentary, John Denver – A Portrait.
Note: This interview is reprinted from an article by HP Newquist, originally published in GUITAR Magazine (February 1996). It appears here courtesy of Newquist and The National GUITAR Museum.