By: Dr Matt Warnock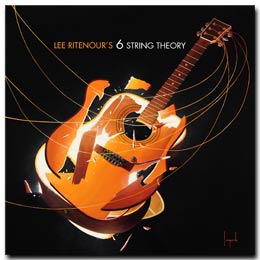 There are few guitarists alive today that are more accomplished or as easily recognizable as Lee Ritenour. With a resume that reads like every budding guitarists wildest dream, Ritenour has performed and recorded with some of the biggest names in music during his fifty years as a guitarist. After beginning his professional career at the age of sixteen, Ritenour has appeared on over three thousand recording sessions, including forty albums, and has had thirty instrumental and vocal songs on the jazz charts since 1976. Having been nominated for nineteen Grammy's, with one win, he is also one of the most decorated and honored guitarists of any genre. With such a long list of accomplishments under his belt, what could Ritenour possibly have up his sleeve to top what he's already done in his career? The answer is his 2010 album 6 String Theory
.
The album's title comes from the six different "strings," jazz, rock, blues, acoustic, country and classical, that Ritenour wanted to feature in homage to the instrument that has defined his professional career. Featuring some of the biggest names in each of these six categories, and some of biggest names in music period, Ritenour has put together an album that not only pays tribute to the guitar, but that gives fans of the instrument a wide view of the many players and styles that have contributed to the guitar over the past fifty years. A short list of the players on the album include Johnny Lang, B.B. King, Vince Gill, Pat Martino, Slash and Robert Cray. Not a shabby list of players to say the least.
Check Out the Lee Ritenour
Collection at Amazon.com
As well as featuring these established artists, Ritenour teamed up with the Yamaha instrument company to hold the first ever Yamaha 6 String Theory competition. Guitarists sixteen years of age and up were asked to submit performance videos to a YouTube channel that was set up for the competition. After receiving almost five hundred submissions, the pool was cut down to thirty, and then seventeen finalists who were invited to L.A. to perform live. The eventual winner was Montreal classical guitar phenom Shon Boublil. With all of these heavy artists on the record one might assume that Boublil would stand out as the least experienced performer, but such is not the case. His version of Luigi Legnani's "Caprices, Op. 20, No. 2 and 7
" is one of the brightest moments of a highlight filled album. Boublil is a joy to listen to and this album is just the first leg in what will no doubt be a long and successful musical journey.
"Captain Fingers" Lee Ritenour recently sat down with Guitar International to discuss 6 String Theory
, his latest guitar acquisition and the late, great Les Paul.
******
Matt Warnock: Your album 6 String Theory
is quite an impressive project. Not only were the logistics of getting everyone together probably very difficult, but the end result features some great performances. What was the initial inspiration behind putting a project like this together?
Lee Ritenour: It's actually been cooking in my brain for quite a while now. 2010 is a special year for me, because I've been playing the guitar for exactly fifty years now. I started when I was eight back in 1960. I wanted to do something special to celebrate the guitar. It's been so good to me over the decades and I wanted to say thanks. I've always been a fan of all these different guitar styles, so I came up with the title String Theory to have fun with it and pay homage to the evolution of the instrument.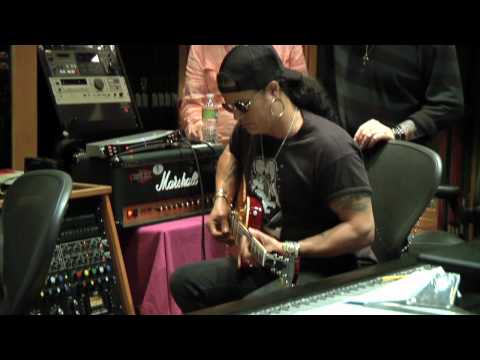 This is probably one of the few instruments, if not the only one, where you could do an album like this. As cultures have changed and styles have changed the guitar has changed with it. In the hands of Segovia and in the hands of Jimi Hendrix it sounds completely different, but it's the same instrument. You can't really say that about the violin or the saxophone, or really any other instrument. It's just amazing the way that the guitar continues to evolve. I thought it would be cool to document that on a record and call as many legendary guitar players as possible.
With the new technology that's evolved in recent years, with YouTube in particular coming about, we're now exposed on a daily basis to so many great, young and extremely talented guitarists from all over the world. I thought it'd be a cool idea to have a contest where I could showcase new talent. As well, I wanted to include younger players like Joe Robinson, Guthrie Govan and Andy McKee, my "YouTube" babies as I call them. Guys that are still coming up, but that have a strong presence out there on the web. It made for quite the interesting project, trying to combine all of these different elements into one package.
Check Out GI's Review of 6 String Theory
Matt: The big-name players on the album cover a wide range of genres. You have jazz guys, Scofield, blues legend B.B. King, Slash from the rock-metal side of things, and many more. Were you purposefully setting out to be as diverse as possible with these artists, and how did you finally come up with a shortlist of big-name guitarists once you decided to go forward with the project?
Lee Ritenour: Musically, since I had the title, I thought about the different musical areas I wanted to cover. I knew I would cover rock, blues and jazz, but then I had to think of what else I wanted to feature. I ended up wanted to cover finger-style acoustic guitar in some way, country guitar and finally classical. Classical was the last hold out because I wasn't sure how that was going to fit on the record. By a lucky coincidence, our Yamaha contest winner is a classical guitarist, so it all worked out in the end. I had these six styles, these six "strings," in mind and I started reaching out to the giants in each of these areas.
All of the guys I talked to were on board right away. I had a nucleus of great players pretty early. Then I added a few more after I put the initial group together. Vince Gill came on a short while after, he was all for it. He just asked that I don't put any paper in front of him because he doesn't read. [Laughs] I said, "Don't worry about that." I had these six or seven guitar players and that gave me enough of a starting point. Then I had to figure out what to do with these guys, which was kind of the beginning of the project.
Check Out GI's Interview with Country Guitarist Vince Gill
Matt: You mentioned the Yamaha contest winner, Montreal guitarist Shon Boublil. What was it in particular about Shon's playing that convinced you he should win the competition and be featured on the album alongside all of these legendary players?
Lee Ritenour: The way the contest worked was, we set up the website initially, Yamaha was very helpful in all of this, then anyone sixteen or older could submit YouTube videos. We got around five hundred submissions, which is a lot of videos to go through. We then whittled it down to the top thirty and people could submit in any of the six musical categories. The submissions pretty much covered the gamut and they came from forty-five countries. We then invited the top seventeen to L.A. for the finals.
It came down to the final eight and in the first round several guitarists were just smoking. After the second piece that they played, which would determine the winner, Shon just outshined everyone. He choose an extremely difficult piece, just a tour do force, and he played it beautifully. As you can tell from the record he has great tone and that really come out during this performance. We later found out that he'd only been playing guitar for five years, which makes it an even more amazing accomplishment.
Matt: As you mentioned you've been playing the guitar for fifty years, and have become an elder statesman in the guitar community. How important is it to you at this point in your life to help the younger generation of players, to give them a boost in their careers when you can?
Lee Ritenour: I'm pretty concerned about the state of the business right now. I wish there was just more work for everyone, period. I think there are some really talented young musicians across the planet, across instruments and across genres. With guitar it's particularly amazing. I travel around the world to do clinics and there are just a lot of great, young guitar players out there. I'm concerned about passing the torch and making sure players are ready to become professional musicians. I emphasize originality and as much education as one can get.
There's no insurance policy for people who want to be professional musicians. The only insurance you have is how much shit you have together, which usually comes down to some kind of music education. Whether it's street education, or a local music school or a college conservatory, I recommend a combination of all of the above. Some guys say, "I don't want to read, or do this or do that." That's fine, but the guys out there who are getting this stuff together have a much better chance of making it at the professional level. Short of being the next Jimi Hendrix or Stevie Ray Vaughn you better cover your ass. [Laughs]
Matt: Well, at least from my perspective, a lot of the success you've had over the years comes from your musical diversity, from being able to adapt to almost any musical situation and play at the highest level. Is that something you try to impart on the younger players?
Lee Ritenour: I think that diversity is more important now than ever. I still emphasize that people need to have their own stamp on the music, an original sound. The last thing the planet needs is a copy of somebody else. It's really important to have your own voice. That being said, I think being diverse is really important because now to make it in the business you have to be a good musician, a producer, an arranger, know all the tech stuff, a promoter and a business man. Diversity is really the key now to any level of success in this industry.
Matt: Over the years you've become known for your use of the Gibson 335 model, but lately you've released a Signature Model that you've played as well. Were these the two guitars you used to record the album?
Lee Ritenour: The funny thing is, on the album I used a Les Paul more than anything else. It was sent to me for this specific project and I just ended up using it on most of the record. I do have a signature 335 that Gibson made for me, which is a copy of my 1960 model, but those are already sold out. Those were really nice instruments. Then, I have a signature model that's based on my '49 Gibson L-5. That's a really nice guitar as well, but they're both on the expensive side. That kind of disappoints me a bit sometimes. We strove for the highest quality when designing these guitars and it was great working with a company like Gibson, but of course then the price has to reflect that quality. The only people who can end up affording these guitars are doctors and lawyers.
That being said, I also had Gibson build me a '59 Les Paul reissue because I wanted to have more versatility to do this project. I had heard they were making a '59 reissue to honor Les' guitars. I ordered it at the beginning of 2009 and it showed up last August on the day that Les passed away, so it became a significant guitar for me. I sat down with the guitar and came up with a song in literally minutes, "L.P. (For Les Paul)
," which ended up being on the album featuring me and Pat Martino.
Matt: I know you could probably go on for hours, if not days, about Les Paul, but I was wondering if you could talk about how he affected you as a young player and influenced your music over the years?
Lee Ritenour: He was always this very iconic figure that was a major musician, but also a major inventor. When I was growing up, I'm old enough to be around when the Ventures started using the first fuzz box, I would record myself and got into overdubbing. When I started doing that I realized how inventive Les must have been to have come up with all of those recording techniques, just a genius.
I was never really influenced by him directly as a player, but years later I went back and watch those great videos of him with Mary Ford and I was struck by how much chops he really had. That he had actually two full careers. He played his whole life, right up until he died. Back when he was playing with Mary Ford he was a serious musician, with a long list of big hits. Then, he had this whole inventing side to his career. That was almost like a side thing that grew into a whole other thing after his days of making pop records had finished. He was a wild guy.
I ran into him at Capitol Records one day when he was in his nineties, I had met him once before when I was very young. I had heard that he has this incredible memory, which the Universities used to study, it was so remarkable. So I'm talking to him that day at Capitol Records and right before I leave I told him about how much it meant to me when he spoke to me all those years ago, when I was just first starting out. He said, "I remember, you were eighteen and I was playing at a club in L.A. called Donte's on a Monday night." I said, "Yeah." He said, "Yeah, you walked in and someone told me you were the new, hot player in town so I wanted to say hi." I couldn't believe he remembered that short conversation after forty years had gone by. He was just an amazing person all around.
Matt: Now that you've finished this monumental project, and the successful contest that accompanied it, do you have plans to do more albums like 6 String Theory
in the future?
Lee Ritenour: There was so much work that was put into creating this project and the competition that I would like to see that continue. It can't happen every year, but maybe every two or three years might work. We got lucky with all the companies coming on board to donate the great prizes for the winners of the contest. The record's turned out amazing so hopefully it'll get out there and make some noise.
For me, it was fun for me to hang out with all these great players. Scoping out their gear and seeing how they approach things. I loved the whole process and I hope we can make this a regular venture.