Review by Brian D Holland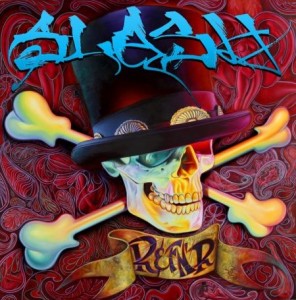 Without viewing my article published seven months ago as a shameless plug here, I'd like to mention that when I wrote "Supergroups – Vultures, Chicks, and Other Picks," I was certain that Slash was about to do something big, even though I knew nothing of his plans. I realize that it's far from being a premonition, as anyone could have made the same statement about the celebrated Les Paul guitar slinger, but it's an exciting scenario all the same. He didn't go in the Supergroup direction–as of yet–but each song on this collaborative effort were Supergroup ventures anyway.
Although I can effortlessly say that none of the tracks are truly horrible, Slash's self-titled CD contains a handful of excellent rock songs that standout to make it worthwhile. "By The Sword", with Wolfmother vocalist Andrew Stockdale, is a notch above the others. The vocal melody is excellent, and the guitar playing, both acoustic and electric, is brilliant. Stockdale's sound and vocal range make one wish he was the chosen addition for Velvet Revolver following the departure of Scott Weiland. But with that said, if you haven't heard Wolfmother, give them a good listen. They're one of the best rock bands around today. Myles Kennedy (Alter Bridge), who does the vocals on the contemporary rocker "Back From Cali", is supposedly slated to handle the mic for Slash's 2010 world tour.
Slash begins the album with his strident Les Paul arpeggio sound and style in"Ghost" (think "Sweet Child O' Mine"). An exciting Izzy Stradlin rhythm guitar presence is in this one as well. "Ghost" (featuring The Cult's Ian Astbury), "We're All Gonna Die" (Iggy Pop), and "Doctor Alibi" (Lemmy Kilmister of Motorhead) all rock the house to the max, and are a perfect trio of examples of what a Slash CD with guests is all about.
In taking it in another direction, "Gotten", with Maroon 5 vocalist Adam Levine, is a beautifully constructed ballad. When it comes to pop radio, this one will easily garner the most airplay, even more so than the Fergie infused "Beautiful Dangerous". "Gotten" and "Saint Is A Sinner Too" (with Rocco Deluca) are pleasant mellow additions to an album that's pretty rocked up otherwise, proving that the hard rock and pop music platforms are often closer than some people might think. "Crucify The Dead", with Ozzy Osbourne, begins in that Ozzy melancholy zone before lifting off into more of a potent area. It's nice to hear that the veteran singer still has it. The rhythm guitar in this one is very reminiscent of Sabbath's Tony Iommi, and Slash's lead solo soars about with incredible Les Paul tone and melody.
Many musicians were involved in the making of this CD, including four ex-members of Guns N' Roses. Slash handles almost all of the guitar work, and it's abundant in amazing solos and sundry rhythms. It was produced by Eric Valentine and the songs were written by Slash and his guest vocalists. Though it's all rock and roll, it's awash with diverse music that pretty much covers the Slash musical spectrum. And although it's a collaborative effort by him and some outstanding friends, Slash successfully displays the multiplicity and diversity of its main musician. Best of all, the music straightforwardly shows that rock and roll is alive and well in 2010. It's nice to be reminded of that every now and then by credible rockers. Too bad the scenario didn't happen more often.
Track listing:
1. "Ghost" (featuring Ian Astbury and Izzy Stradlin)
2. "Crucify the Dead" (Ozzy Osbourne and Taylor Hawkins)
3. "Beautiful Dangerous" (Fergie)
4. "Back from Cali" (Myles Kennedy)
5. "Promise" (Chris Cornell)
6. "By the Sword" (Andrew Stockdale)
7. "Gotten" (Adam Levine)
8. "Doctor Alibi" (Lemmy Kilmister)
9. "Watch This" (Dave Grohl & Duff McKagan)
10. "I Hold On" (Kid Rock)
11. "Nothing to Say" (M. Shadows)
12. "Starlight" (Myles Kennedy)
13. "Saint is a Sinner Too" (Rocco DeLuca)
14. "We're All Gonna Die" (Iggy Pop)
Label: Dik Hayd Music – EMI
SLASH Video Trailer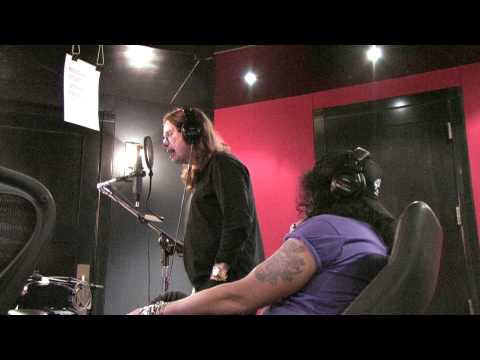 Related Link:
SLASH on Amazon