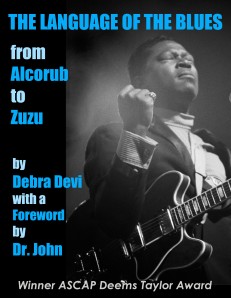 "One of the wittiest, bawdiest and most fascinating dictionaries ever." – Gary Hill, Reuters

"Every blues guitarist needs to know their blues history and where the blues are coming from. Debra's book will teach you what you really need to know." – Joe Bonamassa
The Language of the Blues is packed with stories from Devi's in-depth interviews with blues legends Milton Campbell, Robben Ford, Henry Gray, Dr. John, Robert Jr. Lockwood, Bonnie Raitt, Smiley Ricks, Hubert Sumlin, Jimmie Vaughan and more. It also includes a remarkable foreword from Dr. John and 20+ photos from top blues chroniclers like Joseph A. Rosen and Mike Shea. The book opens with "alcorub", the drink of last resort for desperate alcoholics (remember Kitty Dukakis?), and closes with "zuzu", slang for a cookie, and "perhaps the most wholesome word in the entire book," according to Reuters.  
The Language of the Blues was initially published by Billboard Books and won the 2007 ASCAP Deems Taylor Award for Outstanding Book on Popular Music. Nat Hentoff declared The Language of the Blues "invaluable" in the Wall Street Journal, and Blues Revue deemed it "an essential purchase for scholars and fans." New York Times columnist Shelton Ivany added, "If you have any questions about songs, lyrics, musicians or events, chances are you will find your answers in this unparalleled publication."
Click to read an excerpt of The Language of the Blues
Click to read an interview with Debra Devi
Top Artists Praise The Language of the Blues
"What a great resource…as fascinating as it is informative. Debra's passion for the blues shines through." –Bonnie Raitt
"This book is fascinating! Take it to the bathroom and don't come out until you're done reading it." – Jimmy Vivino
"This is a beautiful book. And it's also great fun to read." Hal Willner

"I learned a lot more about the Blues music I already loved." Bob Margolin

"Finally one can understand the mechanics behind the overwhelming viscera of the Blues.A true guide book to the soul." Al Jourgensen
Bonus Free DEVI Album Download
As a special gift, all purchasers of The Language of the Blues will receive 1 free download of author Debra Devi's debut album GET FREE!
Debra Devi is the lead singer/guitarist for the rock power trio DEVI. She's a Fender Girl Rock Nation artist, and the first female guitarist to record for Guitar World's Lick of the Day iPhone app. Former associate editor of Blues Revue, Devi has also written for The Village Voice, Rolling Stone.com, Guitar World, Vintage Guitar, and Yoga Journal.
OR