By: Robert Cavuoto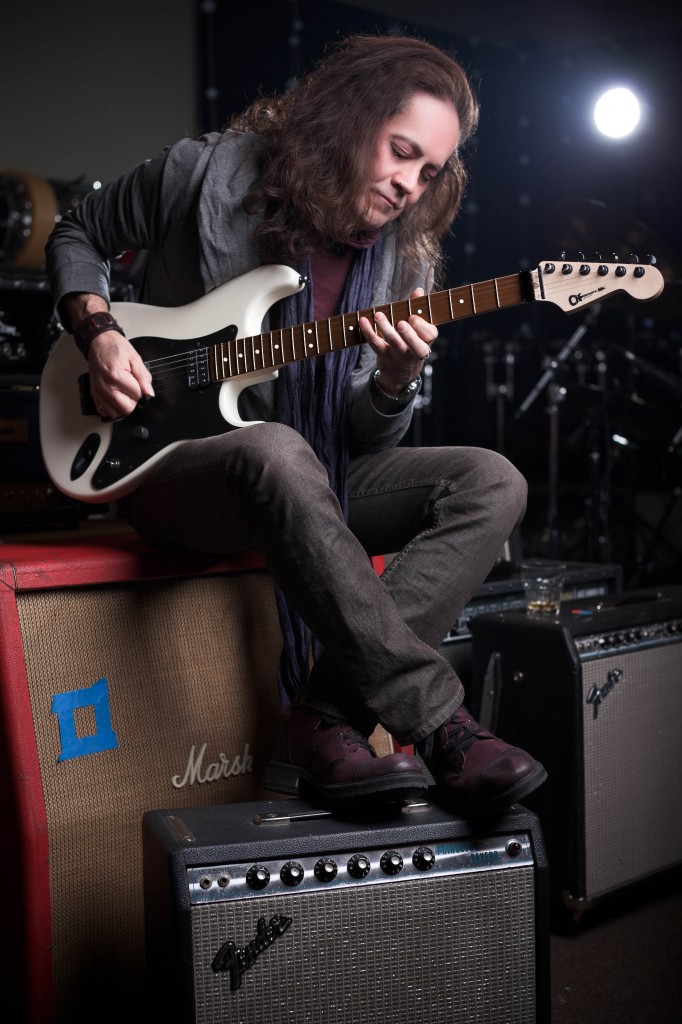 Jake E. Lee is back and it's been far too long for his fans. His new band, Red Dragon Cartel, is looking to fill the creative void in the hard rock world with their latest North America release due out on January 28th.
Jake E. Lee is best known for his work in Badlands and as guitarist for Ozzy Osbourne on Bark at the Moon and The Ultimate Sin.
The Red Dragon Cartel debut CD also features various guest appearances from some of music's most notable faces including: legendary Cheap Trick vocalist Robin Zander, original Iron Maiden vocalist Paul Di'Anno, Kill Devil Hill/Pantera bassist Rex Brown, Slash's Conspirators Todd Kearns and Brent Fitz and In This Moment front woman, Maria Brink.
From the opening riff of "Deceived" to final sustained piano chord of "Exquisite Tenderness," it is clear Red Dragon Cartel has created a great hard rock album. Infectious songs such as "Shout It Out," "Wasted" and "Slave" showcase the band's ability to write memorable hooks with great vocal melodies.
It was truly an honor to speak to one of my all time favorite guitar heroes about this new release and talk about his time with Ozzy Osbourne.
******
Robert Cavuoto: I'm thrilled you are back writing and performing. I know you've probably been asked this a million times, but what was the catalyst for coming back to the music business?
Jake E. Lee: Well, I made the move to Vegas from L. A., really just for a change of scenery. When I moved one of the few people that I knew was Pete Reveen, guitarist for Salty Dog. He told me that Ron Mancuso was also living in Vegas, as well. I knew Ron from back in the '80s. In fact, he helped write "Rock 'n' Roll Rebel" for Bark at the Moon.
We reconnected, and said he was going to make a video for a Beggars and Thieves song and asked if I was interested in making a cameo. I said, "Why not?" A week later, Ron called me up.
He said "Have you seen the video?"
I said, "No.", "Well, go to You Tube and look for the video and be sure to read the comments." There was just so much about me.
It wasn't my video but there was so much talk about, "Is Jake back? Is Jake going to do something?" There seemed to be a lot of people still interested in me after all these years. I thought it was sweet!
In the meantime Pete and Kevin Turcotte, who has a studio right next to Ron's, got together and approached me on whether I'd be interested in doing some kind of record.
Kevin said he would mix and executive produce it. Ron has his own studio, so there wouldn't be any limit as far having to pay for studio time. It would be real casual, come down, bring some of your ideas with you and Ron to see if the song writing chemistry is still there.
That's why I agreed to do it. It was very noncommittal; I didn't feel the need to go out and do anything. I was happy with the career I had.
Ron and I were working well together and the turning point was when we wrote "Feeder". Ron was singing the melody, and he has just a God-awful voice [Laughter].
So, I'm listening to it and I'm trying to figure out who would sound good on this. And I just said "Robin Zander." He would be the only guy who could sing on this, but too bad he's not around. Turns out Ron knows Tom Petersson of Cheap Trick and called him up to see if Robin might be interested."
We sent Robin the track, and he said he'd love to sing on it. He recorded it in Florida, and sent it back. Tom Petersson even played bass on the song. Ron mixed them into the other tracks for meter and called me and said, "Come down. You need to listen to this."
I sat down, I listened, and heard Robin Zander and it was a surreal moment with a song I'd just written. It made me feel alive. It was the most alive I've probably felt in 20 years.
I don't think I had missed doing it until that moment when I was listening to that track. I just said, "Yes, yes, count me in. Let's do this shit. I'm ready to go." [Laughter]
Robert: Have you been stockpiling riffs over the last 15 or 20 years that made it on to this album?
Jake E. Lee: Yeah, most of the album was written with material from 17 years ago. S,o there's quite a spread. In fact, a lot of the tracks on it are the actual tracks from my computer, like the opening to "Big Mouth." Those are tracks that came off my computer, so the actual tracks are about 17 years old.
Robert: One thing I really enjoyed about the CD was the passion behind the playing. There's an emotional vibe to it. After "Feeder" was that something you were going after on this CD?
Jake E. Lee: There was a lot of passion put into it, but honestly, I wasn't going for anything. There was no concept as far as how it would sound or how people would even relate to it. I do it for purely selfish reasons, and if it makes me happy, then that's all that matters.
Robert: How many songs did you write for the album?
Jake E. Lee: I think we completed probably about 15. We were pretty casual about the whole thing. I'd show up about 9 or 10 at night, and we'd work till about 2am. We'd do that maybe four nights a week, so it took about a year-and-a-half from start to completion.
It's not like we were slaving away at it every day and put a bunch of time into it. We're pretty lazy about it; that's why it took so long.
Robert: What's going to become of those five left over tracks?
Jake E. Lee: We'll continue working on them. We weren't happy with the way they were. We wrote them and they got cut, because there's still some work that needs to be done. They'll eventually make onto another record if we do it.
Robert: How did you hook up with Paul Di'Anno for his song?
Jake E. Lee: We were listening to another one of the tracks, trying to figure out who would sound good on it. We weren't coming up with anybody really. I think I mentioned Steve Tyler, but he'd be impossible to get a hold of. I doubt if he'd even do it.
A friend Fred Phillips wanders into the studio. He stood there listening to the track and suggested Paul. I just thought that was bizarre. I would never have thought of his name. I hadn't heard his name in God knows how many years, but I always loved the early Maiden. They're my favorite Maiden, because they're more punky.
Somehow it made sense. He would sound right on it, so we just put the word out on the Internet and were able to get a hold of him. He listened to the track and said he'd sing on it. So he took the tracks and he recorded it in England. I've never met the man, so it's kind of odd the way things work out, where somebody's singing on one of your tracks that you never even met.
Robert: Did you write the lyrics for all the songs with guest singers?
Jake E. Lee: The lyrics were written. Paul had the option to change anything. We give that to all the singers, and they usually do change something here or there to fit with the melody.
Sass Jordan's song was pretty much written as well as "Feeder" and "Wasted". Actually, the song that Maria Brink "Big Mouth" all we had was the title; "Big Mouth for a Small Man". She came up with most of that on her own.
Robert: Now I know you had a rough start at the first show in Hollywood, but the second show in San Diego went very well.  I take it that you're learning and shaking out the bugs. What we can expect for the rest of the tour?
Jake E. Lee: Was something wrong with that first show? I don't understand. We actually went on the web and looked that up to see what you're talking about. [Laughter] Yeah, I take full responsibility for that. It was a combination of over- and under-rehearsed.
We had four days to get a set together and learn the songs. It was too much. We rehearsed like 10 hours a day to try and squeeze it all in before the very first show.
Being the head honcho, I should have just stepped up and said, "Look we need more time. There's a possibility of failure here if we do the first show," and I knew there was. And, of course, it happened.
By the second day, we're doing a lot better. I suspect the upcoming show at Vamp'd in Vegas we're going to be even better, because we kind of burned out on our first show. I know I did – rehearsing that much in that short amount of time.
Now we've had enough time to re-energize and, the show is going to be great. In rehearsals, we were great. I have no doubt that it will eventually become as great as I know it can be.
Robert: I'm confident it will be.
Jake E. Lee: The first show is so controversial; if I can use that word. We got ten times the publicity that we would have done if we'd had a good show. [Laughter]
So maybe a few years down the line, I'll claim credit. I'll say, "Yeah, we would have done a good show, so I kicked the singer in the nuts, made him drink a bottle of booze before he went onstage, and it was brilliant. I knew that we would be talked about a lot more if we had a really crappy first show.
Maybe I'm a genius, who knows?
Robert: Let's talk a little about Ozzy Osbourne; I can't seem to recall why you were let go from the band?
Jake E. Lee: I was told your basic, "It's time for you to go off on your own and do your own thing," which, of course, is never a reason why anybody ever gets fired. It's just the reason people give.
Because I grew up in a classical and jazz music environment, I had an appreciation for other styles of music. In fact, one of the first bands I was ever in was a funk band with horns and another was a country band, so I loved playing all kinds of music.
With Ozzy it was a very specific type of song he wanted and I'd already written two albums worth of that with him. I wanted to broaden it a little bit. Let's be a little more adventurous. So, I was presenting him with the songs that he would shoot down right away. One was a blusier song, and he said [in an Ozzy Osbourne voice], "We're not a fuckin' blues band. Nobody wants a blues band these days."  Think "Paranoid."  I say, "Okay." I bring him another one "We're not a jazz band we're Ozzy Osbourne."
In truth, I was a little frustrated with the limitations that were being set. And I'm sure that Ozzy was feeling a little annoyed that I was bringing him songs that didn't fit into what he felt was right for him. So, maybe that had something to do with it.
Robert: When was the last time you spoke with Ozzy, and what did you talk about?
Jake E. Lee: The very last time I talked to Ozzy was the day after I got fired, because he wasn't there. The day after I got fired he called me; that's when he told me, "It's nothing personal. It's time for you to spread your wings and fly, and I wish nothing but the best of luck to you." That was it. That was what – '88, '87? That's the last time I talked to him. I'd love to see him again.
Robert: Were there any big name acts that wanted to recruit you after Ozzy?
Jake E. Lee: Yeah, Whitesnake. They ended up with Vivian, and I don't mean they got second best, but they did ask me in. Obviously, I'd heard the record and knew it was going to be huge. For me it wasn't tantalizing at all. I'd already been in a band where I'd stepped in and was playing other people's songs. I didn't want to become that replacement guy.
Even as big as they were going to be, I didn't want to become that guy where every time a guitar player quits or was fired-  "Let's call Jake E. Lee."
I was more interested in starting fresh and seeing where I could take it.
Robert: Those two albums [Bark at the Moon and Ultimate Sin] with Ozzy really put you on the map as a guitar hero. Do you think you needed another album or two with Ozzy to really put you up in the stratosphere of guitar legends?
Jake E. Lee: No, I don't think so. I'm pretty sure that I'd got about as high up on the ladder as far a guitar hero as I was ever gonna get. By that time I wasn't real happy about having to do a guitar solo, "look at me, spotlight over here". I thought that pretty much covered that in those two albums. No, I don't think I would have gotten any bigger as far as a guitar name.
Robert: Tell me a little bit about your signature model Charvel.
Jake E. Lee: I think they're bringing out a replica of my original one, which was a pretty close to what I played when I was in Ozzy and Badlands. My original was a 3-bolt and I had to glue my neck down from shifting. This is a 4-bolt on neck, swamp ash body, with a JB for the Humbucker and two DiMarzio SDS-1s single coils, and they're slanted the way I liked it. The Humbucker is positioned a little further away from the bridge than most guitars. That's how I like it too. Other than that, everything is pretty standard.
Robert: Are you going to be at NAMM to showcase it?
Jake E. Lee: I don't know. I haven't been to NAMM in 20 years. I'm sure they'll ask me to. I just don't know if I'll be up to it. [Laughter]. There's a lot of people at those things.
The fact that I haven't been around for a little while just means that I'll get bombarded with, "Jake, remember me? Jake, remember me?" I probably won't remember any of them. There are talks right now of us playing NAMM. That might happen. I can't say for sure.