By: Robert Cavuoto
British metal legends, Saxon, have announced a North American tour which will run through October 10th. The tour is a rare treat for Saxon fans, as it hits many markets that the band has not visited in some time. The group is touring in support of their critically acclaimed new album Sacrifice, but promise to play all of the fan favorites from their 30+ year catalogue, including tracks like "Denim & Leather", "Wheels Of Steel", "Princess of the Night", "Motorcycle Man" and "Heavy Metal Thunder" all of which have cemented the band's legendary status.
It's been 35 years since Saxon formed and they are easily holding their own against bands half their age.
I had the pleasure of sitting down with Biff Byford and riff master, Paul Quinn, prior to their NYC show at B.B. King's Blues Club and Grill. Between all the jabs and teasing we managed to discuss how the chemistry between the members have helped propelled their success.
******
Robert Cavuoto: You are both the founding fathers of Saxon, what has been the secret or strength to the band's longevity?
Paul Quinn: Finding good musicians, these guys are the crème de la crème.
Biff Byford: Crème de la crème in our own minds [Laughing]. He is right. We were the best of the bunch in our area.
Robert: How has the band grown and evolved since inception?
Biff Byford: We've grown old! [Laughing]. The older days were more frantic, I think. We were more punk, like a punk Deep Purple, I suppose. We were influenced by the early '70s bands as well as the '70s punk groups. Some of Paul's riffs were more frantic, which was pretty new for rock bands at that time.
Robert: Most Saxon riffs have a signature style even before Biff voice kicks in. Is it a challenge to live up to that legacy of songs writing?
Paul Quinn: We don't particularly try to; it just comes out of like us. The new guys have added a lot and they were big fans prior to joining the band. Which help [Laughing].
Robert: Saxon, like many other bands, have had their share of line-up changes, has that hurt your career?
Biff Byford: Not really, I think. It always hurts for a while when you lose a founding member, but the band morphs into something else. Pete Gill [drummer] was the first to go and we didn't feel it as much because he wasn't a songwriter. Nigel came along with more of a technical style.
When Steve Dawson [bass] left, we found it quite hard to replace him. He was quite charismatic, as well. When Graham Oliver left, it may sound nasty but it gave us more freedom musically and personally. He was prone to being a little bit of a stirrer, if you know what I mean. Paul and I enjoyed our partnership more after he left.
Robert Cavuoto: When did you start to realize the success of the band?
Biff Byford: It has to be the release of Wheels of Steel in 1980. [Paul agrees]. That album went through the roof around the planet. It was bit of a rocket ship album for us.
Robert: Tell me about the chemistry between the both of you how that allows the band to forge ahead in a positive and successful direction.
Biff Byford: I don't think it's musically down to one guy. I think all the guys contribute to the songwriting and music. Paul and Doug each have their own style and Nibbs has his own wacky style too. On the song "Sacrifice", the opening riff is written by Nibbs although it sounds like Paul's riff.
Some people put in more and some people put in less when it comes to songwriting. It's the same with all bands really. I wrote "Stand Up and Fight" off the new CD, basically all of it. I just shared it with the band and didn't get any royalties for it.
Paul Quinn: We just know our positions in the band and I know that he will choose the riffs he prefers to sing to. Then we move ahead, accordingly.
Biff Byford: I think the guys use me as a bit of an editor, as well. They don't have to sing the songs. They never walk in the room and say "I just wrote this fantastic song". That's all down to me. I think they rely on me to edit it all. Lazy bastards! [Laughing].
The truth is I love doing that shit, so it take a lot of responsibility away from them.
Paul Quinn: He easily bored [Laughing].
Robert: Tell me about the chemistry that you and Doug have, from when he first joined and how it has growing?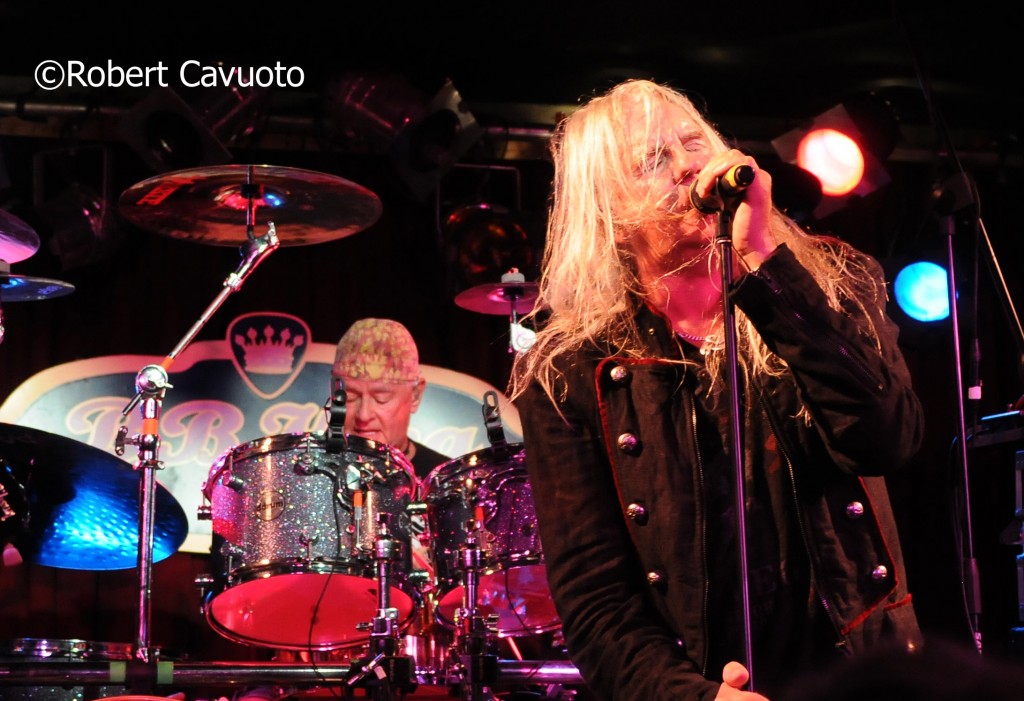 Paul Quinn: Basically the key has been the mutual respect of each other's abilities.
Robert: I've always been intrigued about the religious connotation in many of the Saxon's songs, particularly on my favorite song, "Power and the Glory"?
Biff Byford: I write all the lyrics and have a fascination with history. Religion and war are very interlinked. You don't have to go that far back to recognize that. "Power and the Glory" is from the Lord's Prayer; in that respect it's really a song about a common soldier versus his generals. The lyrics were sort of based around the situation with the Falklands War; I guess it could have been easily based on the First World War too. So the government is just sitting back saying, "Send more men". The chorus is strong and hammers the story home.
Robert: With 35 years of material, how do you pick the set list?
Biff Byford: Again they leave that to me the lazy bastards! On this tour, the fans picked the set list on Facebook, so don't blame me.  There were some wackier requests like performing the entire CD of Destiny, not our most popular CD. Then there were others that I would have loved to do like, "Sailing to America" and "Midnight Rider", but can't fit them all in.
Robert: Which songs off Sacrifice can we expect to hear tonight and which of them do you look forward to performing live?
Biff Byford: "Sacrifice", "Made in Belfast", "Guardian of the Tomb" and "Wheels of Terror". We are not playing a two-hour set, otherwise we would add more.
Paul Quinn: I really enjoy playing "Guardian of the Tomb".
Biff Byford: I like "Guardian" but it's a bastard to sing by heart. We lost Nigel on vocals so on this tour so I'm feeling that a bit. He normally does the backing vocal.
Robert: When we spoke in March there was talk about touring with Motorhead, prior to Lemmy getting ill. Is there still a possibility of that happening?
Biff Byford: We are going out with them in November for the European tour, Bombers and Eagles! We would have liked to do it here in the states too.
Robert: I take it that Lemmy is feeling better?
Biff Byford: He is doing much better.
Robert: How do you stay current on guitar technology, yet still keep you signature sound?
Paul Quinn: We are about to go fully digital in fact we just discovered Kemper Profiling Amps. It takes a lot of the pain out of transporting equipment. You can use the mic samples from your CD and then sounds perfect every night.
Robert: What guitars did you bring out on the road?
Paul Quinn: An Axcess Les Paul and a Gibson Explorer with Bare Knuckle pickups.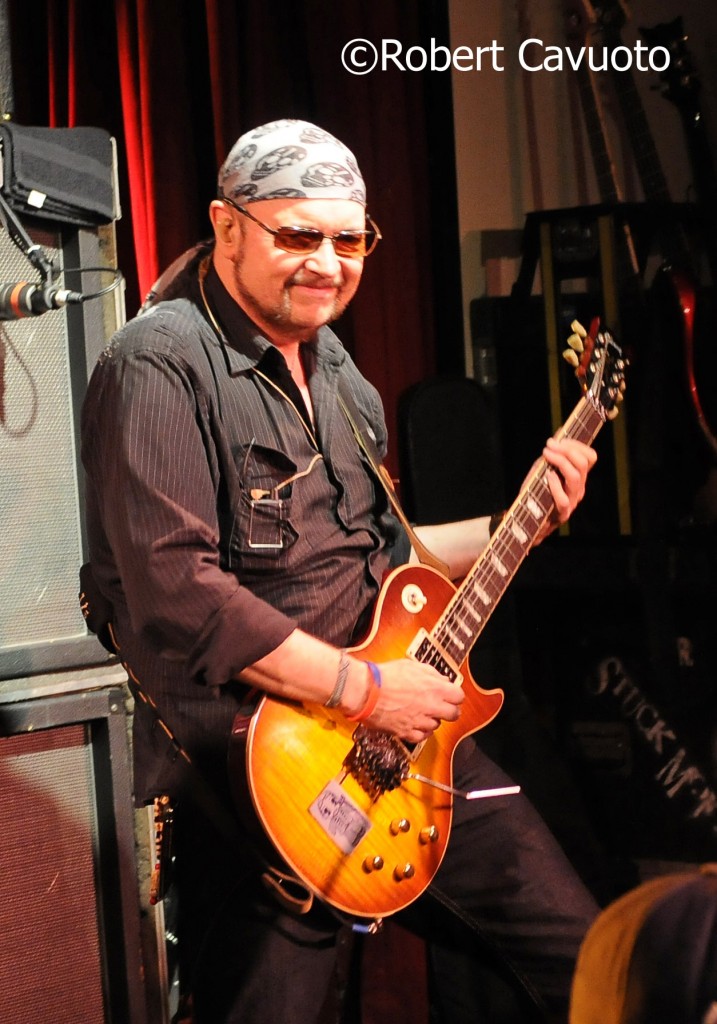 Robert: Do you have any pre-show rituals?
Paul Quinn: I like a shower before the show, as it wakes me up.
Biff Byford: I never leave the dressing room first or last, always in the middle. We also don't walk under falling woman. Oh, that's open ladders [Laughing]. Yeah, we don't do that too!
Robert: Woman falling at the band's feet was big in the '80s [Laughing]
Paul Quinn: Yeah, we would just pick them back up again! [Laughing]
Robert: You have seen so many changes in music from the '80s, the omission of spandex being one, many bands have cut their hair, metal doesn't get any radio play, and no video stations. How has the business evolved?
Biff Byford: I don't miss the spandex; I do miss the freedom of the spandex [Laughing]. Sometimes I think it is for the better, as you can stand on your music rather than the glamour. There are some radio stations still playing our music out there.