By: Robert Cavuoto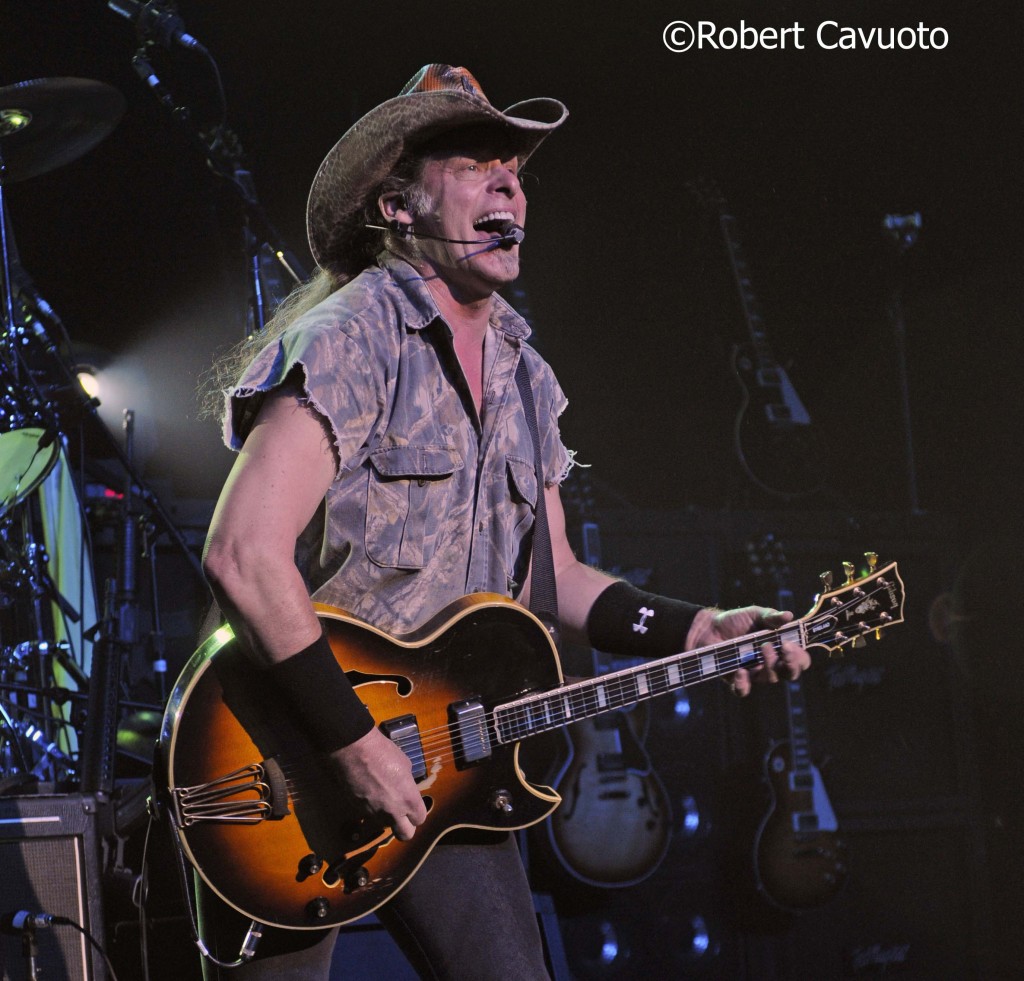 For over four decades Ted Nugent has been unstoppable, a dynamic musical force not to be reckoned with.
Like a rock 'n' roll freight train that never falters or gets unhinged, Ted has continued to slay the wild hearts of fans and musicians throughout the world.
Along the way he never stopped taking his amazing stable of hits on the road to play for the new and faithful.
In turn, his dedicated fan base has never lost sight of Uncle Ted being a rock legend first and foremost despite the lack of accolades and awards from the main stream music publications and organizations.
His reputation as a great American musician is forged in his ability to blend well-crafted vocals and guitar melodies with sheer primal instinct, from "Cat Scratch Fever" to "Wango Tango" to "Fred  Bear".
Ted is currently on tour with Styx and REO Speedwagon for a second trip on the Midwest Rock 'n Roll Express tour! Rejoining him are Mick Brown [drums], Greg Smith [bass] and Derek St. Holmes – the real voice!
Between stops I was able to catch up with the charismatic braveman caveman to talk about the tour, making records, the music industry and being snubbed by the main stream music organizations.
******
Robert Cavuoto: In 2011 you teased your fans with two new studio songs "I Still Believe" and "I Love a BBQ". Any update on giving the fans a new CD?
Ted Nugent: God knows me, and the band are dying to record a bunch of very exciting songs and musical adventures. Logistics, timing, and scheduling availabilities is a Herculean task. With any luck we should hit the studio in early 2014 for a summer release of a killer CD.
Robert: What could fans expect musically, will it be in a similar vein as Love Grenade which I thought was an aggressive rock CD?
Ted Nugent: Whenever I pick up a guitar, a firestorm of grinding, fun, intense grooves and patterns erupt every time. With Mick, Greg, and Derek songs simply happen. I have unlimited topical material and ideas and unlimited high energy guitar licks to create more of the R&B, blues and high energy rockers that I have always craved, loved and celebrated. It will reek of the Ted Nugent identity I assure you.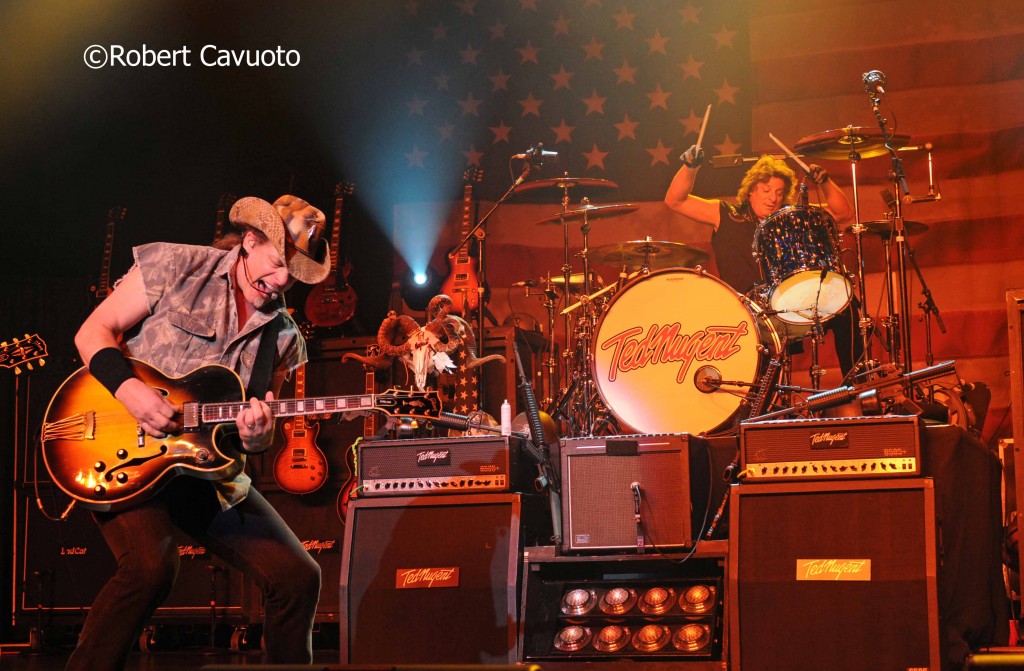 Robert: What are your thoughts on developing new material with record labels being what they are now?
Ted Nugent: All the killer, gifted, dedicated musicians I know are extremely saddened and frustrated at the death of the record/music industry. I am happy for the successful country artists, Justin Bieber, Justin Timberlake and some other pop artists, but other than my buddy Kid Rock, I can't think of any real all American classic rockers that are selling records in this digital rip-off age. I still love the musical creative process and will always make new music.
Robert: This is your second tour with REO Speedwagon and Styx, what can we expect from you live on this tour?
Ted Nugent: The band is tighter and more energized than ever. Gravity defying really. All my songs are so much damn fun to perform that the music has a life of its own and is much greater than the sum of its parts. The passion our audiences have for this classic high energy music is also at an all time high, so this tour is going to be wonderful I am certain.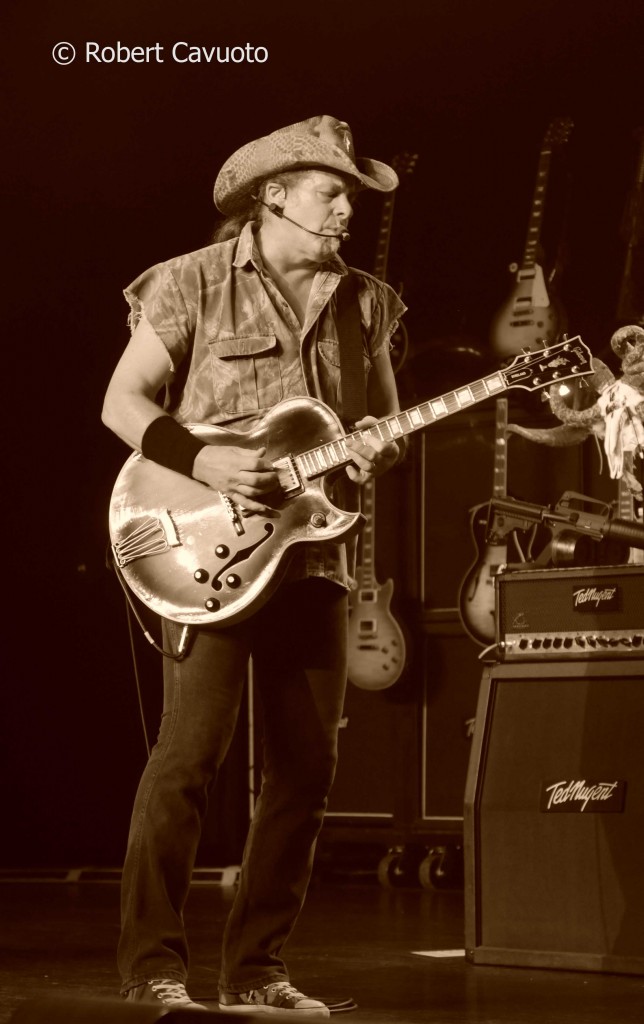 Robert: How do you pick the set list with 40+ years of songs?
Ted Nugent: I have been told by more than one master musician that most of my songs make the best opening song and best encore, so we pick and choose based on audience intensity and our own love of the material. We could play for six hours and not run out of killer songs.
Robert: Any chance that you and Tommy Shaw will be playing a Damn Yankee songs together on this tour?
Ted Nugent: We did last year and you never know! He is such a damn yankee!
Robert: Is the door shut on Damn Yankees reunion? Would love to hear of any possible reunion?
Ted Nugent: None of us would shut that door, but the logistics of arranging schedules is a royal bitch. But, we all hope!
Robert: When out on the road, where can you be found and what do you like to do to occupy the time?
Ted Nugent:  I do media interviews every day throughout the year(s) and keep at it constantly on the road. Plus, I write for numerous blogs, websites and magazines. Plus, I am involved with non-stop charity work for military and childrens' charities throughout the year.
Robert: I know that you do a lot of great things to help kids that get overlooked in the media. Can you tell us about them?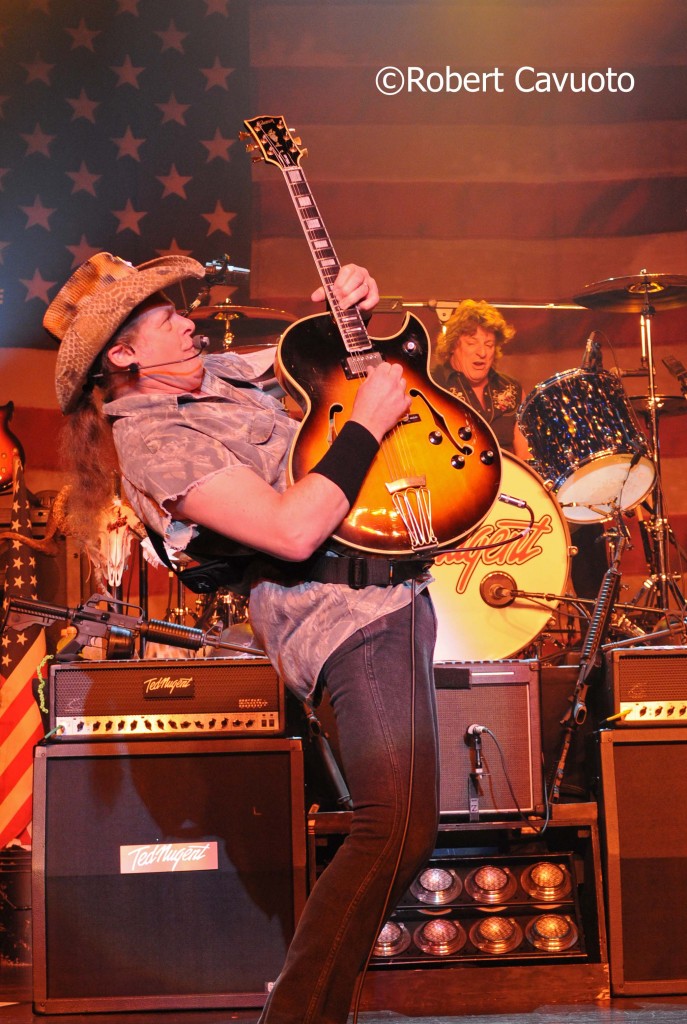 Ted Nugent: Our beloved Ted Nugent Kamp For Kids nonprofit charity has graduated more than 15,000 kids between the ages of 7 and 16 for twenty-five years, to be the best that they can be, to defy the suicide of drugs and alcohol and tobacco, to laugh in the face of the lie of peer pressure and to be conscientious conservationists and hands on stewards of our precious natural renewable resources.
Our volunteers are the best people in the world. Same goes for our Freedom's Angels military charity helping the hero warriors of the U.S. military and their families for 15 years. We are involved with every imaginable military and children's charity in America.
Hunt of a Lifetime is one of many youth charities we volunteer, donate and help in any way we can, providing special needs and terminally ill kids with a last wish in life. Great organization.
Robert: I recently read that George Lynch met up with you at your ranch. I know he is promoting his Shadowtrain documentary. What did you discuss and was wondering if you jammed? Is there any chance of a musical collaboration between you two?
Ted Nugent: We had a wonderful day at our home SpiritWild Ranch in Texas and mutually celebrated the glowing American Dream and paid proper tribute to our American Indian blood brothers.
The lyrics to "Great White Buffalo" says it all!
George is a good friend and though we didn't have a chance to jam on this visit, we certainly will hustle to make a musical collaboration happen.
Robert: You have always struck me as someone with a good sense of humor. How important is having a sense of humor in the music business, as well as when dealing with the media on politically charged issues?
Ted Nugent: Humor is a powerful driving force in my life. Without Lenny Bruce, Richard Pryor, Sam Kinison, Don Rickles, Jonathon Winters and others, my life would be much less than it is. The Nugent family and all our friends are some funny, funny people who cherish laughter much of the time.
Robert: I often wonder why you sometimes get overlooked by the main stream music related publications / organizations (i.e. Rolling Stone, RnR Hall of Fame, Guitar Player, etc.) as an amazing guitarist, artist, and songwriter. Do you think that your political candor prevents you from getting the recognition you truly deserve?
Ted Nugent: Those left wing, hippie run institutions are embarrassingly soulless and dishonest. My pure American politics and lifestyle drive them batty, so they conveniently dismiss the classic power of my musical impact.
I was voted overwhelmingly the #1 all time greatest Detroit guitarist in that city of astonishing guitar gods. My song "Fred Bear" has been the top requested song in MI & WI for more than 25 years in a row. Now, that's honest.
Robert: You recently posted a tweet "all my haters are either fulltime dopers or act think talk & live like fulltime dopers. I sincerely thank you all for making me look SO good." Where does that stem from and do you truly believe it?
Ted Nugent:  It stems from a lifetime of watching and listening and knowing who my haters are and is 100% accurate.
Robert: Is retirement in your future?
Ted Nugent: Nah.
Robert: Can you leave us with a quote that you live by?
Ted Nugent: Sometimes you give the world the best you got and get kicked in the teeth. Give the world the best you got anyway.