By: Robert Cavuoto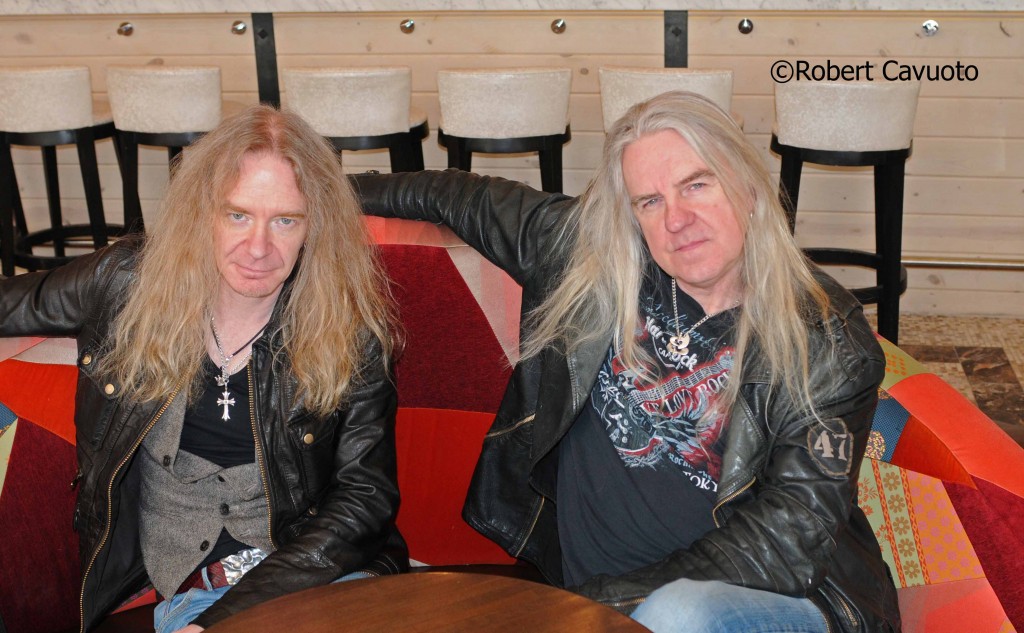 While driving into New York to interview Saxon's legendary frontman, Biff Byford, and guitarist, Doug Scarratt, on this clear March day, I'm hit with a freak snow shower.
Being habitually earlier for everything, I'm really not affected by this minor setback, something my father instilled in me – "always leave yourself plenty of time".
I arrive at their swank West Side hotel 45 minutes ahead of schedule.
As I'm waiting in the lobby, I begin to reflect back to the first time I ever heard a Saxon song. It was "Denim & Leather" performed by a cover band in a Church basement.
The song spoke to me not only from the pounding metal riff but from the story of metal fans who will do anything for the love of music and the bands they follow. The next day I had the vinyl in hand and was learning the song to play with my band.
Fast forward thirty years later, I'm still a huge metal fanatic and still listening to Saxon who are now releasing their 20th CD – Sacrifice. The crushing twin guitar attack on songs like "Made in Belfast" and "Night of the Wolf" melted away time.
The songwriting is reminiscent of their classics hits when they were new comers forging the path for the New Wave of British Heavy Metal!
Saxon have produced 10 of their strongest, heaviest and most inspired songs on Sacrifice, a worthy successor to their last album, A Call To Arms. In addition to the new material, Saxon added some revisited classic including an orchestrated version of "Crusader" and an acoustic version of "Frozen Rainbow".
If you would have told me in that church basement in 1982 that I would someday be sitting between these two influential musicians, discussing their 20th release and longevity of their band, I don't think I would have believed you.
******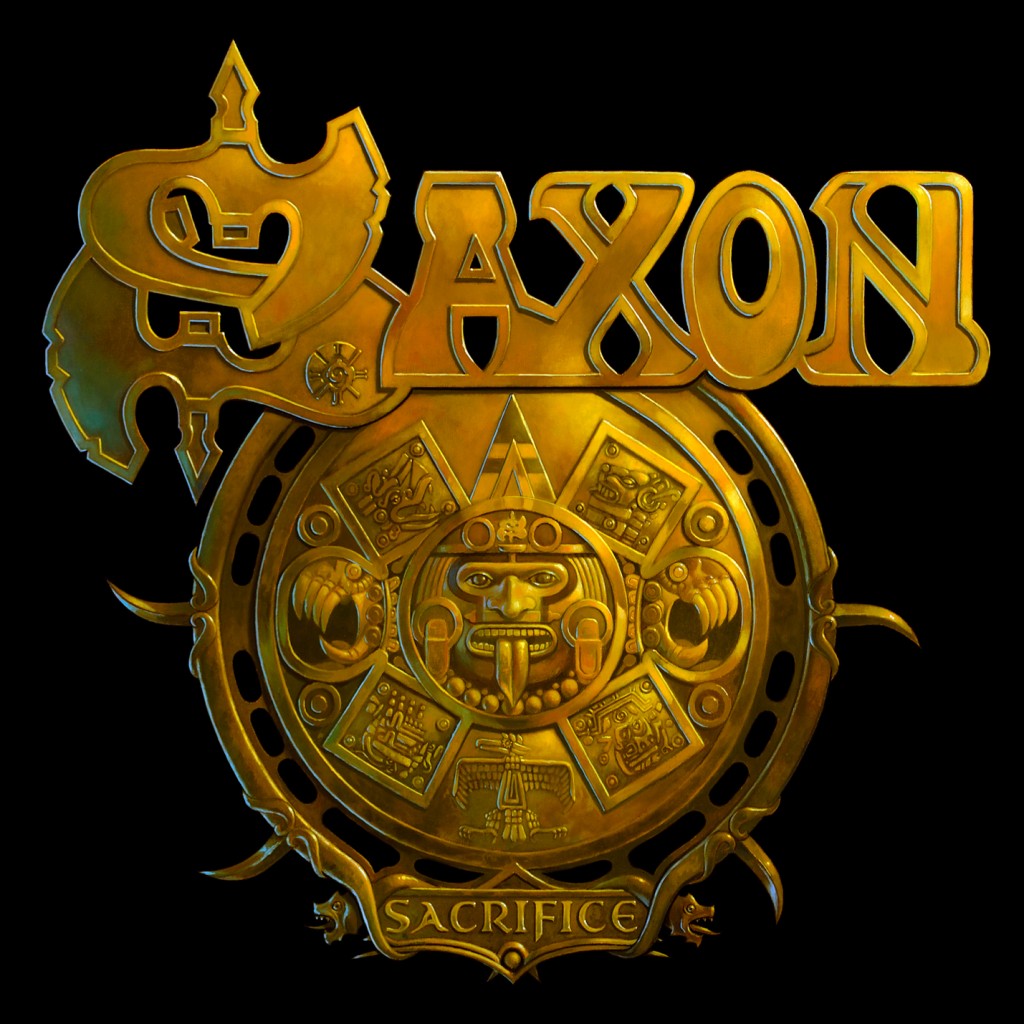 Robert Cavuoto: There are some really strong riffs on Sacrifice reminiscent of the albums you put out in the '80s.
Biff Byford: We worked quite hard coming up with the big riffs that we're famous for. I wanted it to be as much Gibson and Marshall as possible without too many props or gimmicks and very few overdubs. To really just work on a great sound using twin guitars.
We recorded the guitars in a box, we made a huge box and put a Marshall cabinet in there with three mics and we had a cab in the room. We put three mics on that and mixed the sound.
Also we added two and three-part harmonies, which we haven't been doing for quite some time, because of the heaviness of the band these days. I wanted to put that element back in.
Robert: "Made in Belfast" really speaks to your roots as a blue-collar band. Share your insights about that song when you were writing and recording it.
Biff Byford: We had this hugely massive, heavy riff, which is the whole "Made in Belfast" riff. It has a quite dark, melodic verse using diminished chords.
I wanted to bring this Celtic element into it because as it's a song about Ireland. So I asked Paul Quinn [guitar] to come up with a Celtic, lilty jig thing, which he did fairly quickly. I thought it might sound nicer on a mandolin, so I bought a mandolin. Paul did it on a mandolin and 12-string.
We mixed the two together down at Andy Sneap's place. It worked really well. It gives it that Celtic feel. It's surprising when you first hear it, especially after "Sacrifice". But, that's the effect I wanted.
Robert: Saxon is known for being a hard working blue-collar band. How do you still capture that style after twenty albums?
Biff Byford: I think the band's work ethic is to give the band 100 percent. I don't think we have anything to lose, really, and everything to gain by playing well. I'm in a band of a fantastic bunch of talented musicians. When we play together, there's a great chemistry. Obviously, that shows through on our live work and albums.
Robert: "Stand Up and Fight," great song and great storyline. The lyrics always play such an important role in storylines of Saxon's songs.
Biff Byford: I wrote that song. That was my contribution guitar-wise on the album. I wanted to go back to the sort of '80s way of writing – just write the first thing that comes into your head and make it as fast as you could possibly play it.
Actually, I played it for Doug and he was like, "Yeah, sounds cool." We didn't really change it from the original way. That's how we work sometimes.
Robert: Tell me a little about the chemistry you have with Paul from when you joined the band and now?
Doug Scarratt: It was an unknown at the beginning. Two guitarists can either work or not work. I think when we started writing Unleash the Beast, which was my first album with Saxon, we were both coming up with guitar riffs.
We like working together and there is enough room for both of us. We're similar sometimes, yet pretty different styles. Over the years, we've morphed more similarly to each other. We do like to change it around, inasmuch as Paul's quite a bluesy, jazzy player, but sometimes, I do the bluesy sound.
We swap it around, so we both make sure we get to say what we want to say on the record. Quite a lot of the riffs are Paul's, some are just mine. Quite a lot of them are collaboration. Paul will have a verse, maybe, or a chorus. With "Hammer of the Gods" from Call to Arms, Paul had that riff.
We knew it was a great riff. It was floating for ages and we couldn't find the next part to it. Then I had an idea to use something else straight after it, and it quite often works like that.
Robert: How does a Saxon song get created, do you bring riffs to the studio or do you collaborate and write in the studio?
Doug Scarratt: We usually start with riffs at home – all of us actually. Nibbs Carter [bass] writes riffs as well. In fact, he wrote the main part of the riff for Sacrifice.
So when we meet, we basically listen to everyone's ideas, sift through them, see if anything is working or anything that gets Biff fired up. Then we take it from there, really. Then you go to work on a verse.
Robert: Ten solid songs made it to the CD Sacrifice, how many songs did you typically write for a CD?
Doug Scarratt: We always write more than we need. I'd say on Sacrifice, not as much as other albums, actually. On the previous albums, we've had quite a lot of scratched tracks. On this one, not so many.
Robert: How many songs will you play live from Sacrifice?
Biff Byford: We've rehearsed four or five already. I don't think we'll play too much on the cruise we're about to do.
In South America we'll probably play a few more tracks, because it's already out in Europe and getting fantastic reviews. It's in the charts everywhere. In South America we're in sort of unknown territory. We don't know how many people have got the import, how many people have seen tracks on YouTube.
So, we'll see, really, what the reaction's like. We'll know in the first day of meeting the fan club. We're the only metal band on the cruise.  
Robert: What's the difference between performing now versus when you guys were in your 20s and 30s? How has it changed over the years?
Doug Scarratt: Not a lot, really.
Biff Byford: A bit less Spandex.
Doug Scarratt: A bit more black these days than sort of bright colors.
Robert: Are you content with the public's perception of Saxon in the new wave British heavy metal and the influences you've had on so many fans and bands, like Metallica and so many others?
Biff Byford: Yeah, it's good really to know that our style of music has influenced some of the great bands. It's cool when people tip their hat to you. And obviously we tip our hat to people who have influenced us.
Robert: In your movie, Heavy Metal Thunder, the departed band members talked about a reunion. You even mentioned that you would be open to jamming with them down the road. Did you ever jam or reconcile since the movie?
Biff Byford: There's nothing much to reconcile, really, I mean for us. We're very busy doing things, so we don't really give it much thought, to tell you the truth. I'll never say never; it's not as if it's a huge reunion, like a singer coming back or something like that. I would say at least 50 percent of our fans have no idea who they are. There are no plans for a reunion.
Robert: What's been the biggest challenge for you professionally and musically so far in your career?
Doug Scarratt: Just to survive, really. To keep together and still play music that excites people.
Biff Byford: Yeah, it has to be the same, to be able to keep writing songs that people review and say they like and say they're great. It's the best you can do anyway.
Robert: Out of all the Saxon albums you've been on, where does Sacrifice rate so far?
Doug Scarratt: To be honest, I'm very pleased with all the albums that I've been involved in with Saxon. It's hard for me to pick a favorite. There probably are a few.
Lionheart was quite a pinnacle. But, for me there's something great about all of them. We haven't changed very much or veered very much to the left or right. Saxon is Saxon. We tend to stick to a similar format for songs. Not because we feel like we have to, but that's what we actually like to do. We still like to write songs that are kind of hard hitting, but still melodic with good hooks.
Biff Byford: It's almost an impossible question for me to answer. I just like the new albums that we're working on. We're still focused on them.
I would like to add, though, that one of the things that make Saxon unique is that every member is willing to experiment. On this album, I said to Paul, "Can you write a Celtic lilt?" which he did and then he played it on mandolin. Like with Doug I can say I have this idea of doing this vocal thing and everybody is really open for experiment.
We're constantly experimenting, trying new things. I think that's what makes it exciting. You know I wanted to put an F-1 car on the beginning of "Warriors of the Road." It's very reminiscent of "Motorcycle Man".
And I think the rest of the band pours into that and says cool. I think that's what makes us a bit special; there's not really a lot of ego thing going on.
Robert: What did you use to track the album?
Doug Scarratt: I used an Engl Savage 120 and a Marshall JVM head. Both of them recorded at the same time, mixed between the two. And guitars, I used mostly a Les Paul. It's got a Floyd on it, a Les Paul Axcess. It's slightly different from the normal Les Paul.
I used a few different guitars, a Strat sometimes, a couple of ESP guitars. Predominately, at the moment, that Les Paul I used seems to be my favorite-sounding guitar.
Robert: When can we see you touring the U.S.?
Biff Byford: We are hoping to tour that states in autumn with the right package. I would love to go out with Motorhead.