By: Debra Devi
Need a new guitar strap? Look no further than
Volume & Tone
, the new company started by New York City punk legend,
George Tabb
, and his fashion-forward fiancé, Elena Humphreys.
Tabb has played with many seminal New York City punk/hardcore bands like Roach Motel and Furious George, and worked a stint as Johnny Ramone's guitar tech.
Tabb has also written two very funny, well-reviewed memoirs: Playing Right Field: A Jew Grows In Greenwich and  Surfing Armageddon: Fascists, Fishnets and Body Fluids In Florida.
Humphreys brings her background in accessories design and luxury leather goods.
Their collaboration has resulted in a series of drool-inducing leather guitar straps inspired by punk and rock legends, plus cuffs, wallets, key fobs and bags.
Like your favorite leather belt, these straps are never gonna wear out and will only get better with age.
And man, they are as cool as Johnny Thunders strolling arm-in-arm with Chrissie Hynde into CBGB.
******
Debra Devi: Who are some of the guitarists who inspire your designs?
George Tabb: Obviously, Johnny Ramone; in fact, I purchased a thin strap many years ago that I was never able to find again. It was almost an exact replica of the strap Johnny Ramone used. The only difference was that his was more of a leather bomber jacket brown.
I also loved the look of the straps that Buddy Holly, Ritchie Valens, and later Elvis Costello and the Knack, The Ventures wore.
Others include Joe Strummer, Sid Vicious just for the way he wore his guitar below his knees; Kirk Hammet, Dave Mustaine, Ross the Boss from the Dictators, Kerry King/Slayer, Cheetah Chrome, Jeff Magnum [who is also a brand ambassador for V&T], and Dee Dee Ramone.
Elena Humphreys: For me it would be the indie players–Jack White, Thurston Moore, The Black Keys, The Walkmen, The Strokes. And the ladies–Chrissie Hynde, Joan Jett. Kim Gordon. And of course the old guard like Mick Ronson, Ron Ashton, and Keith Richards.
Speaking of musicians who inspire us, look out for our special limited-edition, rock-celebrity collaborations and charity pieces we will be creating with musicians we admire to raise money and awareness for charities we feel are worthy of our support Giving back. That is one of our company's core values, and we love it! It is something very close to George's heart and mine.
Debra Devi: What inspired you to Start Volume & Tone?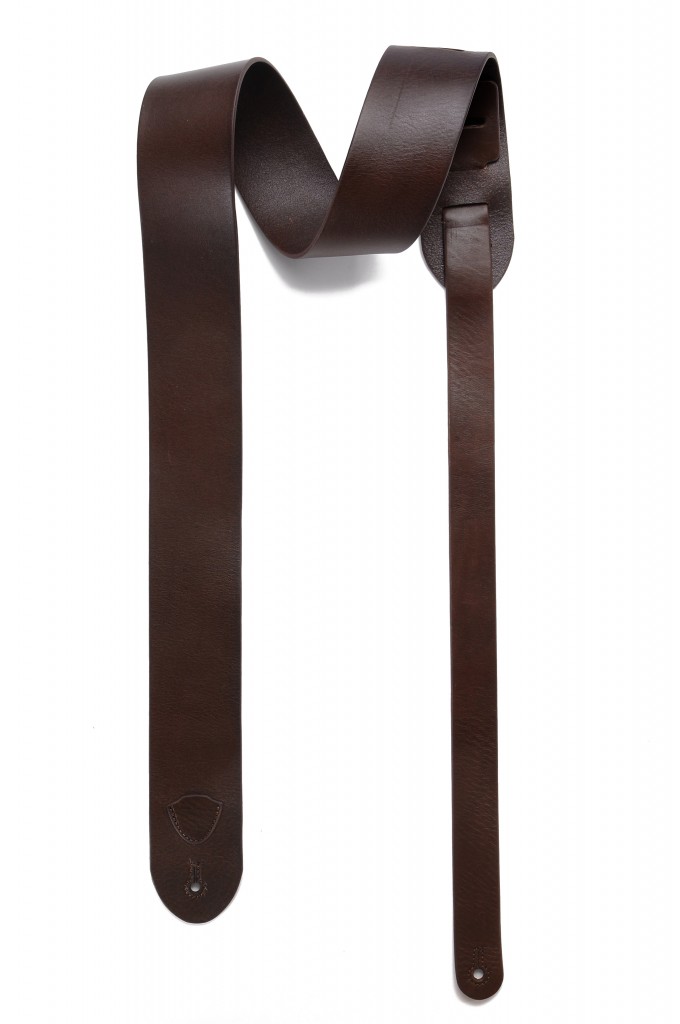 Elena Humphreys: I had been playing with the idea of Volume & Tone for the past few years; it was always my little project on the back burner. I was so intensely busy working on runway collections for other major brands, though, that it was always just a project I tinkered with while on long flights, waiting at factories etc.
When I re-met my now-fiancée, and business partner George Tabb, he kind of became the muse for the collection. I had met George years back at CBGB, and always had a little crush on him. When we met again in 2011, it was like no time had passed, we had the same connection.
I told him about V&T, and he loved the idea. We set out together to solidify the concept for the brand and the company.
The company culture is as important as the product to us: well-designed pieces, luxury artisanal quality,  an amazing team to work with, building a community within the company and within the industry, and giving back to our  community at large are all key at our little company.
Smaller is actually better. And, of course, rock-n-roll forever, can't forget that!
George Tabb: When I heard the idea from Elena, I thought it was beyond brilliant.
I'd always hated those stupid hippy straps that seemed to be the only straps available in most guitar stores. You know those straps–the ones that look like a rug from India or a paisley-covered nightmare that made me want to vomit.
Debra Devi: These straps look built to last and like they will only get better with age. What makes them different from your average music-store guitar strap?
Elena Humphreys: First, our leathers are made especially for the collection, and they are cut from one piece of hand-made vegetable-tanned leather. Not from "leather pulp" or compressed leather like our competitors. It might say a hundred percent leather, but that leather was made in a blender. Ugggh.
Volume & Tone straps are one piece through and through, with no stitching–they are made by the same process that saddles, or harnesses are made from, so they will last and last. We modeled them on a strap George had bought thirty years ago that he still uses. We wanted ours to last the same way.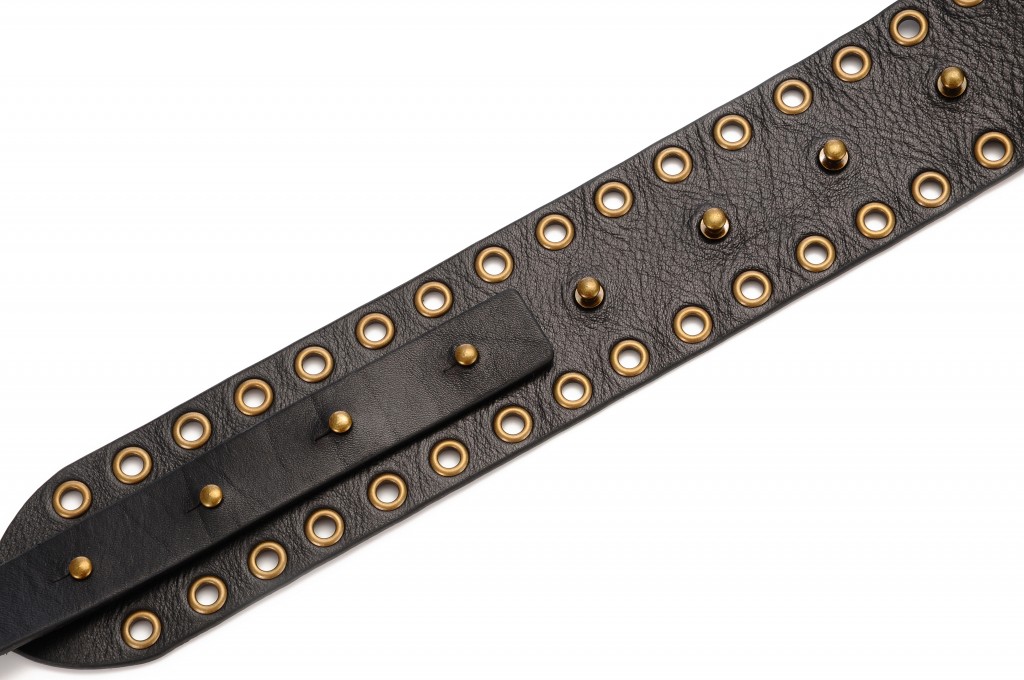 Debra Devi: What can we expect from the new Musician's Bag collection you are launching this year?
Elena Humphreys: A great mix of rock 'n' roll downtown cool, on top of functional details geared to the musician. Lots of surprises! These are going to be kind of ground-breaking as far as musicians bags go, with lots of tiny details and surprises in the function.
Debra Devi: George, what's the latest with you musically and creatively?
George Tabb: I am still playing with Furious George–my band of eighteen years! I am still writing songs and I even got one of them in a Spike Lee movie a few years back. Actually, Furious George was in the movie–how cool is that? I am still listening to and reviewing new bands for various magazines, and over the last decade, I have been producing other bands.
I recently had some of my old stories published in a book called, Take My Life, Please, which was published in France. I would say the book is excellent, but I can't read French.
 Motel Roaches – We Can't Help It We're From Florida (Explicit Lyrics)