By: Skip Daly
The Saw Doctors hit the stage at The Fillmore in Silver Spring, Maryland, March 10, 2013, launching into Irish laden rock at it's best.
Much has been said over the years about rock 'n' roll being a "young man's game".  Aside from the elemental appeal of an energetic on-stage presence, a youthful constitution is certainly demanded in order to survive the merciless slog of gig after gig on the road.
Touring is, after all, the "price of admission" if one hopes to carve out a career in the music business – it is a necessity, both for building a loyal audience and also for developing one's chops.
So, when we think of rock 'n' roll, it is reasonable that we instinctively look to the young bands. When we do stoop to converse about older bands, there are always those wistful snippets of conversation about how their earlier albums were more passionate, and someone always shares a story of some fiery show in a small club – the stuff of legend.
While all of the above is understandable, it's time for us all to advocate for the more seasoned bands – lest we throw the proverbial baby out with the bathwater. or, perhaps more accurately, prematurely damn some kick-ass rockers to the retirement home.
Though passion and energy are well and good, they are not the sole property of the young, as The Saw Doctors  demonstrated at The Fillmore.  Furthermore, experience has a way of fine-tuning a musician's skills, turning a band of individuals into a living, breathing entity unto itself.
There is nothing in this world quite like a band that is so incredibly tight, and yet also confident enough to let the music breathe. The spaces in between the chords take on a character of their own, and the notes not played assume as much importance as the ones that are struck.
In their home country of Ireland, The Saw Doctors are not merely a band – they are an institution, as evidenced by the fact that their riotous 1990 song "I Useta Lover" [Ireland's all-time best-selling single] topped a 2012 poll celebrating the 50th anniversary of Ireland's popular music charts.
This means they beat out U2, Sinead O'Connor, Thin Lizzy…and the list goes on from there. Thus, while the band has won over a sizable American following, a Saw Doctors concert in the United States also serves as a joyous celebration of ex-patriots.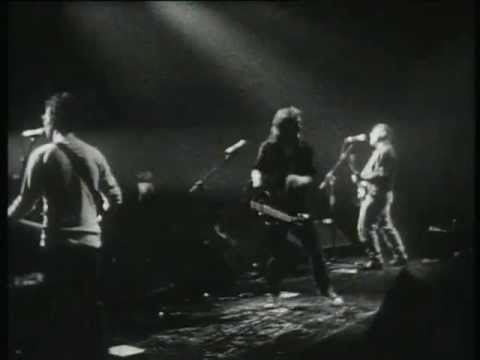 One Galway-born audience member became so ecstatic when the band broke into encore song "I Useta Lover" that he couldn't resist joining the band on-stage; The musicians seemed amused, though security less so.
Kicking off the show in an upbeat manner with "Macnas Parade", followed immediately by their homage to Irish deejay "Tommy K.", The Saw Doctors held the near-capacity crowd in the palm of their hands from the start.
The featured Saw Doctors showed up with founding members Davy Carton and Leo Moran simply personifying the word "endearing", bringing a sense of genuine enjoyment to the stage.  These guys look as though there is nowhere they would rather be. More than once, you could hear Carton's exuberant laughter right in the middle of a vocal.
Carton's voice remains surprisingly strong and consistent, while Moran continues to prove how underrated he is on guitar, with his clean arpeggiations providing the perfect palette of colors for the Saw Doctors' varied repertoire. Anthony Thistlethwaite is a truly impressive multi-instrumentalist, not only performing memorable bass lines, but also blowing the roof off on select numbers with his strong saxophone work.
Kevin Duffy [keyboards] and Rickie O' Neill [drums] round out the outfit, with O'Neill injecting some literal youthful vigor into the proceedings. At 22 years old, he wasn't even born when "I Useta Lover" first took over the Irish charts.
The Saw Doctors are in the enviable position of brandishing a whole catalog of crowd-favorites that rank extremely high on the sing-along-ability scale. As often happens with bands that effectively write great pop music, it would be tempting to relegate the songs of Davy Carton and Leo Moran to a second or third tier in the hierarchy of "art".
This would be a disservice to both the songwriters and the listeners because for every purely-for-fun "I Useta Lover" moment in their catalog, there exists a magnificent piece of music with something real to say.
The song "Goodbye Again" provided such a moment during their Fillmore performance – an achingly beautiful piece of melancholy, as only the Irish emote so well:
"Here we are – we're looking out to sea
Those waves will break long after you and me
When the swallows answer nature's ancient call
Oh, I love the seasons turning most of all"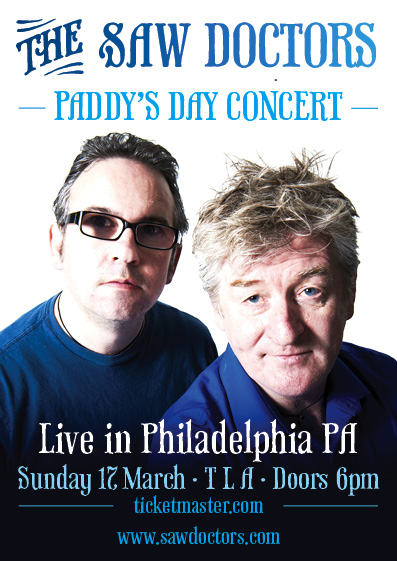 A few songs deeper into the set, after a lovely rendition of "Share The Darkness", Carton called an inspired set list audible, launching into the anthemic "World Of Good" – "I know you'd take me with you if you really thought you should…But if you up and go alone, I wish for you a world of good".
This was like a B-12 shot to an audience that didn't even need it, and the whole show went into a higher gear. The always-epic "Green And Red Of Mayo" was followed up by another old favorite, "Clare Island", before The Saw Doctors launched into a faithful rendition of the Tony Hatch classic "Downtown".  The song was turned into an international hit in 1964 by Petula Clark, and she is featured on the new Saw Doctors recording of the song, on the new retrospective CD, 25:25.
While politics and music often make uneasy bedfellows, Irish blood and old friendships run thicker than such concerns, so it was with great fanfare that the Saw Doctors welcomed Maryland's Governor Martin O'Malley to the stage for the encore.
Wielding an acoustic guitar, the governor held his own through a rousing rendition of The Saw Doctors' traditional closing number, "Hay Wrap".  This was my eighth or ninth Saw Doctors show since 1997 and, once again, these boys delivered the goods.
And a high five for the opening act , The Latchikos, a duo who got the show off to a great start with their stripped-down approach. Multi-instrumentalist Timmy Scanlan, from Australia, played guitar while simultaneously laying down an infectious rhythm with hi-hat and various other percussion instruments.
This left Irish singer and fiddle player Aindrias Stack free to work the crowd and deliver some nice melodic touches of his own. One was left with the feeling of enjoying highly-skilled Grafton Street buskers on a beautiful summer night – in the best possible sense of what that means. The lads laid the ground work for the Saw Doctors to hit the ground running with their own style of rock 'n' roll.
GALLERY
SAW DOCTORS 2013 U.S. Tour Dates:
March 12  Pittsburgh, PA Alter Bar
March 14  Asbury Park Stone Pony
March 15  New York, NY Irving Plaza – SOLD OUT
March 16  Boston, MA House of Blues
March 17  Philadelphia, PA TLA
March 19  Toronto, ON Opera House
March 21 Cleveland, OH House of Blues
March 22  Chicago, IL Vic Theatre
March 23 Indianapolis, IN Deluxe @ Old National Center
March 24 Madison, WI Majestic Theatre