By: Mike Oppenheim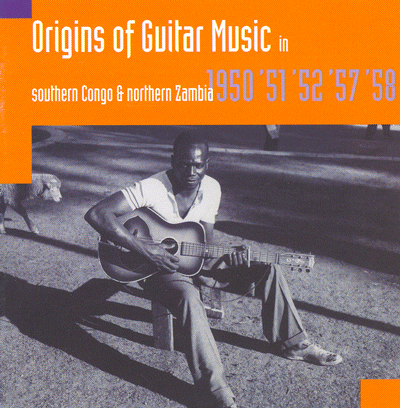 Origins of Guitar Music in Southern Congo and Northern Zambia 1950 '51, '52 '57,'58 [Sharp Wood Records – 2002] is is a collection of songs recorded by the field recordist Hugh Tracey in the 1950s in Zimbabwe, Congo, Malawi, and Zambia.
The artists and songs collected represent some of the musical developments in central and southern Africa of the period.
The music reflects the competing and complementary influences of indigenous African music, and pop music imported from the West, into unique styles of guitar music.
Most tracks feature one guitar, one or more singers, and sparse rhythmic accompaniment, such as bells and rasps.
There are many gems on this album that highlight inventive and virtuosic guitar playing, the circular time cycles and syncopated rhythms often associated with African music, and beautifully crafted musical textures.
The playing styles include fingerpicking, strumming, and even string slapping. Despite the title, Origins of Guitar Music, the importance of the voice is apparent throughout, with each track featuring one or more singers.
The most intriguing track on the album may be T. Muntali and M.Sapao's "Mayo Wafwa." There is a complex guitar ostinato providing bass movement, melodic fragments, and chordal accompaniment.
The singing consists of two overlapping voices, propelling the song forward through two distinct themes in the instrumental accompaniment (a rarity on this album).
"Elube," by the De Ndirande Pitch Crooners features a driving strummed guitar accompanying harmonized, homophonic singing suggesting heavy influence from American musical styles such as barbershop. Both of the tracks by the Four Pals are similarly harmonized pieces sung over a guitar background characterized by a slapped and droning bass style.
George Sibanda's "Gwabi Gwabi" is an attractive tune notable for the melodic guitar accompaniment over a droning bass and the extended instrumental breaks.
Characteristic of Jean Bosco Mwenda's style, "Mama Na Mwana" features an alternating bass in conjunction with a melodic line on the upper strings, punctuated by passages of chords and double stops. These tracks are vaguely reminiscent of the country blues styles of American guitarists like Mississippi John Hurt and Mance Lipscomb.
Jean Bosco Mwenda "Mama Na Mwana"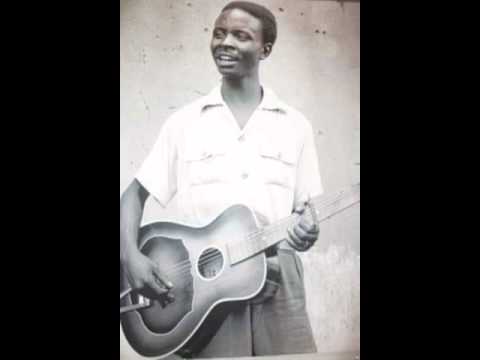 Some tracks, such as that by F. Musonda, effectively illustrate the cultural differences informing listeners of diverse backgrounds. In this example, what sounds to the Western ear to be out of tune, is actually a "neutral third," an interval between a minor third and major third.
In general, the tracks on this album are characterized by short, repetitive melodic motifs on the guitar, either an ostinato or alternating bass, flowing vocal phrasing, and simple song forms. However, the range of sounds provides great contrast between songs, performers, and regions.
This album is well worth a listen for the innovative guitar playing, vocal melodies and harmonies, and the performers' place as precursors to various genres of African pop music that have become popular around the world.
Performers: Ilunga Patrice & Misomba Victor, Ngoi Nono and Kabongo Anastase, Kaseba Anatole, Stephen Tsotsi Kasumali, T. Muntali and M. Sapao, Four Pals, John Lushi, Isaac Matafwana & Sunkutu, Lusan Mwape Muchalo, William Sivale, F. Musonda, Pearson Kapeni, De Ndirande Pitch Crooners, George Sibanda, Josiah Nkomo, Jean Bosco Mwenda, Bembele Henri, Ombiza Charles
About Mike Oppenheim – Multi-instrumentalist, Mike Oppenheim, lives in Thailand, and plays guitar, banjo, mandolin and Mohan Veena (Indian Classical Guitar). While earning his degree in music at Kenyon College, he joined the Indonesian Gamelan ensemble. He interned for the Calliope Society of Folk Music in Pittsburgh, Pennsylvania. Mike also apprenticed in guitar building under luthier, Bob Zatzman. He moved to Canada to earn a masters degree in Ethnomusicology at the University of British Columbia, where he performed with the UBC African Drum and Dance Ensemble and the UBC Capoeira Angola group. Mike teaches on-line guitar lessons and can be reached at: mikeopmusicATgmail.com or through his website: Mike Oppenheim Music.