By: Staff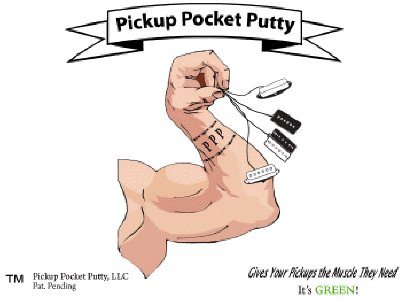 The constant quest for tone has now been fulfilled with Pickup Pocket Putty. A revolutionary new product that will help you get ultimate performance and tone from your guitar or bass without modifying your instrument.
Designed and developed by a guitarist for guitarists PPP offers something that guitars do not come with from the manufacture – a true bond between pickups and the guitar's body. PPP allows you to get a more resonant and thick tone, where every note and chords at any volume is clearer, more pronounced and distinguished. With the use of PPP a symmetric magnetic field above the pickup is also achieved.
All of this can be accomplished with absolutely NO modification to the instrument. It's as simple as removing the pickup, kneading the putty, placing the putty in the pickup cavity and screwing it all back together. The difference is noticed immediately.
Steve Brown of TRIXTER " This stuff is killer…it made my guitar much tighter and way more resonant. At really high volumes with high gain it made all the notes and chords much more even and controlled. Pick up putty is the real deal. Every guitars hould have it inside!!!"
Give you guitar or bass the muscle it needs with Pickup Pocket Putty!
Sale Price: $29.95 (plus s&h)
Order direct from Website: www.pickuppocketputty.com