By: Robert Cavuoto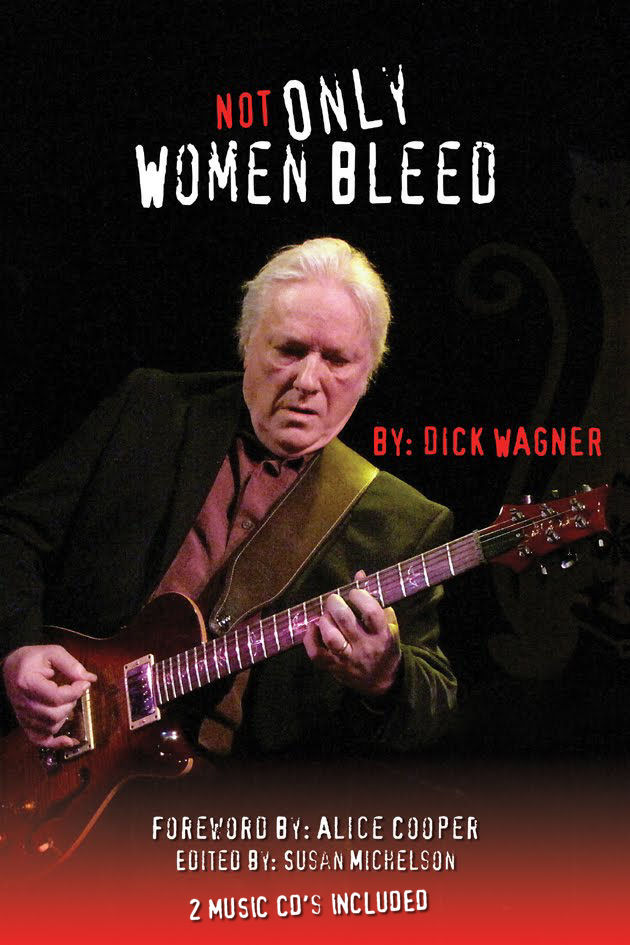 Dick Wagner's songs and lead guitar have been featured on more than 200 renowned albums, garnering more than 35 Platinum and Gold records, BMI songwriter awards, Emmys, and numerous prestigious international awards.
The Detroit area native helped define an era in rock history by playing lead guitar or writing songs for The Frost, Alice Cooper, Aerosmith, Kiss, Lou Reed, Peter Gabriel, Meat Loaf, Steve Perry, Etta James, Rod Stewart, Tina Turner, Air Supply, Hall & Oates, Ringo Starr, Guns N Roses, Tori Amos, Frank Sinatra, and dozens of others.
With his 2012 book release, Not Only Woman Bleed, Vignettes from the Heart of a Rock Musician, Dick recounts his memoirs of a life filled with sex, drugs and rock 'n' roll.
He delivers tales of reckless behavior and intimate debauchery with an emotional punch that will resonate with a vast audience.
Nearly fifty years after launching his dynamic career, hit songwriter, guitar virtuoso, producer, arranger, and now author, Dick Wagner sat down with me to chat about his whirlwind journey through the music biz.
******
Robert: Why is now the right time to for you to come out with this book?
Dick Wagner:  There were quite a few years that I was disconnected from the music business, because of my illness.
I really didn't start out to write a book. I started writing as part of my own personal therapy. I started with writing down some stories based on experiences of my life. After I had written a few of them, I realized I was on my way to a book…if I wanted to write it.
I thought about it and felt it was pretty arrogant to writing a book about your life. On the other hand, I see this book as more about the human condition than the story of my life.
It may be more systemic to my actual life, but really decently relatable, so I just kept on going and finished the book. It took me three years, and I feel it turned out really great.
Robert: You had a very successful career, one door would close and another one would open up. How much of that was luck and how much of it was networking?
Dick Wagner:  Well, it's a bit of both. You have to be involved with people to do work, and you have to network to be involved with people. It wasn't like I was going out talking to everybody to get work. It's just that I knew people and they would call me.
Robert: You talked about being a session player and not getting proper credit and recognition for your work. What are your thoughts as you look back on that?
Dick Wagner:  There were several albums that I played on and my name wasn't on it and I played the most important parts of it. I felt slighted, but I also got paid to do the session, so you accept the bad with the good. And so it was never a big problem with me, but I guess internally I felt robbed a little bit, you know.
But in the end, it's common knowledge the stuff that I played on. It pays off in the end. I hold no hard feelings to anybody. In fact, people who have given me credit are my good friends.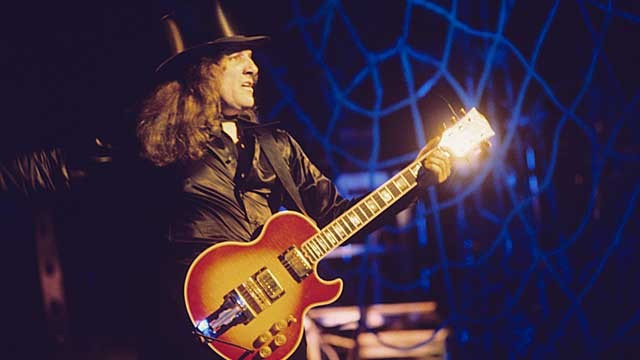 Robert: When getting paid for session work are you allowed to tell people that you played on it?
Dick Wagner:  There was never any kind of disclaimer that I was not allowed to say anything. It's just that they didn't bother to credit me. Otherwise, I'd have to go around to everybody in the country and say, "Oh, by the way, I played on this. I played on that." [Both laugh]
I'm not gonna do that. And if somebody were to ask me, I'd say, "Yes, of course I played on that." If occasions came up like you and I are speaking right now, I can say, "Yeah, I did that."
Robert: In the book you talked about the difficulty in accepting criticism about your music, particularly from Bob Ezrin. How was it to collaborate with him versus Alice Cooper?
Dick Wagner:  It was very different. With Alice, it's very organic – a lot of laughing and enjoying life. Our days would revolve around what were we going to have for dinner, whether we were going to play golf, and writing.
With Bob it was more formal. We were in the studio and you have to get things started in a certain amount of time. A little bit different because of the pressure. But all in all, they're both brilliant, and I loved writing with both of them. It turned out pretty well.
Robert: Now in your book you talked about writing better under the influence than sober. Was that really the case?
Dick Wagner:  Well, I can say this: I've written a lot of my music while addicted to cocaine. I've also written a lot of music – equally great music – totally straight. There was a point where I thought I couldn't write without coke. That was a fallacy.
When I finally stopped doing the drug, I still had all my creative things in place. So I really never needed it. I was more into the addiction than if it was influencing my creativity. My creativity is just naturally there.
Robert: Was there ever a song that you and Alice wrote that you thought would be a hit that wasn't or vice versa?
Dick Wagner:  "I Might as Well Be on Mars." It's a great song. It was really beautifully structured and really different. I thought that would be a hit. Every other hit we ever had, I knew it from the instant we wrote it. This one I felt the same way about, but it didn't hit, and I don't know why. I think the record label fell down with it. They really didn't do anything with it.
Robert: During the days you were working with Alice, he admitted he had his addictions and demons. What was it like to work with him in the beginning, and then at his worst?
Dick Wagner:  Well, when I first met Alice, he was already an alcoholic. He was always upbeat and funny, so you never really knew it. You knew it by him sitting there with a glass of whiskey and drinking it all day long.
He'd drink beer in the mornings and whiskey in the afternoons. So, you knew he was an alcoholic just by the amount he was consuming. But, he never really showed it. For me he was just Alice Cooper and my friend and we loved to make music together. So I never thought anything of it, honestly.
Robert: When Alice decided to go solo, did he ever have any misgivings or doubts about his decision?
Dick Wagner:  I don't think so. I think they had it all worked out. It was something that they all wanted to do. And Alice and his people wanted me to write and play guitar for his solo music for a long time, from the Detroit days.
He was a big fan of my writing and playing. I was just getting ready to embark on a solo career and had all these songs ready. I ended up taking the songs to Alice and we rewrote them.
I also collaborated in coming up with other material on that album. I gave up my solo career and went with Alice Cooper. It was a good move.
Robert: Were there ever any hard feelings between you and the original members in the Alice Cooper band?
Dick Wagner: I don't think so. I always got along well with the guys in the original band. I don't have any idea what hostilities they might hold toward me. They never showed me any hostility, ever. No reason that should be.
Robert: Did any members of the original band ever reach out to you and Alice to work on the solo material?
Dick Wagner:  No, I never heard from any of them.
Robert: Do you have a favorite Alice Cooper LP that you worked on?
Dick Wagner:  My favorites are Welcome to My Nightmare, Alice Cooper Goes to Hell, From the Inside and DaDa.
I really loved Zipper Catches Skin too, but it was such a frantic album, a frantic time when we recorded it. Everybody was so high. It just became kind of a frantic record. But I like it for that.
I gotta say I like them all because when you write most of the songs on these albums, you can't help but like them. Some I actually love. The ones I named to you are the ones that I loved.
Robert: You mentioned in your book how difficult Alice was to work with at during the making of DaDa. When I was talking to him a few years ago, he says he has almost no recollection of making it. What's your take on that?
Dick Wagner:  He was very, very, very drunk. He had gone into rehab before, and then he'd fallen back. He didn't want to go to Toronto to record in the wintertime. He wanted to do it in Phoenix.
Ezrin refused to come to Phoenix, so Ezrin called me up and said "Go to Phoenix and get him to write, get some songs then bring him back to Toronto." So, I'm the guy in the middle who's supposed to get Alice to leave his family and go to Toronto in the winter.
When I first got to Alice's house, I spent maybe two or three days just sitting by myself and writing.  Then I finally got him to come around and write a song with me. Then we got into it and wrote a bunch of songs. But it took a while, because he just didn't want to do it, and he was getting back into drinking.
Eventually we went to Toronto. We had a two-bedroom suite, and we'd just hang out there at night and drink and drink and drink. And so he doesn't remember because he was so drunk.
We wrote most of the songs in the hotel suite between two and four o'clock in the morning. We would finish up songs and then take them to the studio the next morning. It was not an unusual thing for us guys to be high or drunk half the night, and then go record early in the morning. It was kind of normal.
I understood it but Alice was pretty far gone. He and I did have our most intimate conversations during that period, making DaDa than we did on any other record. It was quite illuminating. Alice and I became very close friends.
Robert: Tell me about a typical writing session between you and Alice
Dick Wagner:  I would write the music and Alice would write the lyrics mainly. Like DaDa, for instance, his concepts were so similar to my concepts and my lyrics. Then maybe half the song I'd have written, then he'd come in and make it into Alice Cooper. He's a great lyricist.
Other times he'd come to me with the song like "How You Gonna See Me Now" off From the Inside. Alice and Bernie Taupin came to me with a lyric that they had written together. Then me sitting down at the piano with them. In about fifteen minutes, the song was written. The lyric was so beautiful and it had such a flow to it that I could write it just by instinct, just letting myself go to it. It wrote itself more or less.
A lot of stuff was like that for Alice and I. Bernie Taupin got involved too on that record. He's at the same level. He's a fantastic – one of the greatest – lyricists. So was Alice, so they were quite the little team. They were really good at putting good stuff together into a really good song. It worked well.
Robert: You worked with Aerosmith on Rocks particularly "Train Kept A Rollin'." What was the reason why Brad Whitford and Joe Perry were unavailable to play that on that song?
Dick Wagner:  You know something? I don't know. I was living at the Plaza Hotel in New York. Living the high life and got a call from Jack Douglas to come down to the studio and play some guitar. I grabbed my guitar and went down.
I didn't even know what I was going down for. I arrived at the studio and it was the Aerosmith album. None of the guys were there. They had recorded some basic tracks, and Jack wanted me to play guitar in certain places. I played and then they just turned me loose.
They said, "Here's the section I want you to play and do my thing." I just blew it out and it's my style and my licks. I never even saw the guys. There were all kinds of rumors – Joe Perry was in a card game. You hear all kinds of stuff, but I don't really know, because they weren't there to talk about it.
When people call me in, I just play the way I play and adapt it into what their style and intent is on a song. You kinda gotta get inside a song and know it pretty much and know what it's about. Then you can play the top of it so it elevates a song.
Robert: Growing up, I had no idea that Ace Frehley didn't play the solo to "Sweet Pain." What was it like to work with KISS on Destroyer, one of their biggest LPs?
Dick Wagner:  Short answer: they weren't even there. I just had these tracks and I went in and played. I have no idea how many solos I played on Destroyer. I've always thought, that I played on four songs, but I could never say because of imperfect recollection.
I became friends with Paul Stanley and Gene Simmons over the work I was doing with them. Paul Stanley and I actually spent some time at his place in L.A. writing songs. We never got demos of them because we didn't have time. He was too busy. I don't even have copies of them. Paul probably does.
Robert: They're probably in the KISS vault.
Dick Wagner:  Same with Steve Perry. I wrote some songs with Steve Perry that were great, and they never got put out because Steve Perry decided he wanted to go in another direction.
It's usually my forte in life that I get involved in things where people end up going in another direction. It's been a serious journey for me, this whole music biz.
You know, I think I did a lot really good work and then sometimes I doubt myself. But basically, overall, I'm really proud of the work I've done. I know I've done some great work!
Robert: You have. Your legacy lives on through some amazing songs.
Dick Wagner:  Thank you. Thank you so much.