By: Robert Cavuoto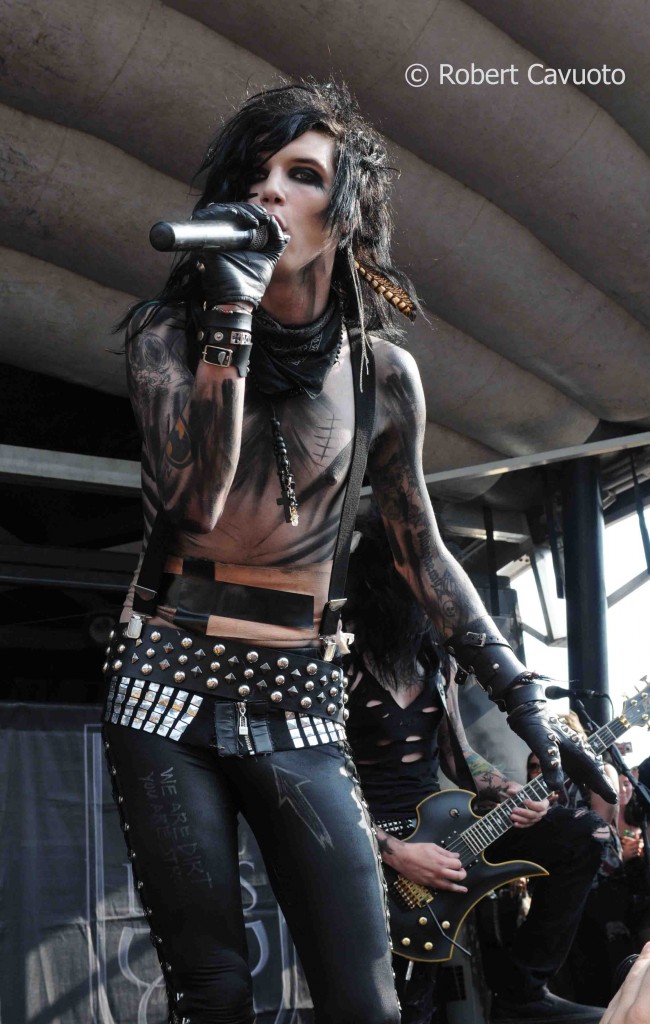 Los Angeles based hard rockers, Black Veil Brides, are returning with their third CD, Wretched and Divine-The Story Of The Wild Ones, due for release January 8th.
I was fortunate to be invited to Universal Republic Records in New York for a listening event targeting the new CD. A handful of media people along with twenty five luck fans were in attendance for this rare opportunity.
Unbeknownst to the fans, singer Andy Biersack would come out and surprise them to answer questions and get feedback about the CD. To say that these fans were in shock when he appeared is an understatement!
The new CD is a powerfully edgy, commercial metal album, filled with catchy melodies and riffs, pounding drums and tons of neoclassical guitar leads.
The vocals are more melodic than previous CDs. Narrative by Andy separates some of the tracks and helps tell the story. It's a "David vs. Goliath" or an "us against the world" story set to music filled with teenage angst and anthemic tunes.
Stand out tracks after one listen are the new single/video "In The End", "We Don't belong" and "Devils' Choir". I truly believe the band has really found themselves and their groove with Wretched and Divine.
I can't wait for the release of this CD!
After the CD debut and fans had left, I had a chance to speak with Andy about this muscular new rock opera and talk about the evolution process for Black Veil Brides.
******
Rob Cavuoto: Wretched and Divine is a tremendously cohesive sounding CD where all the songs fit well together and flow musically and vocally. Tell me about the thought process behind this rock opera?
Andy Biersack: Every band, no matter what scale of success talks about the importance of their follow-up CD. This puts an unnecessary amount of pressure on a band.
While making the follow up to Set the World on Fire, we created six songs with a different producer (than Wretched and Divine). They felt like songs that you would expect from a BVB CD, something that we were supposed to be. It felt a little boring considering we are always evolving. I think that this approach is more fun!
There are many bands that I grew up listening to, who I stopped listening to because they never went anywhere.
They would put the same CD out over and over. I think the idea when we starting working on this concept was to detach ourselves from a follow-up and put ourselves in this rock opera.
I think that naturally leads itself to a more cohesive sound. By the same token, what we didn't do was try to bog ourselves down with the thought of a concept record. We tried to write great songs that were the best that we could write, then refined them to make sure they fit within the story line.
No one was hammering away at "does this work in the story".
Rob: How long did it take to complete?
Andy Biersack:  We started the end of May 2012 and finished about the first week of September 2012.
Rob: What will happen to those six songs that didn't fit on Wretched and Divine?
Andy Biersack:  One of them was revamping and put on the Avengers soundtrack. The song "Wretched and Divine" came from those sessions. It was rewritten for the purpose of the CD. The other ones will see the light of day eventually. They are all great song, but didn't fit in the context of this record.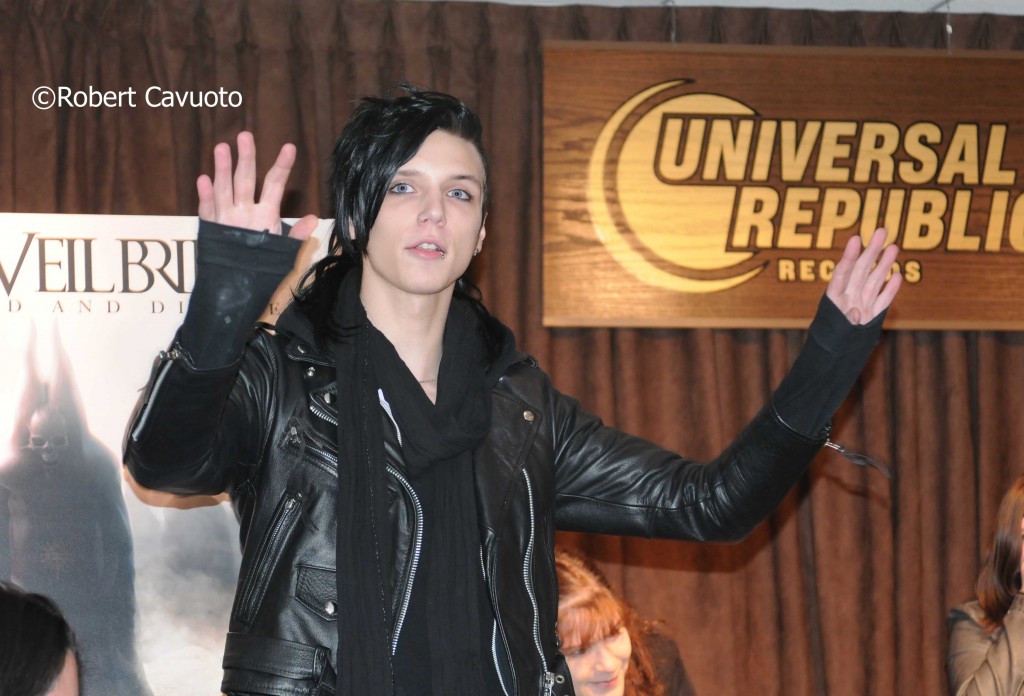 Rob: Maybe they will end up a box set?
Andy Biersack:  Yeah, definitely. [Both laughing]
Rob: Tell me about how the movie Legion Of The Black, fits in with the CD?
Andy Biersack:  It's about eight songs from the CD done in visual format. From straight up music videos to more abstract things. It is not done in the order of the CD. It's a good visual representation of the CD and helps tell where the story is coming from.
Rob: Was changing the bands look part of the evolution process? 
Andy Biersack:  We are a theatrical band and always want to change things up. I don't think it's fun for any of us to look exactly same all the time. I think our look is more stylistically inline for the CD as well as what are visions are for the CD.
I think it's a natural evolution. Sometimes people will say "I can't believe they are changing or selling out". It's not about selling out, but more that it uncomfortable wearing body paint for years and years.
You get bored of it and it's not fun anymore. It's uncomfortable for Jinxx to wear a giant studded cod piece year after year [Laughing]. This is the fun part and I'll move on and do the next fun thing!
Rob: How does it feel to be carrying the torch for the new generation of glam metal?
Andy Biersack:  I guess I would be if it was anything I was aspiring to do. I never set out to be the new "glam band".
We grew up listening to the Misfits, the Dammed, LA Guns and Motley Crue. We're an amalgamation of everything we loved. We put it out there and it was Black Veil Brides.
It's good to know what we are doing is important to people that haven't seen it in quite a while. We don't put any responsibility to carry the torch. It would be disingenuous to be put out the new label on us that we are the "new thing".
We try and honor our inspirations and the people that influenced us.
Rob: I read a while back that when you first started out your vocal style wasn't well received, what do you have to say to those people now?
Andy Biersack:  I'm sure they still feel that way now [Laughing].
Honestly, I don't have any delusions that I'm an award winning singer in the traditional sense. I would not win the The Voice. I think that I'm the right voice for this band and singing for my own satisfaction with my style.
A lot of people try to do impressions of other people, but I have always sung with my own voice. That's what's most important to me for better or for worse. You can also choose not to listen to me.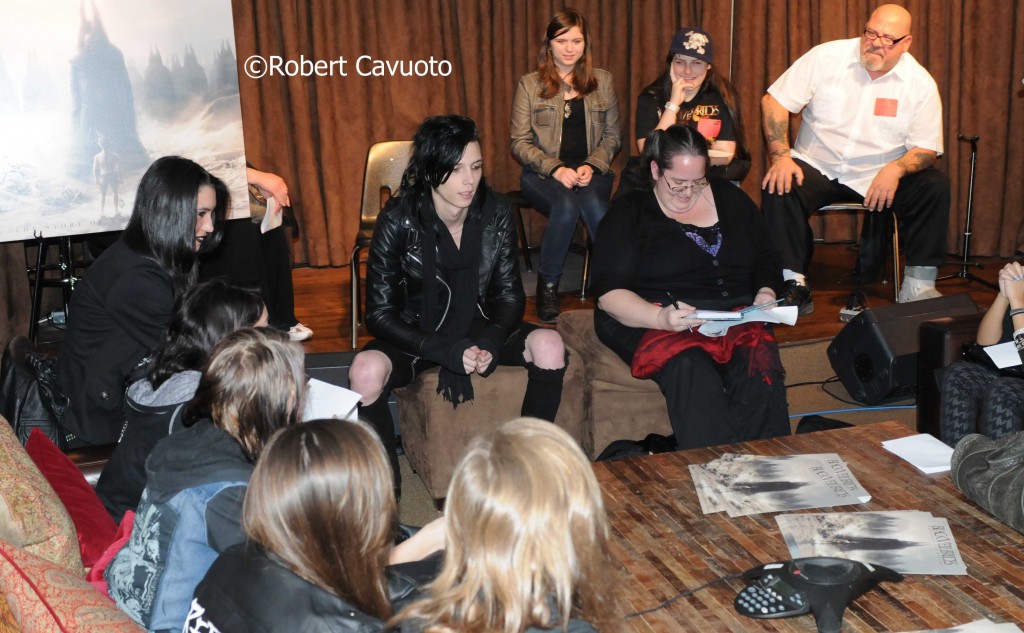 Rob: Are you professionally trained?
Andy Biersack:  Yeah, I was trained to sing in my range and my register. I have a baritone voice and I don't try to sing in a tenor's voice and blow it out like so many singers do.
Rob: I just interview Chris Squire of the band Yes, a band that been around 45+ years, where do you see BVB in 45 years?
Andy Biersack:  People ask us this sometimes and it's an interesting question. I've always knew that I was going to be doing this with my life, but have never look too far out as to taint the present.
Forty five years is a long time off, who knows if I'll even be alive [Laughing]
You never know what happens. It's a faith thing if you will even wake up tomorrow.
I will continue to have the faith and the hope that the band will continue to do what we do and have fun.
Rob: Speaking of faith, injuries seem to be a running theme when you start a tour, what body part do you plan to break at the start of this one?
Andy Biersack:  [Laughing] I've never broken a leg or knee, wait I did fractured a knee cap in 2011. I've never had a full leg brace or cast. We'll see how that goes!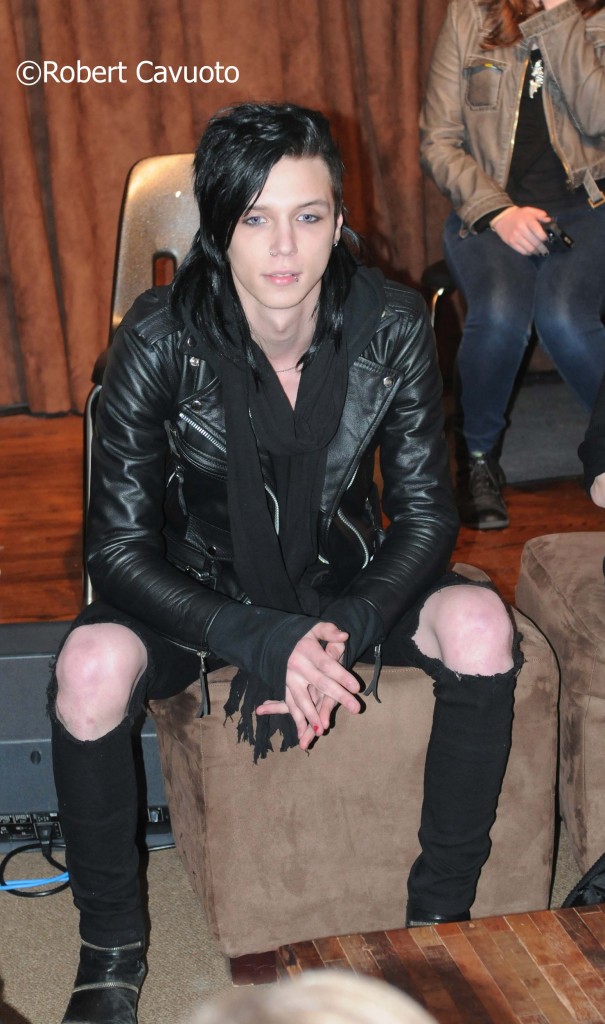 Rob: What do you prefer short hair or long? 
Andy Biersack:  I'm kinda doing a little bit of both right now and have the my little pony thing going on.
Rob: Who has the dirtiest habits on tour, who is the messiest in the tour bus or backstage?
Andy Biersack:  Jinxx [said without hesitation]. He has cleaned up his act, but there was a time period where we called him Garbage Can Man!
He would pass out in all of his gear, sweating, still wearing his cod piece. He would eat out of the garbage can and all kind of shit.
He is one of those dudes that could be a survivalist and he make due with whatever is around him.