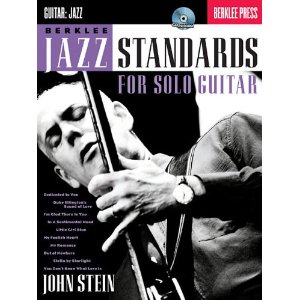 Jazz Standards for Solo Guitar is the latest book release by Boston based guitarist, and Associate Professor at Berklee, John Stein. Containing 10 classic jazz standards arranged for solo guitar, this book uses detailed analysis and descriptions of each tune to go beyond simply presenting these charts to the reader to learn on their own. It is the analysis and accompanying CD, alongside the creative arrangements themselves, that makes this learning package a welcome addition to any guitarist's practice room.
Featuring such jazz classics as "In A Sentimental Mood," "My Romance," "You Don't Know What Love Is" and "Stella by Starlight," this book offers guitarists a chance to learn solo, chord melody arrangements of some of the most commonly heard and studied tunes in the jazz guitar repertoire. But, there are also a few lesser-known gems such as "I'm Glad There is You," and "Little Girl Blue," that offer guitarists a chance to explore tunes that might not be so familiar, but that can add a nice level of variety to their repertoire.
Though the arrangements are more in-line with an intermediate level jazz guitarist, even beginner players can learn a lot from studying the charts and subsequent analyses presented in this book. While some of the charts might be tough for a beginner player to get under their fingers right away, the in-depth explanations of Stein's thought process behind each arrangement is worth checking out for players of any level. Getting into the mind of the arranger is just as beneficial as learning the tunes themselves, as it provides players with the material they need to design their own solo arrangements, and this is what makes this book worthy of inclusion in any studying jazz guitarist's library.
With fun tunes, interesting and musical arrangements, background on each chart and a fun CD to listen to, Jazz Standards for Solo Guitar is a solid learning tool that will provide knowledge and musical repertoire for any guitarist that works through these tunes in their practice routine. Highly recommended.