By: William Clark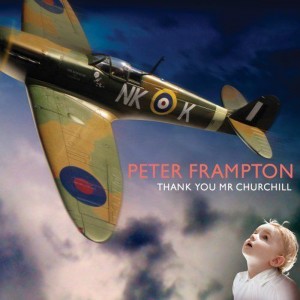 As I'm driving home one day, I have my speakers cranked up to Sirius XM's Deep Tracks. Suddenly, a message comes over the radio station, and says they're playing some of the newest music from classic artists, as part of Music Discovery Week.
Soon I found myself rocking out to a superb Phil Collins tune filled with crunching distortion and some powerful breakdowns that I had never even heard before.
Being a diehard fan of Collins and his time in Genesis, I glance down at my dashboard to see what this killer song's name is that somehow managed to slip past my radar.
Well, imagine my surprise when I found out it was not Phil Collins, but instead Peter Frampton's "Solution".
Yes, that Peter Frampton. The "Baby I Love Your Way" Peter Frampton.
Now don't get me wrong, I am very familiar with Mr. Frampton's work. His time in the band Humble Pie and the decades of albums in his solo catalogue. I've listened to it all. But, even such personal Frampton favorites as "Breaking All The Rules" and "Do You Feel Like We Do" don't come close to the greatness I heard in that one song, so I knew I had to go ahead and check out this album.
After further examination and some Indiana Jones-style research, I finally found it: Thank You Mr. Churchill. Without any exaggeration I can easily say that this mostly ignored album from 2010 contains some of the best music Peter Frampton has ever pushed out to date, and from the word "go", I found myself loving it more and more with each track.
The title track shows Frampton thanking Winston Churchill for his leadership of Great Britain during World War II, and then Mr. Frampton himself urging the world to begin "waging peace instead of waging war".
Behind the nerve striking storyline are some beautiful acoustic guitar playing during it's verses, and then transforms into a powerful chorus with roaring electric guitars and some heartfelt vocal laydowns.
Following the electrifying beats of "Solution" is "Road To The Sun", which is a classic rock-themed tune that lays directly in line with Peter's earlier solo releases, and also features a special guest collaboration with Peter's son, Julian Frampton.
With some downright righteous vocal harmonies and memorable shredding, I continued to find myself asking the same question:
How is it I haven't heard this album before?
This question was only amplified in intensity when the CD reached "I'm Due A You". Boasting a chorus built to chart the radio waves and once again filled with the masterful playing and singing styles of Peter Frampton, it continues to puzzle me as to why this album did not receive the attention it so rightfully deserves.
Peter Frampton has proven that one's musical talent only increases as the years pass. I had no idea that Peter had this quality and style of music in him!
I could go on all day about the pure greatness that is jam packed in this album from start to finish. But to keep it short, Thank You Mr. Churchill is just fantastic.
In fact, it's some of the greatest, most soul-filled music I've ever heard Peter give to the world. And it deserves your attention.
Format: Audio CD
Original Release Date: April 27, 2010
Number of Discs: 1
Label: New Door Records
Tracks:
1) Thank You Mr. Churchill
2) Solution
3) Road To The Sun (Feat. Julian Frampton)
4) I'm Due A You
5) Vaudeville Nanna And The Banjolele
6) Asleep At The Wheel
7) Suite Liberte
A. Megumi
B. Huria Watu
8) Restraint
9) I Want It Back
10) Invisible Man
11) Black Ice