By: William Clark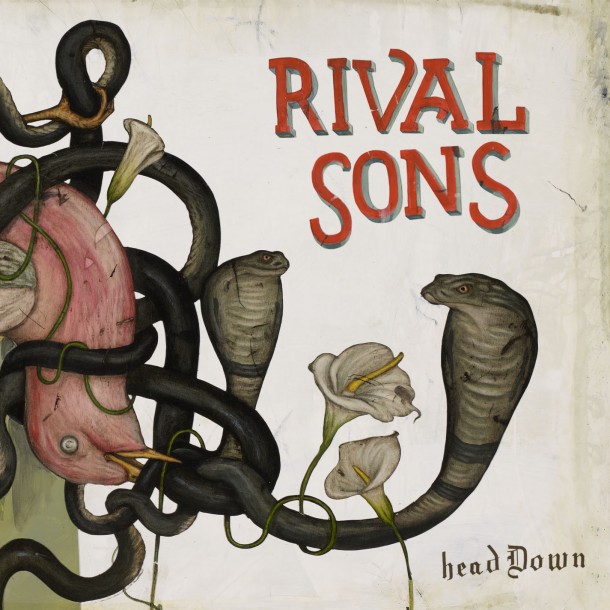 I don't know exactly how they did it, but Rival Sons have somehow discovered the secret to unlocking the major elements behind Led Zeppelin's core signature sound, while at the same time making an album quite unique.
It was this sound that first captured the world's attention in 2011, when Rival Sons released their breakthrough album, Pressure and Time.
The title alone sounds right in line with something you'd expect the almighty Zep to come up with, but the name is nothing compared to the album's actual contents.
Pressure and Time magnificently captured the essence of Jimmy Page's mystically elaborate playing and Robert Plant's high pitched, passionate lead vocals, alongside a few modern influences.
Now, Rival Sons have rocketed back on to our radar with their new album, Head Down, and despite the title it shows the band heading nowhere but up.
This album is immediately sparked to life with "Keep On Swinging", which is just bursting with pure nostalgic power! Otherworldly blues-rock style riffs and dynamic vocal harmonies pay homage to the band's Led Zeppelin roots, and so terrifically.
"You Want To" shows the band tapping into the "Heartbreaker"-side of their sound, while other tunes such as "Wild Animal" and "Until The Sun Comes Up" show the Sons moving out into more experimental, yet still very concrete, rock directions.
Lead vocalist Jay Buchanan's broad ranged voice helps provide a powerful classic rock vibe to the new album. He can hit the highest of highs, and emit the deepest of growls to match nearly any style of music, whether it's crunching hard rock or a slow burn  blues jam.
While Robin Everhart and Michael Miley provide each track with a muscled backbone, lead guitarist Scott Holiday lays down some truly outstanding riffage that will make Jimmy Page smile.
At times, you might even think that it's actually Mr. Page himself who's coming up with those overpowering chord patterns and articulate arpeggios.
Overall, Head Down is a fantastic album that will leave any classic rock fan addicted and eagerly awaiting Rival Sons' next installment.
Format: Audio CD
Original Release Date: September 25, 2012
Number of Discs: 1
Label: Earache Records
Tracks:
1) Keep On Swinging
2) Wild Animal
3) You Want To
4) Until The Sun Comes
5) Run From Revelation
6) Jordan
7) All The Way
8) The Heist
9) Three Fingers
10) Nava
11) Manifest Destiny, Pt. 1
12) Manifest Destiny, Pt. 2
13) True