By: William Clark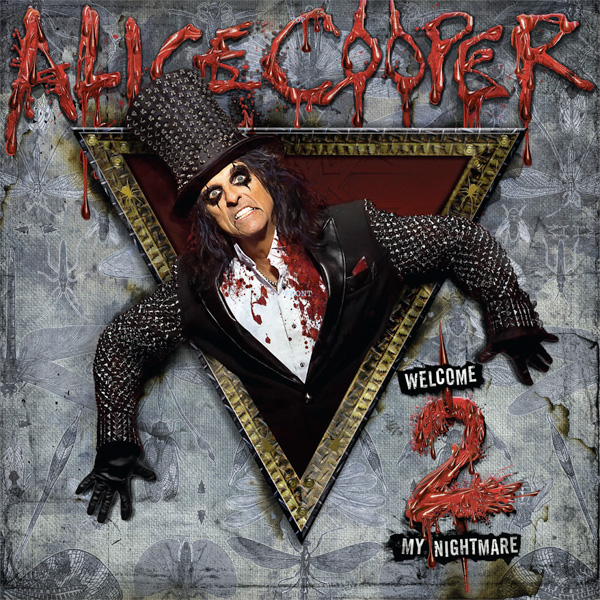 When Alice Cooper departed from his original band and went off as a solo artist in 1975, he became an entirely new entity; a theatrical musical force of nature.
Despite how powerfully such classic albums as Love It To Death and Billion Dollar Babies rocked our lives, Alice would take the world on a mad carnival ride like never before with his timeless masterpiece, Welcome To My Nightmare.
The album not only showed the world a more musically evolved form of Alice Cooper, but also his darker side, and such eerie tunes as "The Black Widow" and "Steven" admittedly scared more than a few us after the first listen.
Now, 36 years later, the nightmare has returned, although not in the way you might come to expect from The King of Shock Rock.
Welcome 2 My Nightmare has Alice moving into several wildly different, yet completely enjoyable, musical directions, while at the simultaneously adding his own manic influences and continuing the ever ongoing saga of his alter ego, Steven.
This modern day classic kicks off in unusual form with "I Am Made Of You", which is a power ballad featuring a very familiar piano intro and drenched in, of all things, auto tune.
Yes, the pop singer's best friend. However, the song soon shifts into classic Cooper style tune, and definitely grows on you the second time around.
"Last Man On Earth" is incredibly reminiscent of something Tom Waits might push out, and "The Congregation" couldn't sound more like Green Day, if Billie Joe Armstrong himself took on lead vocals.
The classic sounding "I'll Bite Your Face Off" sounds more in line with Alice's earlier tunes, but also bears some similarities to The Rolling Stones.
As we venture further on into the new nightmare and CD, we reach the even wackier "Disco Bloodbath Boogie Fever", and is just what the title implies: a jamming disco tune.
"Disco who, disco what, get down on your knees and keep your trap shut!" Alice raps over the moans of undead zombies that make up the backup vocals. Is there anything else that Alice Cooper can dish out that he hasn't already done so far?
Think again! We all get to head down for a little ghoulish day at the beach with "Ghouls Gone Wild", a Beach Boys-esque tune that, as always, is soaked in some heavy doses of Alice's signature sound.
As we pass the simply awesome ballad "Something To Remember Me By" and "When Hell Comes Home", which shows the manic Steven making a powerful return, we reach "What Baby Wants", which features a guest appearance by Ke$ha. Now as strange and downright horrible this combination may sound to us rock and roll folk, it surprisingly works out!
As this diverse adventure comes towards an end, we reach "I Gotta Get Outta Here", which insanely sounds right in line with Tom Petty & The Heartbreakers, and caps this story off perfectly. Now in case you haven't noticed, every song off of this new record are absolutely noteworthy, and are bound to be stuck in your head for hours.
And although voices in your head are a very serious and legitimate medical condition, I think we can make an exception with Alice Cooper.
Diehard fans won't be able to part with this album for a long while, and pretty much any music listener will be able to find at least a track or two they can passionately enjoy.
But, what about the storyline, you ask? That's the best part of the album, and I am not one to ruin a surprise!
Overall, I have to say Welcome 2 My Nightmare is a horrifying excellent release that you'll quickly find bound to your CD player with the volume set on high, and is the perfect album for this year's Halloween adventures.
Format: Audio CD
Original Release Date: September 13, 2011
Number of Discs: 1
Label: Universal Music Enterprises
Tracks:
1) I Am Made Of You
2) Caffeine
3) The Nightmare Returns
4) A Runaway Train
5) Last Man On Earth
6) The Congregation
7) I'll Bite Your Face Off
8) Disco Bloodbath Boogie Fever
9) Ghouls Gone Wild
10) Something To Remember Me By
11) When Hell Comes Home
12) What Baby Wants
13) I Gotta Get Outta Here
14) The Underture