By: William Clark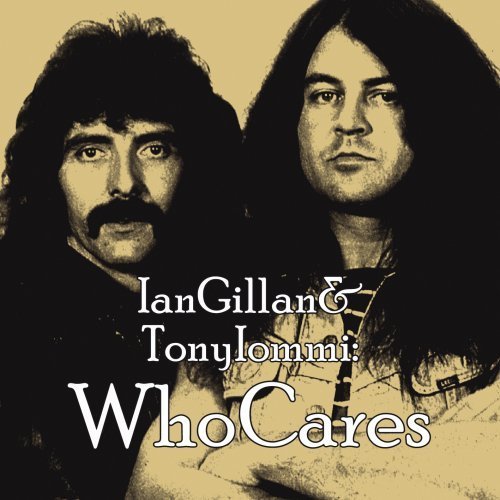 One of the latest and largest of hard rock supergroups, WhoCares features an all-star cast of musicians, including Tony Iommi of Black Sabbath, Ian Gillan of Deep Purple, bassist Jason Newsted of Metallica, and Iron Maiden percussionist, Nicko McBrain.
It takes a powerful force to bring together these talented musicians together. Unfortunately, this force happens to have been a devastating earthquake that demolished major parts of a small country called Armenia.
On a positive note, the proceeds of this album go to helping rebuild a music school in Gyumri, Armenia.
As if the cause wasn't a good enough reason to make you run out and go grab this compilation, the music alone is worth the coin and the members of this supergroup should grab your attention.
While listening to all of the songs back-to-back, it's almost like a hard rock sensory overload!
This two CD set is comprised of an array of previously unreleased songs, rarities and remixed classics from Iommi and Gillan's catalogue, as well as two compelling WhoCares compositions, "Out of My Mind" and "Holy Water", which vaunt Tony's diabolical sounding licks and Ian's tempestuous singing style.
The lyrics to these two new tunes strike a high note as well. "That's what happens when you play with matches, everything's reduced to ashes" Ian sinisterly sings above the thundering beats of "Out of My Mind", which helps provide the song with a muscular Sabbath-esque sound and tone.
The compelling amount of talent that is featured on this release is almost staggering. The wondrous contributions by Ronnie James Dio, Glenn Hughes, and by members of Metallica, Repo Depo, Iron Maiden, HIM, Deep Purple, and Black Sabbath should bring nearly every hard rock and heavy metal fan weak at the knees! This WhoCares project is a truly marvelous release that will quickly become inseparable with your CD player.
Format: Audio CD (August 28, 2012)
Original Release Date: 2012
Number of Discs: 2
Label: EarMusic
Tracks:
Disc 1:
1. Out of My Mind (WhoCares feat. Ian Gillan, Tony Iommi, Jason Newsted, Jon Lord, Nicko McBrain)
2. Zero the Hero (Black Sabbath)
3. Thrashed (by Ian Gillan feat. Tony Iommi, Ian Paice, Roger Clover)
4. Get Away (Michalis Rakintzis feat. Ian Gillan, first time on CD)
5. Slip Away (Tony Iommi feat. Glenn Hughes)
6. Don't Hold Me Back (Ian Gillan)
7. She Thinks It's A Crime (Ian Gillan, first time on CD)
8. Easy Come, Easy Go (Repo Depo feat. Ian Gillan, previously unreleased)
9. Smoke On The Water (Live) (Deep Purple feat. Ronnie James Dio)
Disc 2:
1. Holy Water (WhoCares feat. Ian Gillan, Tony Iommi, Jason Newsted, Jon Lord, Nicko McBrain)
2. Anno Mundi (Black Sabbath)
3. Let It Down Easy (Tony Iommi feat. Glenn Hughes)
4. Hole In My Vest (Ian Gillan, first time on CD)
5. Can't Believe You Want To Leave Me (Ian Gillan & Roger Clover feat. Dr. John)
6. Can I Get A Witness (Ian Gillan & The Javelins)
7. No Laughing In Heaven (Garth Rockett & The Moonshiners)
8. When A Blind Man Cries (Live) (Ian Gillan)
9. Dick Pimple (Deep Purple, previously unreleased jam session)