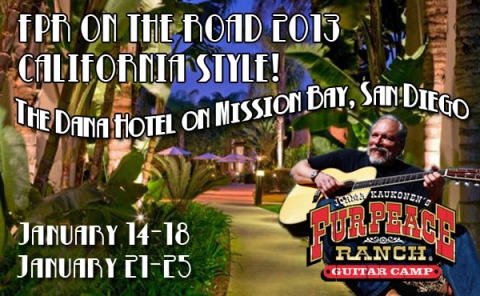 By: Staff
Publicist, Cash Edwards, tell us that it was in California that the Fur Peace Ranch first presented its "On The Road" workshops. It's a concept that has proved successful and we enjoy spending a few weeks during the Winter in warm and beautiful surroundings bringing the spirit of Fur Peace and our award-winning classes to "On The Road" destinations.
After a few years in California's Desert Hot Springs area we ventured further west and ended up in Maui. For 2013 Jorma Kaukonen is coming back to California.
The Fur Peace Ranch "On The Road" workshops for Winter 2013 will be at fabulous THE DANA ON MISSION BAY. What we have always looked for when planning our "On The Road" workshops is a desirable location with excellent staff, services, accommodations and food. The Dana has it all. And the only thing they overlook is Mission Bay! There are two dynamic weeks of workshops running Monday through Friday.
For detailed information and to register for the workshops please go to furpeaceranch.com or call (740) 992-2575.
JANUARY 14 – 18, 2013
The Entrance Ramp with Jorma Kaukonen
and Teaching Assistants Marjorie Thompson and David Wolff
This workshop will provide a solid introduction to fingerstyle guitar, including development of that reliable thumb so essential to mastering this style. This pianistic style of playing often characterizes the music of Master Instructor Jorma Kaukonen, and is typical also of the great country blues artists such as Rev. Gary Davis, Blind Blake, Mississippi John Hurt and other seminal musicians that have deeply influenced 20th century guitar styles.
This special workshop will have a triple threat of instructors, so that participants will receive individually tailored attention. Along with the Captain, singer/songwriter/guitarist Marjorie Thompson will provide expert instruction focused on fretboard navigation and songcrafting, and BreakDownWay maven David Wolff will guide students in the careful rendering of some country blues favorites exemplary of this genre.
JANUARY 21 – 25, 2013
Jorma Kaukonen: Movin' On Down The Road with Your Songs – Level 3
This class is for players with a well honed thumb and fingerstyle experience, Jorma will offer effective teaching techniques using your songs by breaking them down into comprehensible parts. He will demonstrate the variety of licks, runs and embellishments that provide style and nuance, and also represent a vocabulary of tools that may be used in various keys. This is an excellent repertoire-building workshop, and will encourage skills that you can apply to original music, improvisation and arranging with an emphasis on dynamics and performance.
Barry Mitterhoff: Mandolin Antipasto – Level 2/3
Just like the antipasto, we're going to try a smattering of everything. To start things off, we'll take a traditional tune and play it with downstrokes, slow tremolo, down & up strokes, Bill Monroe downstrokes, tremomo, double stops, crosspicking and other techniques. In short we will play a song using different methods, styles, and rhythms to highlight the contrasts and similarities of songs across genres.
Then as time allows we'll learn a fiddle tune, a waltz, a blues, a swing tune, a Monroe tune, a Rev. Gary Davis tune and if there is time we may dip in to the well of Jorma/Hot Tuna tunes as well as improvising on the mandolin.
About  THE DANA ON MISSION BAY
With a spectacular waterfront setting, The Dana Hotel on Mission Bay in Southern California offers premier San Diego beach lodging. Their beautifully appointed guest rooms and suites have been designed to complement their panorama, the magnificent Mission Bay. Located by SeaWorld San Diego, the resort features two spectacular swimming pools as well as two spas. It is next to MISSION BAY PARK, a 4,600 acre wonderland.
The Dana has beautifully designed and appointed rooms and are able to accommodate any family members or friends that would want to join you on your adventure.
Find Jorma on Twitter HERE.