By: Rob Cavuoto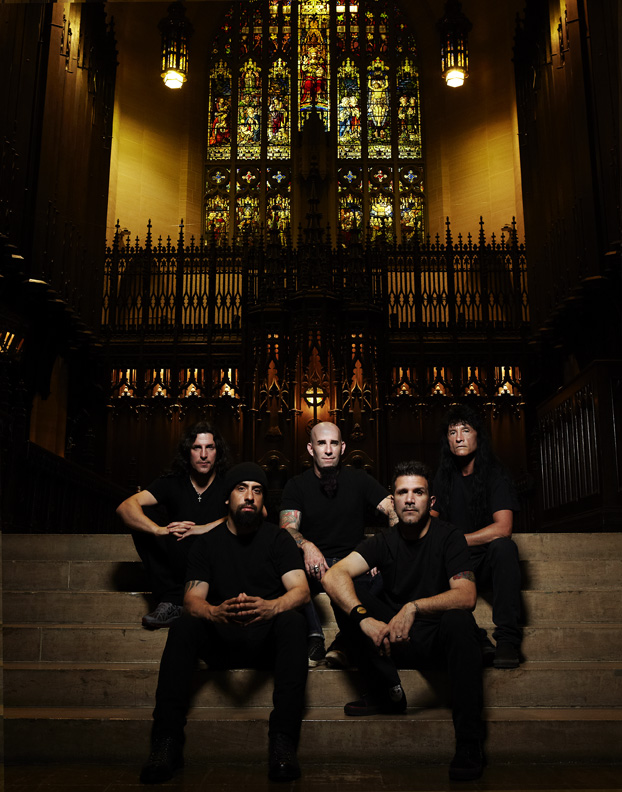 It feels like it was just yesterday when I was buying Anthrax's debut LP, Fistful of Metal, in my local record store – hard to believe it's been almost 30 years.
During that time the band has seen some massive highs and hard lows, more drama than most bands experience in a lifetime or deserve to have – mostly around band personal. Just recently the band was in such a state of flux that they were considering a possible break-up or early retirement.
The future looked dim for band, and just when things were at their most difficult they decided to come out swinging, reminiscent of an old Rocky movie.
They reunited with Joey Belladonna in 2010 for a whirlwind, globe-stomping tour that would see them play shoulder to shoulder with Slayer, Megadeth and Metallica, for the The Big 4 Tour. Then, in 2011 they released their 10th studio CD, Worship Music – an amazing piece of musical genius with Joey back on vocals.
The band is currently riding the crest of their well deserved success and on a massive tour that will take them around the globe.
On a quick pit stop between shows, I was able to catch up with guitarist, Rob Caggiano, to have a retrospective look at the success of Worship Music and to talk about their new cover tunes EP.
******
Rob Cavuoto: How does it feel for Worship Music to go to #12 on the Billboard 200?
Rob Caggiano: It feels great for us to have just finished the record [Laughing)!  We went through a really dark period. At one point we were uncertain about the future of the band and whether the record was ever going to get done. It feels good that it's in the stores and we are able to play it in front of the fans.
Rob: People are talking that Worship Music is the best comeback LP of the year. I never felt that Anthrax was ever gone. What's your take on that?
Rob Caggiano: I agree, we never went away. There was stuff that went down and confused the fans with the line-up changes.  Nobody really knew what to think. The band really needed to prove to the metal community what we are all about and I think we did it with the record.
Rob: The record is very successful and a fan favorite, why you think it has been so well received and successful?
Rob Caggiano: As far as our expectation of what critics would say, none of that mattered when making the record. We put a lot of hard work and blood into the record. At the end of the day that's really all you can do. You hope that everyone digs it.
Rob: Did each member contribute to the writing of the songs?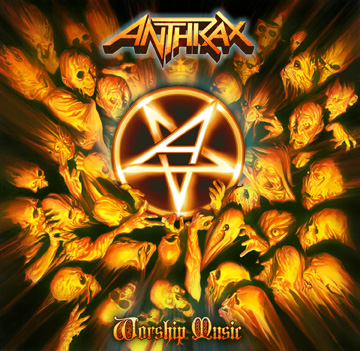 Rob Caggiano: As always Charlie Benante writes all of the music and Scott Ian writes 90% of the lyrics. That's been the formula for many years with Anthrax.
The making of this record took a long time. We started tracking the record in 2007 and the lineup was not stable at the time (Laughing). When we got to the mixing stage of the record we had to put it on the shelf, because we had no singer.
Rob: You truly found a way to keep true to Anthrax's spirit and sound, yet it doesn't sound like a nostalgia record?
Rob Caggiano: Anthrax has always been a band to push the boundaries and try different things. If you look back at the all the CDs, no two of them sound alike. That's one of the main reason that we are still relevant and going strong to this day.
Some bands can make the same record over and over again and it works.
But, Anthrax has never been about that and we have been innovators. Worship Music still has some of the old classic spirit like Among the Living and State of Euphoria it's also a huge step forward sonically and impact wise. It's the best of all worlds. We definitely had a vision of what we wanted it to be and I think we hit the mark (Laughing).
Rob: I understand that a cover tunes EP is in the works?
Rob Caggiano: (Laughing) There has been talk about. We cut some cover tunes and we are trying to sort it all out. We recorded "Neon Nights" for the new Ronnie James Dio Tribute CD.  It came out pretty smoking.
Rob: I heard that you are doing a Journey cover?
Rob Caggiano: There has been some talk (Laughing).  There are a bunch of tunes in various states of completion so I really don't know what will end up on the EP. Steve Perry and Ronnie James Dio are two of Joey Belladonna favorite singers. So, it totally makes sense on that level. I always loved Journey and fan of Neal Schon.
Rob: Will you be producing the EP?
Rob Caggiano: I'm not sure who is producing what yet. Charlie did his drum in Chicago and hasn't even tracked a few of the songs yet…the Journey song being one of them.
I did Frankie Bello's bass for "Neon Knights" song in a hotel room in South America and did my parts in another room. It's coming together in a non-traditional way. Were in the middle of a crazy touring cycle and then on top of things we all live in different States.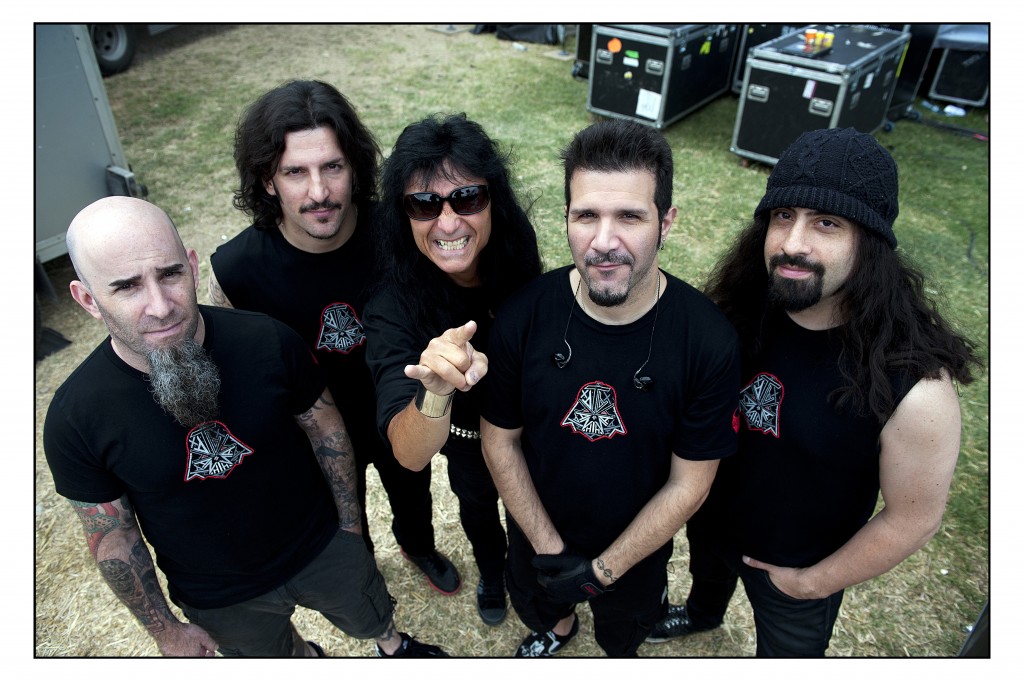 Rob: Not only did you play on Worship Music, you produced it. How was it to juggle both roles?
Rob Caggiano: This is my second Anthrax record that I played and produced. I'm kind of used to it now. One of the things that I really wanted to do with this record was to step outside myself as a fan. I wanted to capture the classics Anthrax spirit but also to push the envelope up a few notches from the last CD.
I made Scott dig out his old Marshall amps from back in the day when it was used on Among the Living and State of Euphoria.
They were just sitting in storage locker gathering dust. I said "grab that shit and get those amps working again."
My idea was to split Scott's guitar signal in the studio with a splitter box. One signal went to the old classic rig and the other went to the modern rig with Fryette Deliverance amps. I combined the two vibes and it worked great.
Rob: Did you use any vintage guitars to help capture that old Anthrax vibe?
Rob Caggiano: Scott has about 50 guitars in the studio and really ended up only using one (laughing). It was an old Gibson Flying V from back in the day. The neck was actually cracked and had it repaired.
This fucking guitar sound unbelievable so we ended up using that a lot. As far as my guitar, I used old trusty purple ESP Horizon, that I have been using forever. It's been my favorite guitar for a long time. Frankie at the time was with Fender so he was using a signature Fender bass.
Rob: Are you content with the public's perception of Anthrax's place within Thrash Metal history?
Rob Caggiano: It feels like that there is resurgence in this type of music. I think the Big 4 Tour helped with that and raised our profile big time. I think it also helped the other bands as well. The world is way too screwed up for heavy metal to go away (Laughing).
For us it's a good time and the reception has been great at the shows. Fans are digging the new record.