"Stochelo Rosenberg is one of the best gypsy guitarists out there, known for his beautiful tone and touch but also his ability to rip through complex arpeggios and melody lines with impressive accuracy and timing. He's done a lot to bring the style to the attention of players and fans from jazz to heavy metal, adding flamenco and Latin rhythms to his repertoire. I've had the privilege to perform with Stochelo a number of times and he's also a great human being. Here he is in his own words"  – 
Andreas Öberg
(Swedish Guitarist)
*****
I was considering calling this interview, "Stalking  Stochelo  Rosenberg". The much sought after guitarist was in Montreal to play a concert at the city's Place des Artes Theatre  and I'd been hunting him down.
When I finally met him, I introduced myself and jokingly asked if I needed to take up smoking cigarettes again, in order to be a virtuoso Gypsy Jazz guitarist. It seemed like Marlboros were in fashion with many of the top players. He discounted that with a polite, "No."
I had sent word to Stochelo that I wanted to interview him through his manager, Ivan Minthe, on my friend Denis Chang's recommendation.   I made it to the sound check at the theatre where I had access to the green rooms.
But, the scene was very hectic, to say the least, with sound techs getting levels, artists preparing for the performance and all the other pre-show work.
After calling Ivan to find out where they were, Stochelo and I  finally met at the local outdoor cafe' the morning after the show. He and some friends had just finished brunch.
******
Barry Wahrhaftig: Do you think that Django worked out his solos ahead of time? Kind of a tough question.
Stochelo Rosenberg: [Smiling] Ah,that is a big question for me also!  Because, sometimes, I think that from the time that Django was recording, that I propose that he perhaps arranged something, because at that time you really had one chance, you had to do one take, no punching in. So, if it wasn't good you had to do the whole take over again. Sometimes I think he prepared something, but not much.
If you hear, for example, the alternate takes on the Intergale collection, you can hear that the song's arrangement is the same, but that Django's solos are different.
Barry:  Yes, right. Yet, when you hear what Django plays on the later in the 1947 version of "Dark Eyes" his ideas are so thematic and perfectly organized. I guess that either way, whether he worked some things out or composed on the spot, he was a genius.
Stochelo Rosenberg: Yes, that was his genius! That's why, over one hundred years after his birth, he is more popular than ever.
You know, how people say "Oh, Django Reinhardt!", but he was alone, the first, there was nobody before him to lead the way, to innovate as he did.
You know I did a little bit of searching out guitar recordings from the '20s and '30s and there was not really anybody playing at Django's level.
Barry:  Yes, right. Oscar Aleman played well, did some nice things.
Stochelo Rosenberg: Sure, I have the CD.
Barry: But, he really didn't play at Django's level. Even though the critic, Leonard Feather, evidently preferred Aleman's playing to Django's.
Stochelo Rosenberg:  I think that Aleman's playing is more commercial sounding to my tastes.
Barry:  Nice, but a different bag.
Stochelo Rosenberg:  Yes, I agree, whereas Django at that time was really more pure jazz music.
Barry: Interesting too that with Django's music, Gypsy Jazz, attracts folks that aren't really jazz fans.  There's something about Django and Grappelli's music that appeals to people even today.
Stochelo Rosenberg: Yeah, it's really special.
Barry: I read that you started playing the guitar at age 10 and that you had no formal instruction.
Stochelo Rosenberg: Yes, that's right. I just learned on my own, picked up a few things from an uncle or cousin. At a certain point when I wanted to go further and got more serious, my father said, "Then you must listen to Django."
So I got his records and I spent a long time learning everything that he did, note for note. I copied it all down to the last detail, including vibrato, bends, etcetera.  So I could play all of Django's solos from memory at that time, when I was coming up.
If I went to a jam session then, and they say play "Sweet Georgia Brown", in  the key of  G, then I could play Django's choruses from memory and it would be fine.
However, at that time, if I was somewhere and they called  "Sweet Georgia Brown",in the key of F, then I wouldn't quite know what to do.  I remember talking to my cousin Fapy about it, and he said, [Imitating Fapy with a friendly tap on the shoulder], "Don't worry, it will come in time."
Barry:  I understand that in Sinti culture you start with rhythm, and you don't play lead until you've mastered the 'pompe.' How long did you play rhythm before you started on lead?
Stochelo Rosenberg:  I played rhythm for two years! If you play good rhythm, and you have a good sense, of swing, then your solos will swing.
Barry:  So you did a lot of work with chord shapes, arpeggios?
Stochelo Rosenberg:  Well, in the beginning and for a while, if you said, "That was a nice D minor arpeggio, that you just played", I wouldn't know what you were talking about. I would have just known that it was something that I got from Django's records and I knew how it sounded.
From what I see of how music is passed down and learned in Gypsy culture, I now feel that a method that starts with rote playing and ear training really works best. You don't need to teach children to learn to read music at first. They can be taught to play their instruments by ear, a la Suzuki. You can teach reading after a while.
Barry: Let's talk about some of your recordings. You did some tracks with Stephane' Grappelli. That must have been quite an experience.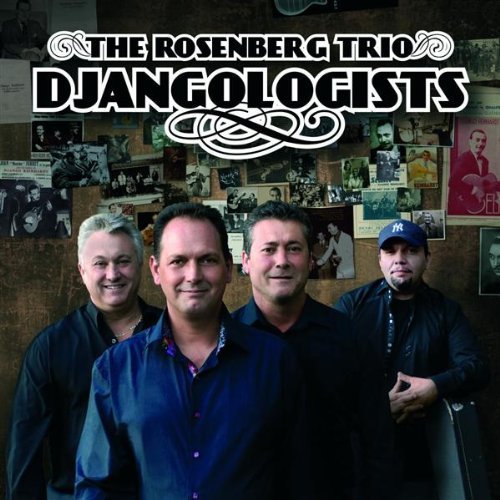 Stochelo:  Yes, we were very honored to be asked to perform with Grappelli for the first half of his Carnegie Hall Concert in 1993. Then we recorded together for the Caravan CD.
Although, I was quite young then. It would be great now to be able to play music with Stephane', since I feel that I am so much more experienced.
Barry:  They're wonderful recordings, and it's good to know that a player of your ability is as human as the rest of us. By the way, I am really enjoying your latest CD, Djangologists.
Stochelo Rosenberg: Yes, I really feel that it's probably our best so far.
Barry: Really cool to hear you and Bireli Legrene playing with such beauty and heart. Virtuosic when it's warranted, but mostly quite restrained.
Fitting that it was released in 2010, which was the centennial of Django's birth.
Sort of like a love letter to Django.
Stochelo Rosenberg: Yes.
Barry: I recall reading a quote from Grappelli in Downbeat Magazine not long after Django's death. He said, basically, that great jazz guitarists will come and go, but there will only ever be one Django Reinhardt.
Stochelo Rosenberg: Very true. Before him, few Gypsies played jazz, and after him, we all do.
******
Recommended Discography:
Caravan – Rosenberg Trio with Stephane Grappelli,  1994 Verve
Live at the North Sea Jazz Festival Rosenberg Trio, Polydor 1993
Serest [Trio], Hot Club Records 1989
Djangologists Trio with Bireli Lagrene  2010 Enya 18 tracks + 57 minute video +6 bonus tracks
About Barry Wahrhaftig: Barry is the founder and lead guitarist with the Hot Club of Philadelphia. He has studied with Fapy Lafertin, Stephane Wrembel & Howard Alden. He also is a contributor to Just Jazz Guitar magazine.  He teaches guitar lessons, develops transcriptions and handles bookings for the Hot Club of Philadelphia and can be contacted HERE.