In 1996 his classical guitar work slammed him with tendonitus in both hands. It hit him like a freight train. He would move off into another career field, but always – always – yearn for the time when he could pick up a guitar and wail away or delicately pick his way through a complex classical piece. Determined, he would not allow the tendonitus to be a complete show stopper.
It took him five years before he could regain some of his guitar skills, and by that time he'd upgraded Firebard Studios and target the creation of his debut album, The Firebard. The album would garner some solid reviews that were followed up by endorsements from Peavey, Alvarez Guitars, and Morley Pedals.
Randy Ellefson: I became obsessed with knowing how a guitarist knew where to put his fingers after seeing someone play for the first time.  My first teacher started me off so slow that I started making up chords and stumbling into writing songs.  Those two things are what really turned me on and has continued to be my focus.
I've developed a unique style from not only avoiding standard voicings, like barre chords, open chords, or 5ths, but using uncommon voicings like 3rds much more often.  I typically play tons of diads, or intervals, resulting in two-part counterpoint where the higher part is more melodic, being a theme.  I then write a song of off that one idea using classical theme and variation techniques, structurally important key changes, and two and three point counterpoint for a single rhythm player.
At this point it's pretty involved, so I've largely settled into a style, but I'm always exploring how the guitar can be played.
Rick: Taking a classical approach and working to blend it into a standard rock theme must have some challenges, working from some complexity to simplicity.  Is that they way you approach your songwriting?
Randy Ellefson: Rock guitarists tend to play by fingerings and shapes, not the actual notes on the neck, and this makes using classical theory, which is note-driven, harder to use than it already is.  Until I changed to playing by the notes, I really struggled but it became easy after that.  

My rhythm style was actually pretty complex even before that and I just continued with it when I added the classical techniques.  It was almost like I was headed in that direction anyway.
Much has been made of neo-classical rock guitarists being classically influenced, but I think their use of classical ideas is relatively simple.  Most of them do what I call "ornamental use" of classical theory, as opposed to my more "integrated use".  They use scales or phrasing to evoke a classical sound, but they aren't actually doing theme and development, counterpoint, voice leading, functional harmony, or doing much with key changes, not to mention all of these simultaneously.  All of that is standard fare in classical composition and is also found in most of my songs.  I brought more of the complexity of classical music into mine instead of simplifying it.
Rick: As a builder of your own guitars, what materials do you prefer to use to get the sonic you're looking for and what about pickups, do you make your own?

Randy Ellefson: I'm not nearly clever enough to make my own pickups! I buy the parts and slap them together, using maple or ash bodies and maple necks, with Seymour Duncan Custom pickups being the main bridge one.  I like a warm, punchy tone for rhythm and use Peavey amps to get the distortion I want.  My riffs don't sound quite right through Marshalls, for example.  The production of my second album, Some Things Are Better Left Unsaid, captured the tone much better than the first.  That said, you'd be surprised how much the engineer impacts the tone that's captured.
Rick: Are you also building your own acoustics or classical guitars?

Randy Ellefson: No, though that would be cool.  That requires a lot more know-how.  I've been using Alvarez steel-string acoustics for 25 years and love the sound.  I've got a Yamaha classical guitar that sounds great despite being an electric-classical, I never use the pickup.  It's got a thinner, flatter neck that fits my hand much better than standard ones.
Rick: You recorded 19 classical songs in 1995, am I right that you never released for 15 years? Why the gap?
Randy Ellefson: Back in 1995, just after finishing my classical guitar degree, I recorded those on a cheap 8-track cassette recorder for posterity, never intending to release them (partly because I'm no longer a classical guitarist, thanks to tendonitis).  I always assumed the recording quality wasn't up to snuff but liked the performances, which I can no longer do.
One of the songs, "Fantasia Etude" is an original piece, so I decided to include that on the 2010 acoustic album, Serenade of Strings; it was unlikely to ever be heard if I didn't.  My engineer thought the audio quality was pretty good, actually, so for the heck of it, I had the other 18 classical pieces professionally mixed and figured I might as well release them as The Lost Art on the same day as Serenade of Strings.

Rick:  I see that you've never owned a manufactured guitar since 1987, but you have endorsements from Alvarez guitars.  Are you borrowing guitars or what?  How did the Alvarez endorsement come about?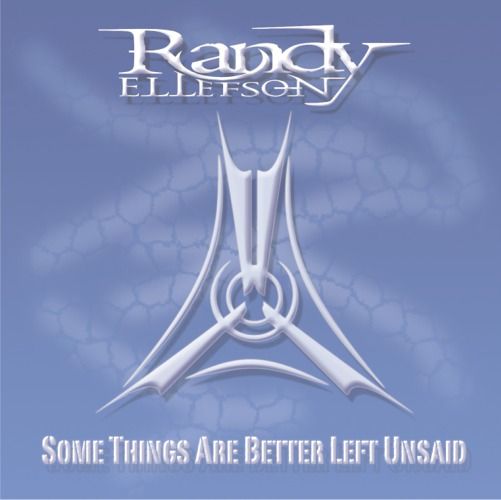 Randy Ellefson: Manufactured electric guitar.  All others, from acoustic to classical and bass, have been bought.  I sent Alvarez a CD of demos for Serenade of Strings and told them how much I loved their acoustics.  I'd been using one since 1987 and after they heard what I made it sound like, they gave me the endorsement.
Rick:  Along the way you developed a severe case of tendonitis, an issue that a lot of guitarists face at some point. What happened and how did you deal with it?
Randy Ellefson: I had switched majors from composition to classical guitar halfway through my Bachelors degree, meaning I needed to gain four years of skill in only two years.  I practiced up to ten hours a day and succeeded, then recorded The Lost Art, but a year later I got severe tendonitis in both arms and really lost everything: career, friends, savings, and all music pursuits.  It was so severe that I was temporarily crippled and couldn't work more than a few hours for the next 2.5 years.  Losing my guitar playing, however terrible, was the least of my problems.
I couldn't play for a year, and after that, was still really limited in what I could play and for how long, for the next five years.  Despite that, I never really accepted not being able to play.  It's too ingrained in me.  I had many demos for unfinished instrumentals lying around, so I began programming my drum machine with my feet as a way to make music.  I also used the computer mouse on the floor with my feet, and bought a dictation program to control a computer with.  I had weekly physical therapy for more than five years.
To be honest, it really destroyed me to go through the whole thing, but as corny as it sounds, I came out of it a lot better, including as a guitarist.  I'm actually glad it happened.  Most of the music I've released was actually written before the injury.  It's tough to be able to play like this and lose it all before anyone hears you, so the album releases have been a big deal for me.
Rick:  You're also in a metal band. How's that going?
Randy Ellefson: The band, Z-Order, is influenced by classic Iron Maiden, Judas Priest, and Metallica.  We finished backing tracks for the debut album in 2011, but then the original singer left and it took a year to find the right replacement.  We're turning it into a concept album about cyber bullying, isolation, meaningless connections; think Twitter and Facebook status updates, communication, suicide, and rebirth.  Lyrics are almost done and we had to add a song or two, so we're hoping to be done recording this summer, with a release by year's end.

Rick: How about a quick rundown on your albums and what we can expect from each one?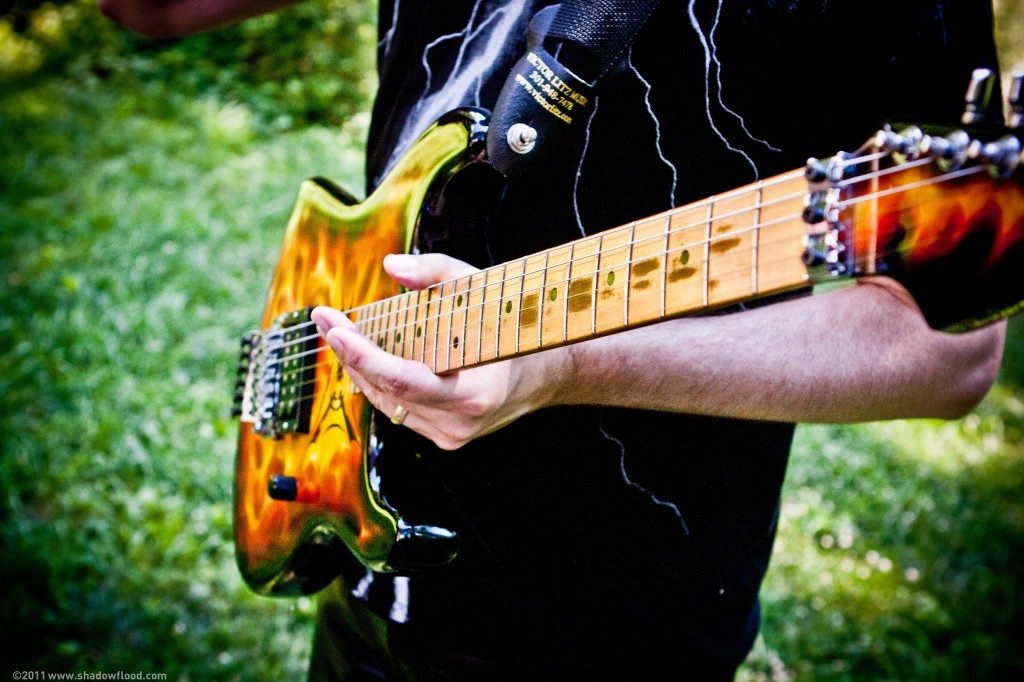 Randy Ellefson: All four albums are instrumental discs. The Firebard [2004] and Some Things Are Better Left Unsaid [2007] are both high-energy, hard rock albums, with some clean or acoustic guitars for texture.  My instrumentals are way more riff-oriented than usual, and I only shred when it's needed during a solo.  I'm not a big fan of showing off.  These songs will get you a speeding ticket if you're driving while listening.
Serenade of Strings [2010] is all acoustic guitar; steel, nylon, 12-string, with drums, percussion, and bass, and more energetic than probably expected, though it has quiet pieces as well.  It includes a cover of Randy Rhoads' "Dee", which I think hasn't been covered before, actually.
The Lost Art [2010] is all classical guitar and includes a Bach Cello Suite, some Villa-Lobos, lute pieces, and a guitar and flute sonata arranged for two guitars.  The latter hasn't been recorded that way before, I don't think.
Rick:  You have aspirations to be a published writer?  How's that coming along?
Randy Ellefson: I've put the focus on music for many years, so my pursuit of publication has been slow, like the novel writing itself.  It's one of those things you sacrifice, but I'm writing a non-fiction book in 2012 and will be pushing that and a re-worked novel with agents by year's end.
Rick: Where can our readers find your albums?
Randy Ellefson:  All four can be purchased or streamed from www.randyellefson.com or bought from http://www.cdbaby.com/Artist/RandyEllefson.