By: Staff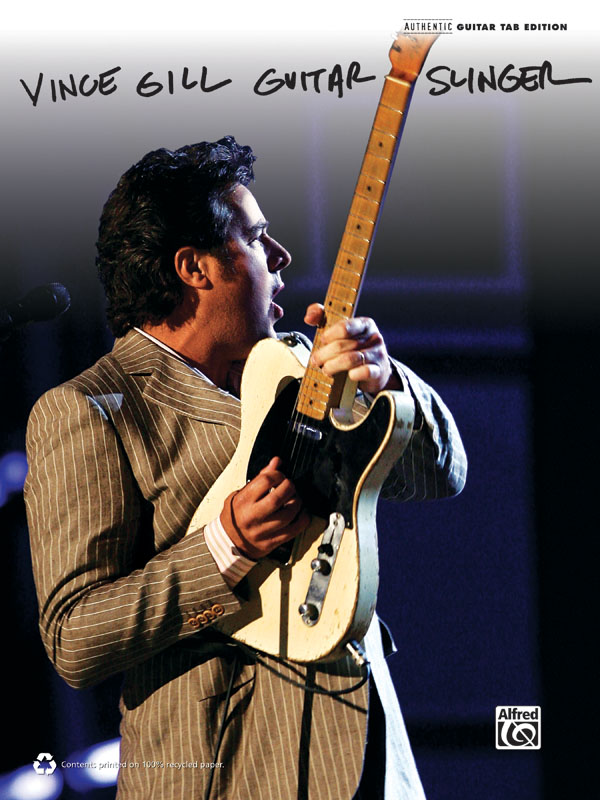 Alfred Music Publishing, the official print music publisher of thousands of popular artists, songwriters, and composers, releases. Vince Gill: Guitar Slinger, the album-matching songbook featuring the highly-acclaimed country music guitarist, arranged in guitar TAB and standard notation.
From country barn-burners and swinging rockabilly to his signature gorgeous ballads, Vince Gill returns to his guitar-playing roots in Vince Gill: Guitar Slinger.
Guitarists who love virtuoso hot-picking and masterful Nashville-style guitar textures will find a wealth of brilliant guitar playing in these full note-for-note authentic transcriptions. Songs include "Guitar Slinger," "When Lonely Comes Around," and the 2011 Grammy®-nominated hit single "Threaten Me with Heaven."
As part of Alfred's ongoing commitment to improving the environment, this songbook is printed on 100% recycled paper.

Vince Gill began his career as a bluegrass session guitarist and is considered among many as one of the finest guitarists in the world. With more than 26 million albums sold over the span of his career, Vince has received 18 CMA awards, including "Entertainer of the Year" in 1993 and 1994. He is currently tied with George Strait for having won the most CMA male vocalist awards (five), and is currently second to Brooks & Dunn for accumulating the most CMA awards in history.
Other awards include 19 Grammy awards – the most of any male Country artist – and the 2012 winner of the ACM "Career Achievement Award." As a member of the Grand Ole Opry and the Country Music Hall of Fame, Vince is also recognized for his humanitarian efforts in hundreds of charitable events.

Vince Gill: Guitar Slinger (00-39090) is now available for $21.99 at music retail stores and at alfred.com/guitar.Titles: Guitar Slinger * Tell Me Fool * Threaten Me with Heaven * When the Lady Sings the Blues * Who Wouldn't Fall in Love with You * When Lonely Comes Around * True Love * Bread and Water * Billy Paul * The Old Lucky Diamond Hotel * If I Die * Buttermilk John.

REVIEW COPIES AVAILABLE UPON REQUEST

ABOUT ALFRED MUSIC PUBLISHING
Alfred Music Publishing is the world's largest educational music publisher. Alfred produces educational, reference, pop, and performance materials for teachers, students, professionals, and hobbyists spanning every musical instrument, style, and difficulty level. Alfred's home office is located in Los Angeles, with domestic offices in Miami and New York as well as offices around the world including Australia, Germany, Singapore, and the United Kingdom.

Since 1922, Alfred Music Publishing has been dedicated to helping people learn, teach, and play music.
Alfred currently has over 90,000 active titles. Alfred represents a wide range of well-known publications—from methods like Alfred's Basic Guitar, Alfred's Basic Piano Library, Premier Piano Course, Sound Innovations, and Suzuki, to artists like Led Zeppelin, The Rolling Stones, Bruce Springsteen, Van Halen, Green Day, Michael Jackson, Sheryl Crow, Eagles, Cole Porter, and George and Ira Gershwin, to brands like Star Wars, Harry Potter, Lord of the Rings, Rolling Stone Magazine, and Billboard.

In addition to its own titles, Alfred distributes products from over 50 companies, including Belwin, Daisy Rock Girl Guitars, Dover Publications, DW Drums, Faber Music, Highland/Etling, Kalmus, National Guitar Workshop, Penguin, TASCAM, Ultimate Support, and WEA.