"Wonderful Tonight" – Eric Clapton

Free Official TAB of the Day
Click the link below to get the TAB: The first 10 readers each day get the TAB for free and everyone else gets a 50% discount until midnight after the freebies run out, then it's 15% off after that.
Remember, the first ten downloads are free so act fast before they're all gone.
Archive – Want to see other TAB's of the day? Click here to access the TOD archive.
******
Overview: What Makes This Song Great
The love triangle between George Harrison, Eric Clapton and Patti Boyd, is well known in the annuls of rock history, and though it created a lot of heartbreak, it was also the inspiration for some great rock and roll songs. One of the songs that it inspired is the classic love-ballad, "Wonderful Tonight." Originally written by Clapton as he waited for Boyd to get ready for Paul and Linda McCartney's annual Buddy Holly party, the song would be both special and heart wrenching for Boyd as her relationship with Clapton went from good to bad and the couple split in 1989.
The song features a classic chord progression, and some very tasty lead lines from Clapton when it first appeared on his Slowhand album in 1977. In standard Clapton style, the tone of the lead line is as important as the notes he plays, so when learning this song it's a good idea to nail down that classic Strat tone at the same time as you get the licks and melodies under your fingers. While the song may have proved to be bittersweet for Boyd, and perhaps Clapton, it has provided decades of listening pleasure for fans worldwide.
******
Video Clip
Get the officially licensed guitar TAB for "Wonderful Tonight" Available Here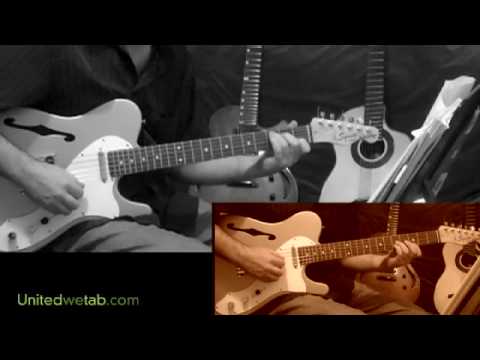 ******
Tab Sample Page
Get the officially licensed TAB for "Wonderful Tonight" Available Here
******
Don't forget to visit United We Tab to download this chart today!