By: Rob Cavuoto
RATT, like many hard rock bands born out of California in the early '80s, were staples on MTV with such hits in heavy rotation like "Round and Round," "You're in Love," "Way Cool Junior," and "Wanted Man."
In 1984 they released their debut LP Out of the Cellar
, and throughout the mid-to-late '80s, released a barrage of commercial hard rock LPs including Invasion of Your Privacy, Dancing Undercover and Reach for the Sky.
As the '90's approached the heyday of hair metal started to wane with the introduction of grudge. Simultaneously, RATT began to experience their own inner turmoil, citing substance abuse and personal issues. Singer Stephen Pearcy left the band in '92, and guitarist Robbin "King" Crosby died of a heroin overdose in 2002. Over the years there were several attempts to reform with multiple line-up changes.
Fast forward to 2010, RATT successfully reformed and released a new CD entitled Infestation with Pearcy on vocals, Bobby Blotzer on drums, and Warren DeMartini on guitar. Notably absent was original bassist Juan Croucier, who was replaced by Robbie Crane. Carlos Cavazo of Quiet Riot fame was added as second guitarist to this latest incarnation of the band.
Being a huge fan of '80s metal and commercial hard rock, working with Guitar International has allowed me to reach out and connect with some of my favorite bands and favorite band members, case in point, RATT's original bassist Juan Croucier.
I was able to connect with Juan last Spring when his old band RATT released Infestation. At the time he politely declined an interview but promised me one at a later date.
After months of my constant pestering and badgering, he agreed to speak with me (I think just so I would stop bothering him). What I got was an eye opening behind the scenes look at fallen super group and the dysfunctionality (if that is a word) that still occurs even after 30 years. In this unbridled and candid interview, we discussed what Juan is up to and what he has been through in his days with RATT.
******
Robert Cavuoto: What have you been up to lately with your solo bands and with your recording studio?
Juan Croucier: I have a band called Dirty Rats, and we play the RATT catalogue and a few original songs that never made it to any of the RATT LPs. It's a three piece. I have Pete Holmes from Black n Blue on drums and Johnny Love from Love Hate on guitar.
Then, I have another band that I'm working with call the Hard Rock All Stars. It's the same line up except with Jamie St James from Black n Blue on vocals. For that band we're just doing covers and having a good time. We play locally but hope to start touring more maybe in Vegas or Phoenix. I would love to get out there and play.
I'm also working on a solo project similar to Liquid Sunday, and beginning to put together some new songs for it. That's just me and Pete Holmes. I record the bass, guitar and vocals. I handle the engineering and production. I'm a song writer and I have a ton of songs that I need to get recorded and out there.
I also want to do an acoustic CD and redo some RATT songs which never made it on the RATT LPs. Maybe call it Demos from the RATT Years! Who knows? I have so many of these RATT demos, it could be a few volumes.
Robert: You actually have that many songs that didn't make it to any of the Ratt LPs?
Juan Croucier: Oh yeah. For a typical RATT LP I would present more demos than any other member combined. Unfortunately, with the politics of the group, they would cherry pick one or two songs to allow them room to include their songs.
In my opinion it was an inappropriate way to go at the time, and still believe the strongest songs should go on the record regardless of who writes them. Just because someone in the band wrote a song, it doesn't mean it deserves to go on the LP.
Robert: Did you ever collaborate as a band in writing songs?
Juan Croucier: We had a atypical way of writing, and without getting into a lot of negativity, different things would happen in different ways, at different times. For example, Warren would come up with a riff on guitar and then he would toss around and work on it in a rehearsal studio. Or Robin would get together a musical arrange and he would come to me, and ask what I would sing over this. An example of that was on "Can't Wait on Love" from Detonator.
Stephen wasn't the easiest guy to work with as he refused collaboration. His opinion of collaboration was taking your song home to make any changes he wanted to. There was no communication, conceptualizing, exchanging theories, where the song can go or how it can be interpreted. It made for an uncomfortable situation to put it lightly. Sometimes the producer, Beau Hill, would really work with Stephen to branch out to do things he wouldn't normally do.
Robert: Are you looking to produce bands in your studio?
Juan Croucier: I had been producing bands when I was in RATT, like Love Hate. I did demos for many groups in my studio, but the quality wasn't up to professional standards. When RATT broke up, I upgraded by studio and made my living by producing bands. I had bands like KISS to unknowns, and then what happened over time is that people couldn't pay the bills.
At that point, I pretty much became disenchanted with producing. It's a lot of hard work and long hours, so in 2003 I took some time off to refresh. I still wrote and played in bands, I just took some time off from the studio thing. So now I'm getting back in there looking to producing my songs.
Robert: What made you put on the producer hat?
Juan Croucier: At the time RATT was breaking up, I was also going through a bad divorce and I had two young boys who I didn't want to leave, so I didn't want to commit to a long tour away from them. It was a tough time. It really worked for me and my children's needs. Do I regret that? No.
I do regret not putting out more solo CDs sooner. That's something that may have hurt me. Maybe I could've developed my solo career a little better. You make your choices in life and hope for the best.
Robert: When did you start playing and who are some of your early influences.
Juan Croucier: I have three brothers and we are all musicians. I started playing violin in the second grade and played in school band. Two of my brothers were bassists, and one day when I was a teenager I pulled one of my brother's basses from under the bed and started playing around with it. Later, my brother offered to sell me his Fender bass for $100 and a girlfriend of mine at the time bought it for me. I started playing and got really into it.
I was really into the progressive bands like YES and put some bands together and learning songs. I really tried to be an expert on the bass. When the Eagles' "Take it Easy" came out, that's when I realized that I want to start writing songs. I later realized that the jazz fusion thing wasn't the direction I wanted to go in when I saw Stanley Clarke selling out the Roxy, and I really wanted to sell out the Forum. At that point I started going in the rock direction.
Robert: If you could replay any point in your career with RATT, what would it be?
Juan Croucier: That's a tough question, I would say either Out of the Cellar time from '83-'84, or Invasion of Your Privacy right after. For Out of the Cellar, it was a very exciting time and things were changing quickly. MTV just came out and we were getting a lot of attention, but for Invasion of Your Privacy, we finally came into our own and started headlining. So those two points in the saga were interesting times. Bon Jovi even opened up for us for 6 months.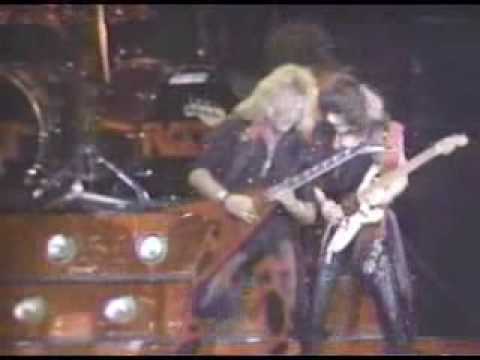 Robert: I think the big question was why you turned down the reunion with RATT so many times. What was the decision behind that?
Juan Croucier: Without adding any fuel to already existing fires, we just couldn't reach an agreement. It's no surprise that we had a lot of issues within the band, such as alcohol abuse and various personal issues. So I was of the opinion that it was one thing to have these issues when you're a young man in your twenties, but it's an entirely different thing to have these same issues when you're in your mid-forties.
If we can do things intelligently, as respectable businessmen, treating each other with respect and taking advantage of this wonderful thing we've and created, then I'm interested. The longer we negotiated, the more I came to see that nothing has changed. From what you've been reading on the internet lately, it's obvious.
Just to be very clear, I would love nothing more than to be in RATT, let's get that really, really clear. I love what we did and am really proud of what we accomplished. I helped build RATT. Why would I want to walk away from something that successful to play local clubs in Hollywood for a dozen people? I'm being honest here.
I would love to be making records and moving forward. But with the personalities involved, we just can't. The collective intelligence of the band is not that high. That's unfortunate and I hate it, but that's what really what prevented us from utilizing RATT to its fullest extent.
It really comes down to mutual respect and having boundaries that you don't cross because you're adults. And when there are no boundaries and there is no respect, and someone can lash out at someone for whatever reason, that really damages things.
I tried really hard. You have no idea how hard. For 10 years I tried. After a while you just give up. At the end of the day it's a sad thing for the fans. They just want to see the band rock out. It's everything behind the scenes that is so embarrassing and to be a part of that is unbearable, if you're of reasonable and sound mind.
Robert: I'm sure you aware of all the recent comments lately by Bobby Blotzer against Stephen Pearcy. Looking in at it as an outsider now, what do you make of it?
Juan Croucier: That nothing has changed and they can't contain the problem. There's so much disfunctionality there I wonder why they try. Life is short and at some point, why are we doing all this for what we're getting. What recently happened seems unnecessary.
When you are going to say something, you need to consider the effect it'll have and what you're looking to accomplish. To besmirch him seems odd. He's your band mate. In any other job, if you made remarks like that you'd probably be terminated. For me it's still embarrassing.
Robert: At some point I have to believe that you must feel good that you're not a part of all this nonsense and drama?
Juan Croucier: Yeah it does.
Robert: Were you happy with the way VH1's Behind the Music came out?
Juan Croucier: Yeah I was. It's hard to condense a 10 year career into 45 minutes. The producers were hopeful that they could end the show on a positive note, "RATT has reunited with its original members, and they are moving forward and touring this summer" and so on. We tried it to make it work, but it just started to unravel and what caused it to unravel was that there was a chance for RATT to open for Poison. All the negations got wiped off the table for some reason and the band was like "are you going to do it or not?"
It was disheartening that the patterns that we always had trouble with were still there. Without getting into the details and insulting situations, it was sad to see that so little has changed and no one was in control of anything. That's why it's so hard for me to get involved in a reunion.
Robert: Without giving names, was it always the same one or two people causing all the issues?
Juan Croucier: No it's a combination of everybody, but there are two people in the group who make everything virtually impossible. It's pretty obvious who it is. It's not Robin or me [Laughing]. It's a sad thing. I tried to inject some common sense and it was unfortunate that one of the members could bring himself to be reasonable or remember the things we discussed.
That was always a big problem within RATT. We'd discuss something at a meeting and agree to it, and then it would change [Laughing]. That's fine when it's a minor issue, but when it's major affecting your life and well-being, that's different.
Robert: You have a very interesting story, any plans to write a book like Bobby Blotzer?
Juan Croucier: I don't know, I have notes that I made over the years and stories I jotted down. I also have a ton of concert footage of the shows and behind the scenes footage. I used to set up a video camera at the mixing board of almost every show, and with any left-over tape I would captures us having fun.
So, I have all this stuff and really need to think of the vehicle to get it out there, but there are no plans as of yet. I have to say this about Blotzer's book, he loved to have a good time on tour and he consumed. Let's just say he loved to party. So any recollection of what went down should be taken within that context. It is what it is!