By: Jason Saulnier at Music Legends
When we think of heavy metal, Greek rockers tend not to immediately come to mind, unless we're Ozzy or Firewind fans, and we've dialed into a guitarist from Thessaloniki, Greece, who calls himself Gus G. Gus was born, Kostas Karamitroudis, but his birth name evolved to an American translation from Kostas to Gus, with the "G" added from a shortened version of his name that a good friend calls him.
The Greek picked up guitar when he was 10 and by the time he hit 14, he was practicing over eight hours a day for several years. He attended a music conservatory in his homeland, but after receiving a scholarship to the Berklee College of Music in Boston, he headed to the U.S.
According to a Guitar9 interview Gus had with Dan McAvinchey, Gus stuck around Berklee for a couple of weeks, then gave the $5,000 in scholarship money back, having decided to head straight into the business. But during those two weeks he met an instructor named Joe Stump, who's one of the top shredders in the world, and Gus credits Joe with inspiring him toward pusuiing his life goal that led him to Firewind and his Ozzy gig.
On stage, Gus cranks it up with his ESP Gus G NT Signature model that is a derivative of the ESP Random Star design, personalized to match his personal tastes and include: a lightweight alder body, a flamed top, set-thru construction and a set of hot Seymour Duncan pups.
Last year he could be seen grabbing other ESP models to flex his shred muscles on stage, including a couple of ESP Eclipses and a cool custom double-neck 12/6 string Viper. No matter, the Greek guitar slinger takes Olympian command of whatever axe he's running with at the moment.
Guitarist and radio host Jason Saulnier recently caught up with Gus G to talk about Ozzy, Gear and Firewind. Jason has let us post that interview in written form for our readers to enjoy.
You can also check out the audio version of this video here at Jason's site
******
Jason Saulnier: Tell me about Firewind's album Days of Defiance
, that you guys released last October.
Gus G: It's our sixth studio album. It's got something like 13 brand new tracks. It's doesn't really differ from anything we've done in the past. The whole idea was to take the best elements of past albums and put them into one, and really establish our sound and style.
Jason: How long did it take to do this album in the studio?
Gus G: We actually took our time with it. We didn't rush it. We wanted to be super happy with it. We didn't even tell the label when we started recording it. We kind of did everything low key. We recorded everything in our home studios. Everyone in the band has Pro Tools set up and everything.
We produced it ourselves, engineered it ourselves. We started writing some of the songs on the road in 2008. The real songwriting sessions started in the beginning in 2009. By the summer of 2009 we were done with everything and that's when we started recording. I think from July or August.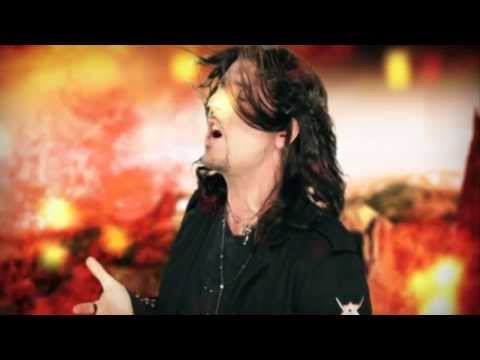 Jason: So, basically, Firewind produced the album.
Gus G: Yes. Mainly me and Bob [Katsionis], and we kind of were in charge of the whole recording and production. It's more of a do it yourself kind of record. We really wanted to take control over things this time.
Jason: Listening to the first track "Ark of Lies," that's one powerful track. The sound quality, for you guys to produce that yourself in a basement, is quite impressive.
Gus G: We really didn't do it in a basement. When I say we did it in our home studio I mean I don't mean that we used cheap ass equipment or something.
Jason: No, I understand.
Gus G: I'm just saying that we did it in our home studios and didn't really rent a studio to do everything. We just did everything on our own and took our time to write the stuff. We went back and forth with the demos. "Ark of Life" is one that I actually completely wrote myself.
I just wanted to recreate the vibe of our debut album, try to get a little bit of that roughness that we had in raw, a feeling that we had on the first album, Between Heaven & Hell
, kind of recreate that whole vibe or something. Yeah, I wanted to get a heavy double bass kind of up tempo track with a lot of guitar shredding in it. It's got a pretty cool arrangement to it as well.
Jason: It's a really good sounding song. Then "World on Fire," the video you guys got is really good looking. How long did it take you guys to make this video?
Gus G: We spent about five days in Sweden a few months ago and actually shot two videos, two songs and a couple of days for "World on Fire," I think. It wasn't so much the filming because it was all done in green screen and that was cut in more or less a day. It was post production that took so long, because of all these cool effects that Patric Ullaeus did.
The guy's a master at that and I really like it. I think it's our best video and I know it's pretty cheesy and all that, but fuck it, we're playing heavy metal, traditional heavy metal and that's what it's all about. We wanted to get that barbaric vibe into it and plus we're Greek and that 300 modem there, some of the scenery and stuff. It also incorporates the album cover which is pretty cool.
Jason: Excellent stuff. And what's the other video you're talking about that you released?
Gus G: No, we haven't released it yet. We'll release it sometime next year [2011]. I can't tell which song its' gonna be though.
Jason: I understand. On this album, what kind of amps do you use, Blackstar exclusively?
Gus G: On this album I recorded everything before I really started working with Blackstar. The way we did it with the guitars this time, was we used it to make a free amping. I don't know if you're familiar with it, which is basically recording your guitar through a pilot track, a basic pilot sound.
It could be like a plug-in or something from a computer to get distorted sound. But, then we split the clean signal and in the mixing process we re-amped my signal through various amps. I don't really know what kind of amps they used when they mixed the album in Finland, but what they did is pretty fucking cool. I like how my guitar-tone bites on this one.
Jason: Very tough sounding.
Gus G: Yeah, very raw and very stripped down, almost too much high end. I kind of like it. I like it a lot. On Ozzy's record, we still used re-amping because I was in the studio doing that, and we had a chance to try out a lot of different stuff there in Ozzy's studio. That's when I first started hooking up with Blackstar. They just brought me down one of the serious 100 heads they had and said "Try it out", and we did with Kevin Churko, the producer, and we liked it.
It was one of those things, "Oh, let's do a track or something." And before you know it most of the record is completed and we did it with a Blackstar amp. We combined the Blackstar amp with a Marshall JCM 800. So I used two amps for the rhythm part on Ozzy's album, and for the lead I did everything with the Blackstar.
Jason: So today, it's still standard to use a Marshall JCM 800?
Gus G: Well of course it's standard. Marshall is kind of like where it all started, right? And actually the guys are guys from Marshall that left Marshall and went on to do Blackstar. So the Blackstar sound is like a really hot rodded Marshall. I wanted to get a little more of that classic tone on there through the Marshall.
We used different speakers. We used both Peavey speakers and the Celestion speakers, the 30 speakers and they created different tones. So, both these two amps complemented each other. One was a little a little bit more mid-range and the Blackstar was brighter with more high-end. Those two really worked well together.
Jason: How did you feel in the morning when you saw that you dominated the guitar world industry, like you're on top of the guitar world market? You're on Guitar World magazine, the front cover, how do you feel about all that?
Gus G: It's fucking beyond crazy. Every day I get emails with new magazine covers coming in from all over the world. I'm freaking out. I mean, it's a very satisfying feeling. It's kind of like, "Wow, it's really paid off, all these years of hard work and practicing and struggling."
People are actually really taking notice. I'm really happy about it. On the other hand it's a huge dream come true. If you would have told me that one day that I'd be on the cover of Guitar World, with Ozzy especially, I'd be like "Get the fuck out of here, man." [Laughs]
Jason: Do you keep track of all of these magazine covers and articles for your own collection?
Gus G: I try to man. I'm doing do a lot of interviews, but I try to keep track of that stuff as much as possible. I'm lucky I've got good publicity people. They keep track of all these things and they send them in. Whenever I can get the actual copy of the magazine I try to keep them for my collection.
I mean, obviously I've definitely got the Guitar World stuff and all that. I mean these are magazines that I grew up reading, like Total Guitar, Guitar World and Guitar Player, all these big magazines. I always get them, ever since I was a kid.
Jason: Are you being endorsed by Seymour Duncan pickups?
Gus G: Yes, I've been playing Seymour Duncans before I got endorsed. Since I started using ESP Guitars, Seymour Duncans were on there and I had the Duncan Distortion and '59 combination.
Jason: Were they stock?
Gus G: Yeah, the ESP guys suggested it to me. I really liked it and it really worked for what I was doing with Firewind, and when I finally got endorsed by them they started sending me more pickups. What I found out, was that I was never really into the active pickups. I was more like a passive guy. But, they sent me pickups called Blackouts, which are active pickups, but they have passive sensitivities and you can actually hear the wood resonate, the harmonics, and everything.
It's not like that one fucking sound that kills the wood, you know? At the same time they have tons of distortion, really fucking massive distortion that almost makes it effortless to play. I put it on my guitars and was like "Wow this is it!" and I've become a huge Blackout fan ever since.
Jason: Do you like try other Seymour pickups or are you going to use the stock Blackouts?
Gus G: I am actually. For the past year I've been so much into the Blackout I felt they fit my sound best. I kind of got stuck with them for the past year and I put them on most of my guitars. I still have a few of my guitars with the passive pickups on there for different sounds and all.
If you have a few guitars, ten guitars or something, you don't want every guitar to sound the same. We've been working together with Seymour Duncan lately on a few prototypes and working on maybe a new pickup thing. They always send me stuff whenever they got prototypes and stuff to check it out and tell them my opinion. And I'm always open to new ideas.
Jason: Well, that's good to know that you'll be trying out other pickups from Seymour Duncan. They're a great company.
Gus G: They're the best, man. I've been using them for the past seven years and they just got such a high quality tone. I visited their factory last summer. I met everybody there and they've got a great team going on and they know what they're doing.
Jason: How did it feel when you woke up and you were going to Blizzcon 2009 with Ozzy. What was going on in your head?
Gus G: Actually, it wasn't in the morning. It was in the afternoon right after my audition with Ozzy. They just went in a room and discussed it for a few minutes. I was left outside there alone, waiting. A few minutes later Sharon Osbourne came out and asked me if I'd like to come back and do an event with them. And that was a really crazy moment. I mean, I didn't know what to think. I didn't know if it was for real. You know, it was kind of like a too good to be true kind of moment. Yeah, it was hard for me to realize until quite a few months later.
Jason: You open your eyes and all of a sudden you're on the stage, Blizzcon, that's incredible.
Gus G: You know, that was my debut gig and it wasn't like it was a fucking low profile gig either, all of America fucking watching and the next minute you're all on YouTube. It was kind of like straight into the hard core way. But, it's good that it happened that way.
Jason: You went to the big test, right there.
Gus G: I went to the big test, then all this shit came in right away. It's like the whole world knew the next minute. Then of course, the whole shit storm came in. The whole shit storm started and it's actually good that it happened that way. Because I had time to think things over before I actually completed everything and went out on a proper tour.
Jason: How do you like coming to Canada?
Gus G: I like Canada because I've played there with Firewind. We've done a couple tours there. And it's been really crazy crowds there. You guys are crazy. We're looking forward coming back and doing more days in Canada.
Actually, Firewind's going to do a one off only in Montreal, before Ozzy's tour starts. I'm going to do a bunch of gigs with Ozzy. I have great memories from the Firewind tour in 2008 when we were out with Arch Enemy. I remember the Canadian crowds were the best.
Jason: We love metal, that's what I've seen.
Gus G: Yes, that's for sure man. I remember from Toronto and Quebec City; all the way to Regina and Vancouver, it was great.
Jason: I'm so happy to talk with you when your news just keeps getting better and better, and now you have a new album with Firewind again, Days of Defiance.
Gus G: Yeah, I'm very excited about this record; I'm very proud of it. And I hope people go out and check it out and support it. I think it's a really strong effort from the band and it really represents who we are right now.
******
About the Author
Good Time Metal Oldies radio show (GTMO) is broadcasted on CIFA 104.1 FM in Nova Scotia, Canada & on Pure Rock Radio Online http://www.purerockradio.net/. CIFA Radio broadcasts at 40,000 Watts in Nova Scotia. GTMO is hosted by Jason Saulnier twice a week on Tuesday's & Thursday's with two different show versions. GTMO is about rock and metal music with a 2 song spotlight along with interviews from any given artist or band on the show. All weekly interviews get posted on http://www.youtube.com/gtmo.
Hailing from Nova Scotia, Canada, in 2009 Jason Saulnier posted two Ozzy Osbourne audition videos on YouTube and grabbed the attention of the media, and even the Osbourne camp. Both videos tallied more than 88,000 hits at 5 star ratings in 3 months.
In 2005, Jason joined Gold Certified International touring artist (BLOU). Jason also appears on more than 20 albums with Radio Airplay being received worldwide, online and on Terrestrial Stations. He has also played over 450 gigs played in career.
On top of these accomplishments, Jason has played significant festivals in Canada and in the United States. In 2009 he played the Wharf Rat Rally Biker Festival for the 3rd time for upwards of 60,000 people. Jason is endorsed by Seymour Duncan Pickups, Sfarzo Strings (California), and is endorsed by Gibson Guitars USA as a "Gibson Artist."