By: HP Newquist (National Guitar Museum); September 1998.
Think Led Zeppelin gear, and you think of Les Pauls, doublenecks, and Marshall amps. But Jimmy Page's early gear in Led Zeppelin was actually a continuation of his old Yardbirds setup. In fact, the first Zep disc from 1969 showed him using a Telecaster and Supro amp, plus a Fender 800 pedal steel, the violin box, a Vox wah-wah, and a Sola-Sound Tone-Bender fuzzbox.
Page says that his tone on that album also came a lot from creative mic placement, but judging from his thick, meaty sound, it's a fair guess that he was using the neck pickup on his Tele for many of the solos – they've got that "woman tone" sound. (Still, vintage effects authority Michael Fuller notes that the Tone-Bender is the only fuzz that could ever make a Tele sound like a Les Paul). Page also plugged into a Leslie rotating speaker cabinet for the solo on "Good Times Bad Times." Aside from Supro amps, he also used a few Rickenbacker Transonic Series 200 solid-state amps (with matching trapezoidal cabinets) on the first Led Zeppelin U.S. tour.
On Led Zeppelin II, Jimmy Page dramatically shifted gears and started using his '58 Les Paul Standard and Marshall 100-watt amps, creating his trademark nasal, out-of-phase lead tone and pumped power chords. The '58 is a chipped road warrior that Page has employed for years. One irony is that even though he was one of the guitarists who started the whole flametop Les Paul craze (the other is Mayall-era Eric Clapton), his own Pauls didn't have particularly vivid maple tops. Nevertheless, this is Page's signature guitar, used on many of his greatest tracks, including early favorites "Heartbreaker" and "Whole Lotta Love." Later, the guitar's bridge pickup was replaced, as was the pickup cover. You can tell this guitar from Page's other flametop by the tuners: at some point, the original Klusons were replaced by gold-plated Grover machines, which contrast with the chrome or nickel hardware on the rest of the guitar.
Other gear on Led Zeppelin II includes a Vox electric 12-string and a Vox solid-state amp.
Page's other favorite Les Paul is a '59 Standard given to him by Joe Walsh. Unlike the largely orginal '58, the '59 has been heavily modified and even refinished. Aside from new chrome-plated Grover tuners and Seymour Duncan pickups, the electronics have been radically altered to offer vast tonal possibilities. Two spring-loaded buttons were added by the pickguard: one puts the pickups in either series or parallel configurations, while the other offers either normal or out-of-phase sounds. Also, all the pots were removed and replaced with push/pull pots for coil-taps for each pickup. These can further put each of the PAF's coils in parallel to create the effect of four single-coil pickups.
Check Out the Led Zeppelin
Collection at Amazon.com
Page's third Gibson Les Paul is a goldtop Standard that was repainted a reddish-purple color. This guitar later had a Parsons/White string-bender installed in it and is still a regular part of Page's stage gear/ (Another twang-tool that joined Page's collection at some point is a 1966 white Telecaster with another Parsons/White B-bender and new individual string saddles.)
One of the many myths about Zeppelin's sepic "Stairway to Heaven" (from the untitled fourth album) is that Page used his doubleneck 6-12-string on it. Actually, the song's solo was played on a Telecaster through a Supro amp (the same setup Page played on the first album). while the electric rhythm is played on a Fender Electric XII 12-string, (which was also used for its sister track on the next album, "The Song Remains The Same"). Page acquired his cherry Gibson EDS-1275 doubleneck (serial number 911117) after the fourth album to play "Stairway" on tour, in addition to live versions of "The Song Remains The Same," "Sick Again," "Tangerine," "Celebration," and "The Rain Song."
For his amp setup, the guitarist continued plugging into Marshall 100-watt heads, though they were customized to put out close to 200 watts. His accessories included Herco Flex 75 heavy-gauge picks and Ernie Ball Super Slinky strings (.008 for the high E). He also used four or five Marshall 4×12 cabinets, often in a large stacked and unstacked combination (two stacked, then three on the floor). The only anomalies in his amp rig are seen in vintage concert photos, which suggest that Page may have briefly used Hiwatt stacks (c. 1970 on a European tour) and Orange amps (c. 1973). His effects in the early- and mid-'70s included a wah, Echoplex, MXR Phase 90, and a Theremin, which produced eerie, synth-like sounds that changed pitch and loudness as the player waved his hands near it. Check out the live album version of "Whole Lotta Love" for a demonstration.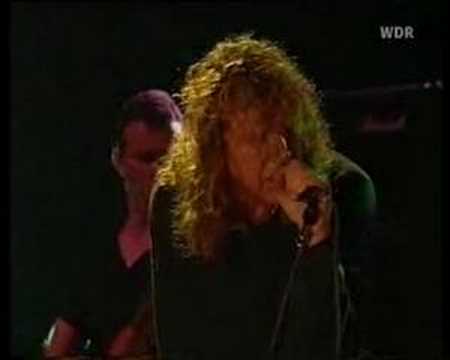 In 1976, Zeppelin released Presence, which might be referred to as Page's "Strat" album (although he used Strats here and there on Houses Of The Holy and Physical Graffiti). Although he's mainly associated with the Les Paul, Gibson doubleneck, and Tele, the guitarist started using more Stratocasters at this time, notably his '60s Strat in Lake Placid Blue. For aural evidence, just look up the funky "For Your Life" and the hard-rockin' "Hots On For Nowhere" to hear Pagey slamming on his whammy bar.
Page also started playing a black Danelectro during mid '70s concerts, mostly for songs that required alternate tunings. This low-budget wonder was actually made out of the best parts of two Dannys, and a Badass bridge was added later for individual string-intonation adjustment. It was used for "White Sumer/Black Mountain Side" (tuned D-A-D-G-A-D, low to high), "The Rain Song" (tuned E-A-D-A-D-E for live performance, although the studio version is tuned a step lower), and later on "Kashmir" (also tuned D-A-D-G-A-D).
On the band's brief-but-exciting 1977 U.S. tour (cut short by the death of Robert Plant's son), Zeppelin added an acoustic set to its show. Page played a Martin D-28 (with a Barcus-Berry pickup and Ernie Ball Earthwood strings), and a Gibson A-4 mandolin. Other great Zep acoustic fingerpicking on the first album's "Black Mountain Side" and "Babe, I'm Gonna Leave You," and a Vega 5-string banjo for "Gallows Pole" from Led Zeppelin III. Harmony and Martin acoustics were also used on the record.
By the time Zeppelin played its momentous comeback show at the Knebworth Festival in July 1979 (following the release of In Through The Out Door), Page had broadened his stage guitar lineup and was using two Telecasters, a cream '66 and a brown '50s one, a Gibson RD Artist for "Misty Mountain Hop," and the Danelectro to complement his Les Paul and doubleneck. He also used his blue '60s Strat for a live version of "In The Evening." Unfortunately, two months after Zeppelin's final concert in July 1980, drummer John Bonham died from an alcohol overdose. The band broke up that December.
Aside from a few one-off gigs (like Live Aid and the Atlantic 40th Anniversary Concert), the creative heart of Led Zeppelin – Jimmy Page and Robert Plant – wouldn't make another stab at the spotlight for another 15 years, when Page-Plant finally hit the road.
******
About HP Newquist: Harvey Newquist is the founder of The National Guitar Museum, the first museum dedicated to the evolution and cultural impact of the guitar. He has authored books that have explored a wide range of subjects and include: Legends of Rock Guitar (with Peter Prown); The Way They Play series (including Blues Masters, Hard Rock Masters, Metal Masters, Acoustic Masters), with Rich Maloof and the award winning The Great Brain Book: An Inside Look At The Inside Of Your Head. Newquist is the past Editor-in-Chief of Guitar Magazine. He wrote Going Home, a Disney Channel documentary featuring Robbie Robertson, as well as directed the film documentary, John Denver – A Portrait.
Note: This interview is reprinted from an article by HP Newquist, originally published in GUITAR Magazine (September 1998). It appears here courtesy of Newquist and The National GUITAR Museum.